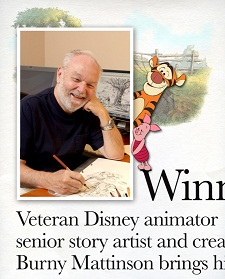 Senior Story Artist Burny Mattinson is one of the few remaining Disney artists who worked with Walt Disney and is still on staff at Walt Disney Animation Studios. His lengthy career in animation is highlighted by helming the Academy Award-nominated 1983 animated featurette Mickey's Christmas Carol, which returned Mickey Mouse to the big screen for the first time in 30 years.
The veteran Disney filmmaker had previously worked on such classics as Lady and the Tramp, 101 Dalmatians, The Sword in the Stone, The Jungle Book and The Rescuers. He served as a key member of the story team on Disney's contemporary classics including Aladdin, Beauty & the Beast, The Lion King, Pocahontas, Mulan, The Hunchback of Notre Dame, Tarzan, and most recently, the highly successful Goofy short How to Hook Up Your Home Theater.
Burny Mattinson was born in San Francisco and still recalls the profound impact that seeing Pinocchio had on him at the age 6. By the time he was 12, he was drawing Disney-type characters and dreaming of being a cartoonist.
In 1953, Mattinson started his career at Disney working in the studio mailroom. He was 18 and had no formal art training. Within six months, he was delivering more than mail as he ascended the rungs of the animation ladder, beginning as an in-betweener on Lady and the Tramp.
He was promoted to assistant animator on Sleeping Beauty (working under Disney legend Marc Davis) and continued in that capacity on 101 Dalmatians. He spent the next 12 years assisting Eric Larson on such films as The Sword in the Stone, The Jungle Book and The Aristocats.
In 1972, after completing an internal training program, he became an animator on Robin Hood and a key animator on Winnie the Pooh and Tigger Too. Following this, he worked on storyboards and title designs for The Rescuers and The Fox and the Hound before directing Mickey's Christmas Carol in 1983. In 1984, Mattinson wrote, produced and directed The Great Mouse Detective.
As the only crew member to work on the original Winnie The Pooh featurettes with Walt Disney and the Nine Old Men, Burny proved to be an invaluable "in house expert" on all things Winnie The Pooh. He worked closely with the film's directors in crafting a shaping a story that would return Winnie The Pooh and his friends to their roots, while also appealing to audiences today.
We were priviledged to talk with the legend, just as Disney's latest Pooh movie is released on Blu-ray and DVD.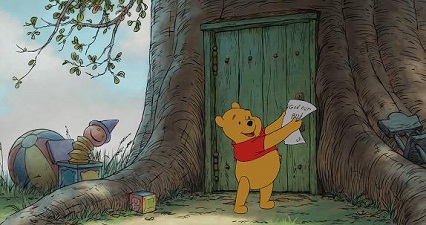 ---
Animated Views: What was your assignement on the first Winnie the Pooh movie?
Burny Mattinson: On that 1964 movie, I was an assistant to Eric Larson. I was following-up his animation and cleaning work up. That was role basically on that one because I was kind of the new kid on the block. I had only been working there about ten years. Then, later on, in 1970, I began animating on Winnie the Pooh and Tigger Too. I was no longer working with Eric.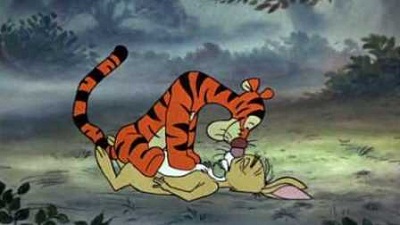 AV: What characters did you animate?
BM: I was doing Kanga and Roo, and Tigger and Rabbit. To me, as a young animator, my challenge was to make them look like Eric and all the other top animators had done. So, I was just trying to keep them drawn right, not only on model, but with the life and the spontaneity they had put in those characters. That was my biggest challenge at that time since I was just learning how to animate. Somehow, I must have been all right!
AV: Sure! How did Walt Disney, who was at the same time envisoning something as big as his Community of Tomorrow, approach those Pooh stories?
BM: You know, the funny thing is: in 1964, we had just finished 101 Dalmatians and we started working on Winnie the Pooh. We were going to make that as a feature. About mid-way through it, Walt kind of felt like the humor hadn't the right tone of the public, like it was too mild, too simple. So, we condensed all the animation that we had done and made it a short that was called Winnie the Pooh and the Honey Tree, and that did very well. So, as we had some material left over, Walt said, "Let's do another short", and that's how Blustery Day came about.
Then, later on, about four or five years later, we tackled Winnie the Pooh and Tigger Too. Then, after that -Walt had passed of course- in 1977 we decided to gather all the shorts and to make The Many Adventures. So, at that time, even though Walt was thinking of all those different things, he was involved in those movies and the characters did catch on and people did like them.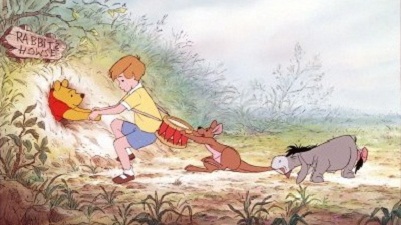 AV: How did you go from animation to story?
BM: When I started animation, I didn't want to leave. I wanted to stay there. But Frank Thomas like the thumbnails I was doing on the animation of Pooh and he said, "Would you start working on Rescuers as a storyman?"; I said "Ok!", and then Woolie Reitherman, who was a Director then said, "Would you stay?", and I said "Ok!" I started loving making the story because there is something very creative about it. It was never hard. I think the hardest thing I've ever did was actually being a director. Then I felt like a fish out of the water. But you learn a lot!
AV: Actually, Mickey's Christmas Carol is one of my favorite movies ever.
BM: Oh, thank you! That was my first. That was a learning curve, but I loved doing that movie!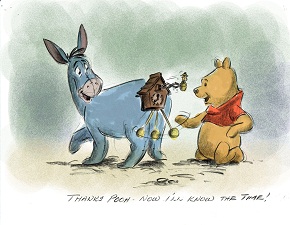 AV: Working with a new generation of Disney artists, how did you manage to capture the same spirit as the original movies in the new Winnie the Pooh movie?
BM: I think the secret is just to try to stay faithful to the character. You give the character a problem and you try to see how Pooh would approach this problem, or Eeyore. Having had the groundwork of the early Poohs, it just felt like, "Let's continue that same vein". That's kind of how we did it.
So, my job on this picture was basically to take bits of storylines and make drawings on big panels. It was just like drawing giant comic books, in a way. We didn't have a writer. We depended on these big board panels and assigned these to young story people, telling them what the story was about here and what we were looking for. Then they came back about a week later or so with rough material and we made suggestions. And from these sequences, we built our story.
It took us about a good year of doing that. We had these wonderful sessions everyday with the story people. And pretty soon we had a picture and it started to get very entertaining. At that time, we used to using just scratch voices. Personally, I did Piglet and Eeyore. You looked at it and we thought, "Gee, it starts to feel like Pooh!" That's kind of how we started to write the picture before getting to people like Jim Cummings and the other voice artists. And it sounded pretty much like Sterling Holloway and so forth.
Speaking of that, in the early days when we were doing the first Poohs, the voice of Eeyore actually was one of our storymen at that time. His name was Ralph Wright and he actually had that voice. He came in in the morning and you'd say, "Hi Ralph, how are you?", and he'd say, "I'm all right…" exactly with that very down voice! And as we were working on this new film, John Lasseter said, "Hey, I have just the guy who works up there at Pixar and he sounds just like Ralph!" So, he came in and he did the voice of Eeyore and it sounds just like him. It's terrific.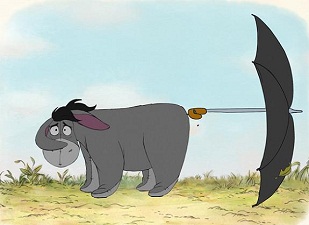 AV: What's amazing is that you managed to create a movie that speaks both to the lovers of the classic and to a new generation of audience.
BM: Again, I think it's because of the characters themselves. They're so strong and they speak to everybody!
---
See how the animators observed the look and feel of the
original Winnie The Pooh films with Burny's help,
in this sneak peek at an extra from the Blu-ray Disc:
---
The
Winnie the Pooh
Three-Disc Blu-ray / DVD Combo + Digital Copy
is available to order now from Amazon.com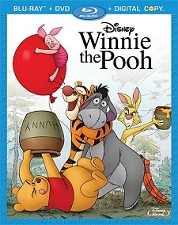 ---
---
Our deepest thanks to Burny Mattinson and Mac McLean!