Walt Disney (September 10, 1988 – October 7, 1991), Walt Disney Home Video (August 27, 2002), 1 disc, 70 minutes plus supplements, 1.33:1 original full frame ratio, Dolby Digital 2.0 Stereo, Rated G, Retail: $19.99
Storyboard:
Disney releases two popular Halloween Winnie the Pooh stories to DVD for the first time. Frankenpooh and Spookable Pooh have been bundled together as a double feature for the delight of little kids (and adults) everywhere this Halloween. Both stories feature a lighthearted and positive spin to scary stories and situations in a way that Winnie the Pooh has always managed to do.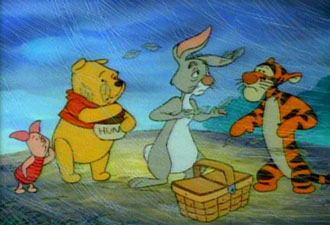 The Sweatbox Review:
My earliest memories of Halloween include getting dressed up (usually as a vampire or a ghost) and going out with my closest friends around the neighborhood collecting candy from each house. Those were the good times when we could pretend we were someone, or something, else at least for one day. The candy was good and it would last for weeks to come. As I grew up, my Halloween tradition changed. Living in a country where Halloween was not celebrated, a friend of my family, whose kids I occasionally babysat, would invite all of us to go to their house for a Halloween party. This party required all of us to dress up, carry bags yell "trick or treat" after knocking on the five different doors of the same house. Later, we would all sit down and watch some sort of Halloween-themed video with the younger children.
Winnie the Pooh in both Frankenpooh and Spookable Pooh were two of these videos. Without ever being scary, these short stories would entertain us for a few minutes until it was time to eat or play another game. Taken, from The New Adventures of Winnie the Pooh, these stories usually followed Winnie the Pooh and his friends telling ghost stories or dressing up to play a game. In these two collections of stories, all of Pooh's friends would be there, with the exception of Christopher Robin, Kanga, and Roo. All of the other's personalities would come out and played a similar role in all of the stories. Usually, Tigger would try to tell a scary story (which he would eventually believe in), Winnie would remain hungry, Rabbit would try to remain practical, and Piglet would be scared out of his wits.
This new DVD brings both of the videos together (Disney offers a $3 rebate for the owners of the two previous videos) in a double feature. Frankenpooh includes the episodes The Monster Frankenpooh, Things That Go Piglet in the Night, and Pooh Moon. Spookable Pooh includes A Knight to Remember, and Rock-A-Bye Pooh Bear. I am not sure whether these two collections came from the same episodes, but the introductions to The New Adventures of Winnie the Pooh, as well as the end credits, are intact. There is also a narrator that tells us what story comes next in the pauses between the different tales. Overall, the stories are entertaining, maintaining a mild level of suspense and mystery. Usually, it is easy to solve the different mysteries, but the flow of the story is enjoyable to watch as Pooh and his friends try to remain calm despite their fears.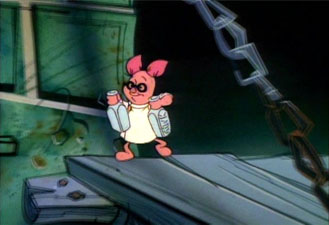 From the main menu, you can either select Frankenpooh or Spookable Pooh first (they do not play after one another). I chose Frankenpooh first and it starts out with a story called The Monster Frankenpooh. This story starts out with Pooh and his friends sitting in front of a fireplace telling stories. Tigger wants to tell a scary ghost story. Piglet, however, wants to tell a not-so-scary story. As he tries to tell his not-so-scary story, Tigger interrupts many times to add some suspense and fright into the story. Initially Piglet was going to tell the story of a nice scientist, but Tigger turns him into a mad scientist named Dr. Von Piglet who creates a huge monster named Frankenpooh who, in his mad search for honey, ends up disturbing the locals (Rabbit, Owl, and Gopher). It is a spoof off of the old Frankenstein movies (not the book) and I found it amusing in many parts. The most humorous parts of the story come when Tigger changes something in Piglet's story and this instantly changes what we see on the screen (such as when he makes Pooh bigger and bigger until he will not even fit in the frame!).
The second story in Frankenpooh is called Things That Go Piglet in the Night. This begins with our friends as they are playing on a swing in The Hundred Acre Woods. As the sun sets, they decide to go home before it is dark and they get scared. Piglet is naturally horrified at the thought, and runs home to his bed. In the middle of the night, Piglet is trying to sleep, but he keeps hearing noises and seeing shadows in his room. When he realizes that the ghost may see him even if he does not see it, he runs from his room with a pillowcase on his head. He wakes up his other neighbors who go on a wild goose chase to find the ghost that has awakened them. In reality, and you know this from the beginning, the noises are coming from Eeyore who is trying to learn how to swing but keeps falling off and yelling. The comedy here is the best when Piglet keeps scaring the others, who in turn scare him when they yell "Ghost!" This is one of the stories that best show the close friendship between these characters at the end.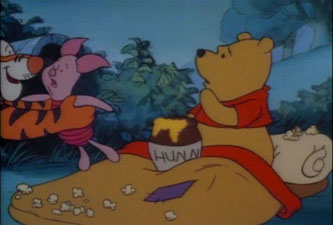 Pooh Moon follows our friends who are camping out. They are sitting around a bonfire when Tigger decides to tell another one of his scary stories. This time he tells the story of the "Grabme Gotcha!" and frightens Piglet. Pooh decides that he will look out for Piglet so that the monster does not grab him. After an accident that makes them fly up into the air, Pooh and Piglet think that they have landed on the 'honey' moon. Pooh wants to find some honey. Back at the campsite, the three other friends (Tigger, Rabbit, and Gopher) think that the monster has taken Pooh and Piglet. They go out to find him, but the two groups once again end up scaring each other. The story is funny, but is very similar to the previous one when they all scare each other. What makes this story unique is the camouflage that they put on to blend in with their surroundings. This is what ultimately ends up scaring the two groups.
Spookable Pooh only has two stories, but each are a bit longer than the three in Frankenpooh. It starts out with the story A Knight to Remember, which is perhaps the best of the five stories. It begins with our friends in Christopher Robin's bedroom. Apparently, Christopher let them stay there while he is traveling elsewhere. It is raining outside and they have nothing to do. Someone suggest that they go up in the attic to find the games that are left for a rainy day. Up in the attic, they find many things, but end up deciding to play chess. Since they cannot find all of the pieces, they decide that each one of them will play a different piece (impossible I know, but it is a cartoon). Rabbit is a wizard, Pooh is the king, Tigger is going to be the bishop, and Piglet is going to be the knight. When Piglet falls into a chest, desperately looking for a knight to replace him in the game, he is transported into a magical kingdom. There, he finds his friends taking on the personalities of their respective pieces. Claiming that he is a knight (or as Tigger calls him: K-night), the others give him armor and a shield to go and face the dragon that is destroying the kingdom. Piglet then timidly, but determinedly, sets off to face his fears. This is the best of the stories because it is the most fantastical one. Rabbit is a funny wizard with crazy spells that never end up working, and Pooh is good as the king who wants it all done before lunch time.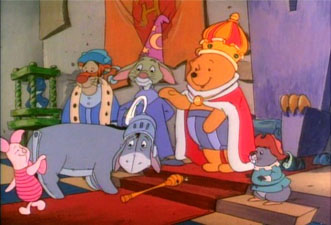 The last of the cartoons is called Rock-A-Bye Pooh Bear. Once again, we find Piglet having problems. Piglet has a very scary dream where Tigger, Pooh, and Rabbit all disappear and leave him alone. When he wakes up, he is afraid to fall back asleep and find that his dream will come true. Pooh agrees to stay up with him, but he ends up falling asleep. Piglet does everything he can to stay awake, and even decides to sell his bed. Determined to show Piglet that dreary dreams do not come true, his friends decide to convince him that he is dreaming by acting his dream out as he described it. However, they soon realize that his dream does come true, if only with an extended ending. The cartoon is funny to keep things going along and the best part were the different ways that the others tried to get Piglet to fall asleep.
Is This Thing Loaded?
There are a few interesting special features available. One thing that adults will notice is a message that tells us that they will automatically take us to the 'child-friendly' menu unless we press the menu button. If you go to the child-friendly menu, you will hear a narrator telling you to press enter when your choice of story is highlighted ("press enter now for…"). The four choices in this menu are, in order, Spookable Pooh, Frankenpooh, Playtime, and the Main Menu. A leaf and a pumpkin indicate what option is to be selected. The 'adult' menu has scene selections, set-up, and sneak peeks.
The two bonus features in the DVD are Piglet's Hallowasn't Game and an I Wanna Scare Myself sing-along song. Piglet's Hallowasn't Game is very simple and mostly recommended for young children. With very simple instructions (up, down, left, right, enter), we look for Piglet or help Pooh collect some honey. I found the honey game kind of hard on the remote control, but maybe because I am an adult. It is kind of slow, but might entertain for a few minutes. The sing-along song is from the Sing a Song With Tigger sing-along video.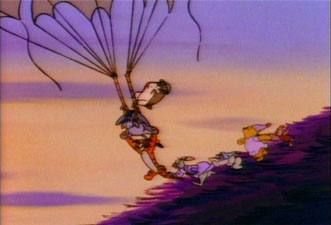 Case Study:
This DVD set comes in a regular one disc case. The cover is beautifully designed with a picture of Piglet, Pooh, and Tigger dressed up like different characters on the stories. Pooh and Tigger are dressed up like their personalities in A Knight to Remember. Piglet is dressed up like Dr. Von Piglet from The Monster Frankenpooh and is covered up by a sheet like a ghost costume. Disney has billed this double feature as a "Frightfully Fun Collection" in a small pumpkin to tie it all in to Halloween.
Ink And Paint:
The movie is presented in 1.33:1 full screen aspect ratio. The colors are still very bright, and there were few spots and scratches in the film. It most likely came from the original source and it looks really good. The animation is just like the cartoon show with very simple backgrounds and colorful characters. Some of the frames seemed brighter than they should have been, but overall it was a good transfer. A Knight to Remember has the most colorful display of colors with the other cartoons being darker since they happen mainly at night, dawn, or dusk. The menus are some of the most creative I have seen in a while and ghosts and pumpkins highlight the different selections.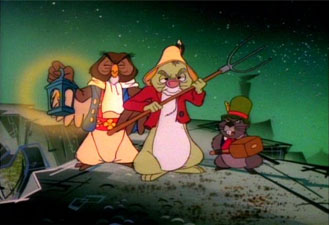 Scratch Tracks:
The audio of the Winnie the Pooh: Frankenpooh/Spookable Pooh double feature is presented in Dolby Digital sound. As far as I could hear, there was nothing wrong with the audio. It plays well, nothing spectacular, but it is appropriate for this kind of release. It is only presented in English, but also contains English captions.
Final Cut:
For fans of Winnie the Pooh of all ages, this is a delightful addition to the ever-growing collection. The stories are short, never intense, and cute as always. If your favorite character is Pooh, you may be disappointed since he is never the main character in these, but if you like Piglet and Tigger these stories will satisfy you. Without ever being too scary, the stories manage to put a bright side to scary stories and situations. It teaches children that they do not have to be afraid of strange noises at night, that ghosts are not real, that bad dreams do not come true, and that sometimes we must face our fears in order to beat them. With the simple stories, these cartoons will mostly please the smallest of children, without being boring for the rest. Even though they have predictable endings, the way that they get there, and the confusion that arises are entertaining enough to watch.
Animated Classic or Back To The Drawing Board?