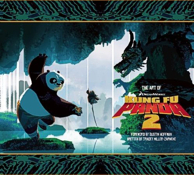 By Tracey Miller-Zarneke
Foreword by Dustin Hoffman
Insight Editions
May 2, 2011
Hardcover, 156 pages with extensive full color illustrations
$39.95
---
---
Even just before the movie opens, I'm finding it a little difficult to get too excited by the prospect of a Kung Fu Panda 2, knowing that the reason for its existence is down to its bottom-line commercial potential and little more. If the first film hadn't performed as well as it did, there would not be a Panda 2, the first of a projected, and quite absurd, five sequels that will stretch the series to six films, as announced by DreamWorks Animation's Jeffrey Katzenberg shortly after the box-office success of the first film (the two events quite unrelated, obviously).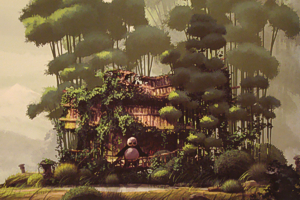 Of course I'm a realist, and can see that as a smaller independent company, DreamWorks needs a big hit out of at least every other film it releases just to stay afloat, hence the reliance on franchise pictures and past-their-sell-by-date sequels in the Shrek and Madagascar series. Kung Fu Panda is next, though it remains to be seen if the apparently much-developed mythology will support the kind of expansion six films and various spin-offs will demand, or if the projected six films suddenly become far fewer than that when one proves to fall short at the box-office.
The first Kung Fu Panda was actually a phenomenal smash from the DreamWorks Studio, and proof that the company was more than able and adept to match their Pixar rivals with more nuanced filmmaking and deeper levels of storytelling that was streets ahead of the largely pop-culture infused films that had come before. With the switch to all-CGI production after the majestic hand-drawn films The Prince Of Egypt and Spirit: Stallion Of The Cimarron, the DreamWorks animated films settled more and more on straight comedy, the likes of Shrek and Shrek 2 quickly slipping into the noisy and less inspired Shark Tale and Madagascar films, successful as that property has been.
So it was a real pleasure, in the summer of WALL-E, when DreamWorks also put out a real winner in Kung Fu Panda, not only a hugely entertaining and strangely old-fashioned kind of animated film, but a strong contender to take back the Best Animated Feature crown from Pixar at the following year's Academy Awards. DreamWorks largely heralded the all-star casting that now proliferates animated film, but put that aptitude to inspired vocal casting, attracting some seriously big names to fill out its new stable of animated characters. With some equally excellent writing and directing, the result was a unique animated movie from the Studio, and a deserved success.
And so now we have Kung Fu Panda 2 about to descend upon us, and although anticipation is higher than usual (I even just purchased the new Blu-ray edition of the first film as an appetizer), I still sense there's still a modicum of hesitation from certain core animation audiences who hope that the Studio won't trivialize the creative and artistic success of the first movie and simply turn the Kung Fu Panda series into a basic, money-wringing franchise that winds up affecting the effectiveness of that first film.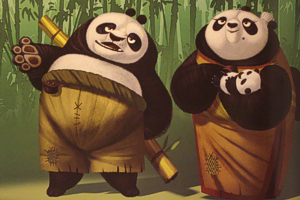 Already, there's a faint sense of that happening: those with the original Art Of Kung Fu Panda book may find that this new volume isn't exactly a required addition to their collections, simply because there's just not that much new to see here. That Art Of Kung Fu Panda book was genuinely one of the best compendiums of its kind, with Nicholas Marlet's character designs truly striking highlights, but really here the message is one of being "more of the same".
It's all perfectly good material, some of it really strong, but largely it works best when it's introducing the new characters – Baby Po, new villain Shen and other new allies Master Croc, Skunkman and Thundering Rhino – and some of the new locations the characters will cross during their sure to be eventful journey. But the rest of the book is filled with the characters we already know and were already documented in the previous book.
The overall initial impression I felt flipping through the pages of The Art Of Kung Fu Panda 2 was one of over familiarity. Not every animated film, it turns out, necessarily needs an Art Of… dedicated to its production. These tomes should be special publications, just like they used to be when such books weren't always expected with each new animated film on the block. Some of the biggest and most important animated films of the last twenty years didn't receive this treatment, but now nary a movie comes along that doesn't have its developmental artwork collated in book form. It's true that the sheer amount of animated films released has grown enormously, but with such films all drawing on each other for inspiration, some of these books can often feel like another piece of the marketing push, or at least a higher-class of merchandising. But they're still more obvious merchandising than the once-in-a-blue-moon volumes of old.
That all said, where does this book fall? Well, author Tracey Miller-Zarneke certainly knows her stuff, having been involved in the production of several recent Disney pictures and written The Art Of Kung Fu Panda and How To Train Your Dragon (another knock out of the park for DreamWorks, and another successful film set to become a franchise), and here she documents the production well. As well as providing commentary on the process from development to completion, we also hear from a multitude of Studio personnel as well as the higher levels of the film's crew, who make sure that we are fully aware of the new developments in technology that allow for deeper environments, and the importance of creating a new story for Po that maintains the levels set by the first film.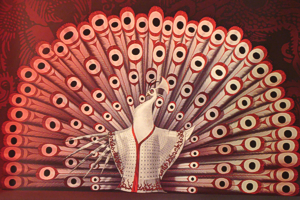 Adding a star name to the front cover but very little of substance inside is one of the film's vocalists, Dustin Hoffman, replacing Jack Black who provided a Foreword for the first book. However, Hoffman's words, stretching to just over a couple of paragraphs, don't really provide much insight, merely reeling off a few platitudes about how performing as Shifu has been one of his most challenging processes of his career, and how he found each storyboard or character design illustration were "microcosms of information". Not exactly worth the price of admission alone, and you'll learn more about the film from just one page of Miller-Zarneke's text.
But for a book of thus type, which otherwise pretty much follows the tried and tested route of providing character design images up front, the film's environments and a look at a specific sequence's development, it's refreshing to find that there's more real concept art than anything else, with more emphasis on actual development art as opposed to final frame renders, which are often used to fill out pages and don't really add anything in the long run. Here, though, the pages are filled with unique art, from color scripts and story sketches, to some wonderful digital paintings and CG models…images that one wouldn't usually see anywhere else than in a selection like this.
Ultimately, despite the fact that the artwork has been chosen extremely well and is accompanied by a useful and informative text by the author, The Art Of Kung Fu Panda 2 suffers from the over familiarity that can greet any sequel. As such the book is probably only of a mild interest to the casual animation fan (there are many other more unique and impressive Art Of… books out there to catch up with) and will more than likely be of more interest to real Kung Fu Panda and DreamWorks Studio fans specifically. But whichever side of the fence you may find yourself on, you'll find The Art Of Kung Fu Panda 2 is a naturally well-produced collection of images that thankfully more than not forgoes the final frame stills to reproduce genuine concept art created during its production, which is much more appreciated.
---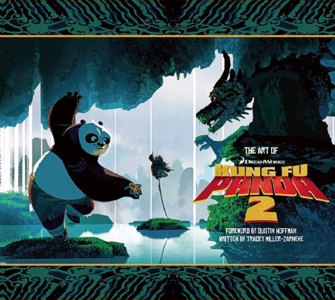 THE ART OF KUNG FU PANDA 2
is available to buy now from Amazon.com