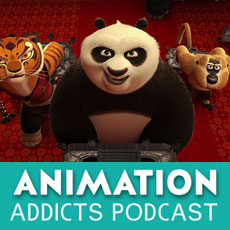 Learn more about The Rotoscopers!
We just love kung fu! Last episode we reviewed Kung Fu Panda and we just couldn't get enough. This episode, we review the 2011 sequel Kung Fu Panda 2!
Highlights
Main Discussion: Kung Fu Panda 2
General info, box office results, and first thoughts and recollections.
Morgan thought the intro was going to be a lot more epic.
The score by Hans Zimmer and John Powell really does a great job of drawing you in. It's very lyrical and dictates what is happening on screen.
Big plot problem: Po's "Who am I? Where did I come from?" dilemma comes out of no where. Needed more build up.
Lord Shen is an amazing villain.
This is one of the most emotional DreamWorks films.
Did Shen survive? In frame by frame, you see him crushed by his canon.
So that's where all the pandas went!
Voicemail
Listen Twitter question: What is your favorite scene or quote from Kung Fu Panda 3?
Don't forget to use the hashtags #AnimAddicts and #AnimAddicts91 when talking about this episode on Twitter!