Walt Disney Productions (1937-1950), Walt Disney Home Entertainment (June 14 2011), single discs sold separately, 67 and 65 mins respectively, 1.33:1 original full frame ratios, Dolby Digital, Rated TV-G, Retail: $19.99 each
Storyboard:
Two more volumes of classic Disney cartoons get "remastered, restored and remixed" (except for Hawaiian Holiday, which seems to have used an older master by mistake)…
The Sweatbox Review:
With the sheer surprise of the release of Disney's first two volumes in their Have A Laugh providing the shocking bombshell that the Studio seemed to be serious about restoring their vast animated shorts catalog to the near-quality of the feature film clean-ups such as Snow White and Pinocchio, I heartily supported the trade-off of having to witness "new" versions of these cartoons in order for the restorations to continue.
First introduced as television filler during the run-up to The Princess And The Frog's theatrical release, long-time fans would have noticed that a series of re-branded Have A Laugh cartoons were actually odd variations of some of the Studio's original cartoons. Also available online, it became clear that the Studio had taken a selection of their classic animated shorts and cut them down to three-minute bite-sized chunks, remixing the musical scores and – whoa! – recording new vocals for Mickey, Donald, Goofy and the gang using the current vocalists. Although the "same", these cartoons, which sported a rubber stamp "Short Version" logo on their title cards, weren't quite as I remembered them.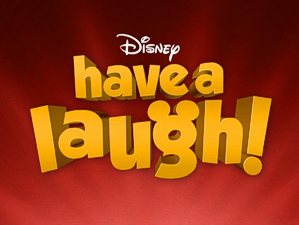 They were quicker and zippier than before, not "sped up" as such, but faster paced, edited down from their original six and eight minutes to less than half those lengths, the music expertly shortened and the new voices providing such a perfect recreation that I wondered how they had achieved such a clean audio restoration before logic told me they must be new recordings. But, most of all, the images looked brand new, totally remastered and restored – all the more frustrating in that while they looked great, they begged the question of what was the point of cutting down what were only short films to begin with?
While I also lamented that it was a shame that the original full-length cartoons would probably never enjoy this kind of digital cleanup due to time and the budgets no doubt needed, the eventual disc release of those first two Have A Laugh volumes had me beaming, because on top of the (ultimately redundant, it has to be said) cut-downs, the original, full-length cartoon shorts had been restored to better than they've ever been seen before, one of the initial volumes even including the recent theatrical short How To Hook Up Your Home Theater in its original aspect ratio! Since the, the series has grown to include over 30 cartoons, some more of which arrive on disc in these two new volumes.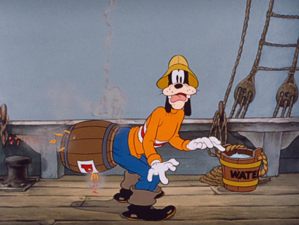 Now, it does have to be said that Walt's cartoons were not always the zippiest in Toontown: the Studio was never really the place to go for the all-out knockabout humor of the hysterical kind that was a stock-in trade across town at Warner Bros' Termite Terrace or Tex Avery's unit at MGM, choosing instead to place a narrative structure over character routines and blackout gags. This didn't mean Disney couldn't be fun: there are plenty that feature terrifically amusing scenarios and gags as well as the lush backgrounds and expert animation that we expect from the Studio, but as before it's a pretty random selection we find ourselves with here.
On Volume Three, the stand-outs have to be the intricately animated Mickey, Donald and Goofy adventure The Whalers and one of the most hysterical shorts featuring The Goof, How To Play Baseball. Each cartoon is presented in either its "Original" version or an "Edited" edition, marked "Short Version" on the cartoons' actual title card. This time around, the Play All option does not cycle through the full-length cartoon and then its cut-down, playing the full set of five original editions through first and then the cut-down Short versions – a much better configuration that means you're not essentially watching the same cartoon twice right after one another.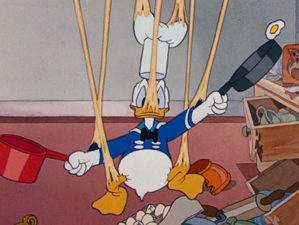 The disc itself kicks off with Mickey's Delayed Date, a sweet enough but ultimately uneventful cartoon that comes from the Mouse's later 1940s downturn in popularity, primarily resting on the antics of Pluto to raise some of the laughs as Mickey finds himself late for his night out with Minnie, though a nice gag seemingly has Mr Mouse in his Sorcerer's Apprentice robe, which he seems to use as a lounge outfit at home! The cut-down, which comes with the new Have A Laugh! branding and recreations of the title credits now placed on the end, basically cuts out all the Pluto shenanigans but still doesn't really achieve its aim on increasing the laughs; new Mickey Bret Iwan not sounding quite right as the Mouse, though he's more than passable and will no doubt grow into the character.
Next up is The Whalers, which has always been one of my all-time favorites, perhaps because I saw it so many times as a kid. One of the trio groupings of the Mouse, the Duck and the Goof, here we find them out on a mission to snag a whale, with the usually predicable results. I'm so pleased it's included among the titles picked to benefit from these restorations, especially as it has a typical lavish detail that reveals the artists' growing confidence as they headed towards feature animation, authentically irascible Donald, classic Goofy clowning, and a wonderful closing sequence full of big effects animation and editing that anticipates Pinocchio and is still perfect today. A packed cartoon to begin with, the Short Version basically chops off the entire first half of the short, missing out several of the flawlessly nuanced character gags.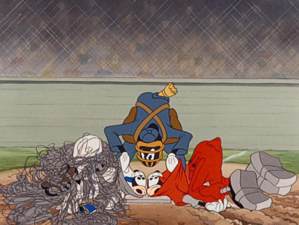 Chef Donald is next, with the Duck finding it tricky to keep up with Mother Mallard's radio cookery show when he accidentally uses rubber cement instead of baking powder (and there's a fun music cue for Pinocchio fans). Not particularly fast-moving, it's no less occasionally hysterical for the vocal performance of Clarence Nash and his intonations, something that the rashly edited cut-down shows up the subtleties of between his and current voice Tony Anselmo's takes. How To Play Baseball is perhaps the funniest short in this volume, being one of the original classic Goofy How To…s from the early 1940s. The cut-down essentially drops most of the opening, and does a good enough job, though it does feel like we're missing something as it rushes from sequence to sequence.
The line-up of cartoons is interestingly similar to before, starting with a sweet Mickey cartoon, then a team-up, a Donald short, and a Goofy instructional, meaning that we should end with a softer Pluto series entry. True enough, Mickey's pup gets his fill of a pesky backyard visitor's antics in Pluto And The Gopher. Again, it's only a so-so outing, and more than a bit tedious (mostly down to Oliver Wallace's relentless music, a rare mis-cue from him), which does make one wonder if there's anyone actually making the title decisions on these or if they're simply being randomly picked from the archive. For once, the cut-down does actually liven up the cartoon, but doesn't really add anything other than removing some sequences wholesale.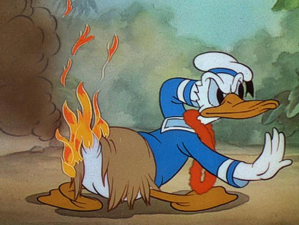 I can't say that Volume Four's cartoon selection kicks off with an all-time great, since I've seen the rather uneventful Mickey Down Under, from later in Mr Mouse's initial screen career, so many times as for it to become a selection I now groan at, and even the cut-down can't inject any real energy even if Mickey and Pluto get equal screen time unlike some later cartoons when Pluto stole the show. Much better is one of a series of ostensibly Mickey cartoons that featured the entire gang (including Minnie and Daisy), Hawaiian Holiday, another lushly animated short that really plays well on each character and gives each of them a chance to steal a moment or two.
The cut-down does the usual job of losing several segments, though the original's print is not as up to scratch as the others on these volumes. The cut-down is much cleaner, so me thinks the wrong master was used, as it looks very close to the image on an earlier Walt Disney Treasures disc. Trailer Horn is another cartoon I've seen too often, being one of the very first Walt Disney Home Movies I collected on the Super 8mm film format back in the day, but that edition was a silent print, so it's actually fun to see it again now with its soundtrack intact! It's a Donald versus Chip 'n' Dale cartoon, with the duck camping out in the woods while the chipmunks get up to their usual antics, with some fun gags involving a diving board.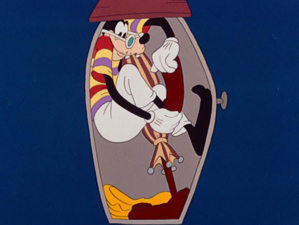 Goofy's instructional films are always great value, and How To Swim, though less-seen, is easily one of the best and certainly the funniest cartoon on both volumes with its dry narration and slow build-up, leading to some typical Goofy shenanigans, the cut-down playing out the more physical aspects but losing the hilarious and perfectly judged locker changing room sequence. Rounding things up, Pluto's Surprise Package is actually one of the better "Pluto versus an animal opponent" cartoons, containing more than a few chuckles, although the cut-down does a decent job in keeping the basic plot intact and retaining some of the funnier gags.
Is This Thing Loaded?
Though once again not actually designated "bonus material", both new volumes of Have A Laugh! come with a series of Blams! and one Re-Micks (see what they did there?), selectable from the Cartoon Selection menu. On Volume Three, pre-restored scenes from How To Play Golf and Donald's Golf Game are mixed together to form a Golf compilation of slapstick smashes and whacks…all emphasized, through audio effects, freeze framing and slo-mo replays, to sound as if maximum pain has been inflicted. Again, I'm not sure what the point of them are: Disney's cartoons were not the most violent and yet here they are re-cut and showing our favorite characters getting all kinds of stuffing kicked out of them, with amazingly un-amusing results.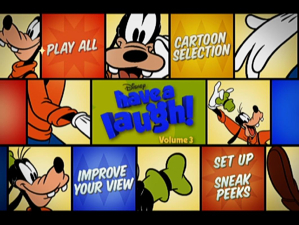 As if the cut-down wasn't enough, Chef Donald and Goofy's Glider (a great cartoon not included in full on either volume here) are reduced to Cooking and Glider Blams respectively, though if anything the constant messing around with the original cartoons makes these 90 second filler clips even more tedious to sit through. Volume Four's Blams! feature more from the pre-restored Hawaiian Holiday in Beach, a colorized Fox Hunt, and a Hockey compilation derived from Goofy's Hockey Homicide, again using pre-restored footage.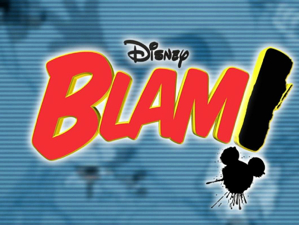 The two-minute Re-Micks are almost as redundant, basically serving up scenes from cartoon footage from Disney's vast library matched to a contemporary pop track. Volume Three gets 1930s Mickey and Minnie hosting a Dance Party to the Black Eyed Peas' I Got A Feeling (actually quite well done, the editing making it look synched up, and having a decent song helps). On Volume Four, Disney's Camp Rock Jonas Brothers sing Play My Music over a montage of barnyard revue moments, although with the footage for both in black and white, I'm not sure how attractive either clip will be to the no doubt aimed-for audience, no matter how rocked up they may be.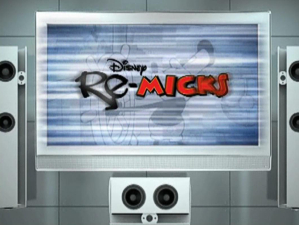 On both volumes, options to "Improve Your View" merely links to the now well-worn 3D promo featuring a non-Nathan Lane Timon & Pumbaa, while Sneak Peeks are included for The Lion King: Diamond Edition, Winnie The Pooh and The Fox And The Hound: 2-Movie Collection playing on start-up and, from the menu option, previews for the Movie Reward program, the Epic Mickey Wii game, Phineas & Ferb Across The 2nd Dimension, the spookily bad looking Spooky Buddies and the HD debut of a Bambi II Special Edition.
Case Study:
As with the previous two volumes, the descriptions of "5 Full-Length Original Shorts" and "5 Restored Versions" don't really make the point of making sure collectors know that the "original shorts" are restored as well, and that the "restored versions" are actually the half-length cut-downs, the "remixed, remastered, restored" blurb kind of confusing the issue. But, those shortcomings aside, the sleeve art, replicated on a shiny embossed slipcover, is actually bright, colorful and funky, and while it's not quite true that these are "the funniest toons", they certainly are "like you've never (seen?) them before", both in their newly mixed editions and the fantastic original length restorations.
Ink And Paint:
Forgetting the fairly useless cut-down versions, the main reason for any Disney collector to be interested in the Have A Laugh! discs is for the outstanding restorations: these classic Disney shorts now look almost brand-spanking new again, though not quite as scrubbed clean as the likes of Snow White or Bambi. There's a very nice, very fine layer of grain that keeps the toons looking authentically like film, but they're miles ahead in terms of freshness and clarity than Warners' Looney Tunes remasters or Disney's own work on the Disney Treasures restorations.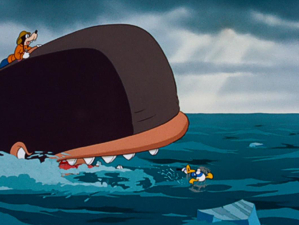 The full-length Hawaiian Holiday is the odd-one-out with some color fluctuations and light print marks, while the cut-down sports a typically ultra-spotless look, which immediately suggests that an earlier Treasures master was used by accident. It's a real shame, especially as it's my favorite toon in both volumes; one can't expect the Studio to send out replacements, but I hope quality control makes a note for any eventual HD edition.
Scratch Tracks:
While the re-recorded shorter editions predictably come loaded with 5.1 surround tracks (themselves not bursting from the speakers but still wider than usual for this vintage), the original full-length soundtracks are pretty dynamic too. Disney Studios was always careful to provide separate dubs for foreign markets, meaning that music and dialogue stems even for the shorts were preserved and can now be remixed for releases such as these. Any previous background or signal noise is now history, and the music scores have a nice warmth to them. Whatever else, when these (and hopefully others) make it to Blu-ray, they're going to be benchmark quality for other classic cartoon releases to match. English, French and Spanish dubs and subs are all bundled in.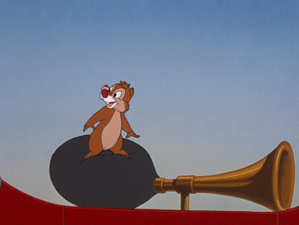 Final Cut:
Like I said with the releases of Volumes One and Two, if fudging around with the classic Disney shorts is what the Studio has to do in order to fund these terrific restorations, then I'm all for it, leaving the cut-downs to play as television filler (with the knock-on effect of introducing these cartoons to new audiences) while the originals look and sound better than ever, inevitably destined for – hopefully – high-definition. But despite the fresh lick of paint, I would again grumble that these aren't always the greatest or funniest of Mouse House cartoons and, at little more than an hour each, $15 would be a more reasonable cost or at least combine volumes for a single two-hour $25 disc.
Even better, why not get those restored original length versions all together for a one-off Blu-ray sampling? That's what we really, really want, although you can rest assured the shorts here look and sound great, even if a price drop or deal on picking up both together is probably most advised. It's also a crying shame that Hawaiian Holiday's original version isn't shown in the new digital restoration for some reason, but whatever the quality, and priced as they are, Disney is the one that's having a laugh.
Animated Classic or Back To The Drawing Board?