Touchstone/Rocket Pictures (February 11 2011), Touchstone Home Entertainment (May 24 2011), 3-disc set comprising Blu-ray 3D, Blu-ray HD and DVD including SD and Digital Copy, 84 mins plus supplements, 1080p high-definition 1.85:1 widescreen, DTS-HD 7.1 Master Audio, Rated G, Retail: $49.99
Storyboard:
The oft-told tale of star-crossed lovers is given a fun new slant by way of setting the story in an English suburb's backyard, where the population of garden gnomes become the warring families that the title pair must hide from in order to be together.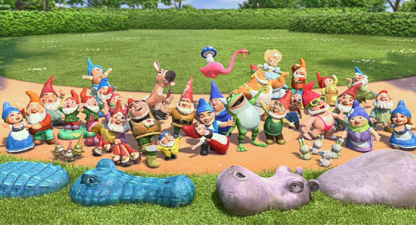 The Sweatbox Review:
With a more tumultuous than usual production history, it's rather difficult to ascertain the origins of the Disney Studios and Elton John's animated Shakespeare pastiche Gnomeo & Juliet. It would be safe to assume that, following the phenomenal screen, stage and spin-off success of the Studio and composer's collaboration on The Lion King, the two would want to try and catch that lightning in a bottle once more. Back in 1994, Lion King brought John to a wide new audience that would not have known about the Rocket Man's previous work, and opened up his career from rock 'n' roller to musical entertainer, still keeping his performer's edge, but also able to occasionally reach out for more family friendly fare.
A contemporary musical version of Aida followed, once destined as a Disney animated film but consequently arriving on the Broadway stage, as well as non-Studio projects: songs for DreamWorks' animated The Road To El Dorado (mention of which reminds me where I'd seen Tangled's comedy horse before!), which failed to set the box-office alight, and another stage outing with the musical Billy Elliott, which has proven to be an award-winning success in London and New York. But Elton liked his taste of the movies, and he wanted to produce them. Disney assisted in the forming of Rocket Pictures, named for John's original Rocket Record Company after his second massive hit single, and one would imagine that work quickly started on what their first animated film would be.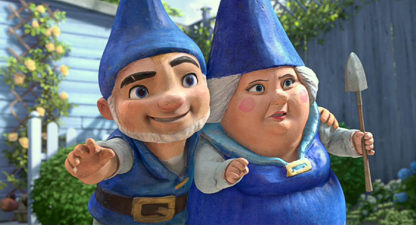 The Lion King had taken some inspiration from Hamlet, so it might not be so far out of the question to assume that perhaps some other Shakespeare stories were also considered before Romeo And Juliet hit the spot (it could also be that John had been aware of The Lion King's direct to video sequel using the basic same plot). Elton, as much as he is a proponent of American slickness, is a fan of British quirkiness, and it can't have been long before the project's title pun of Gnomeo influenced the way the production would be headed: this interpretation would star that most British of all garden yard adornments…gnomes!
It's a silly idea, but one suited perfectly for animation, and perhaps there was a flurry of marketing people behind the scenes that could see a merchandising empire ready to grow in really giving the quintessential garden gnome culture a push in America with character figures from the movie ready to embellish yards across the nation. Whatever the circumstances, it seems Disney was all over it, attaching The Lion King's producer Don Hahn and one of his favored directors, Beauty And The Beast's Gary Trousdale, to develop the movie. Early on it was announced that Ewan McGregor and Kate Winslett would be voicing the title characters, and that the film would naturally be a musical, the twist being that the score would incorporate not only new music from Elton, but several selections from his back catalog too.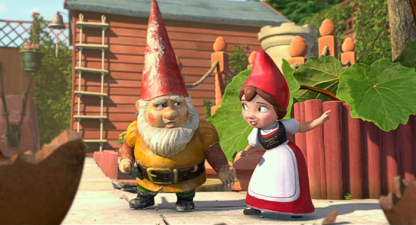 For four years Gnomeo & Juliet languished in development heck at Walt Disney Feature Animation, never quite gelling to get fully off the ground. The US box-office failure of Aardman Animation's collaborations with DreamWorks might have had something to do with Gnomeo's drawn-out creation of the right balance between the British and American aspects of the script (Aardman were continually asked to change key words that would play well on both sides of the Atlantic), as perhaps did the fact that the film was originally going to be hand-drawn before Disney moved exclusively over to CG animation.
It was at this point that Hahn and Trousdale left, Winslett and McGregor with them, though Disney seemingly did little to woo the star vocalists back, maybe mindful of Winslett's less than stellar box-office returns in other animated fare and of the failure of McGregor's two musical outings, Moulin Rouge! and Down With Love, both actually exceptionally brilliant movie experiences! John's partner David Furnish used Rocket to produce the misfire romcom It's A Boy/Girl Thing, but it seemed Gnomeo was dead, with all references to it coming to a halt in Studio publicity. However, thanks mainly to Elton, the movie kept bubbling along, still in hope of coming to the screen…until Disney purchased Pixar for seven billion dollars and John Lasseter marched in to take over Disney Animation.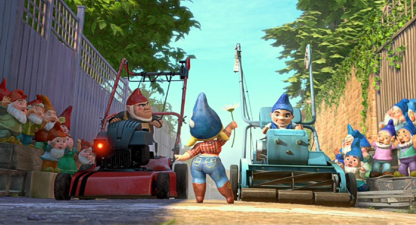 Like any new regime wanting to make their mark and start doing things their way as soon as possible, Lasseter wanted to take his broom and sweep as much of the old, admittedly stale, executive-run animation department away. Long-gestating projects were canned and unneeded executives removed, but for all the good Lasseter's arrival caused in a boosted morale and return to traditional animation alongside the CG films, several noses were also put out of joint. With the lead time needed on any animated film, some projects were simply too far along in development to cancel, and Lasseter had to concede to finishing off these films as best as he saw fit. Meet The Robinsons was a curious mishmash of previous and new styles, but Chris Sanders' American Dog was scrapped almost entirely, causing the director to jump ship to DreamWorks (and How To Train Your Dragon while the property was reshaped as Bolt.
Glen Keane's personal take on Rapunzel fared better, since the previous administration had derailed the film from fairytale to Shrek-styled spoof and Keane was given the chance to pull it back from the brink, give or take a marketing-led title change to Tangled, but if there was one project that hadn't quite made the leap into full production, it was Gnomeo & Juliet. Lasseter, never apparently a fan of animated musicals, infamously asked after reviewing the story reel version of the movie, "Why are we making this?", after which the project was finally, apparently dead.
Perhaps Lasseter didn't want what could have looked like a contemporary comedy going out with the Disney name on it, after the close call the Studio had with a film called Wild Life caused Roy Disney to blow up when he witnessed the supposedly crude animated goings on planned for that film. Maybe Lasseter didn't like the fact that Gnomeo used the same trick of the gnome statuettes coming to life when the humans aren't watching as his groundbreaking Toy Story had done (admittedly a trick that had been pulled off many times before that film came along in 1995). Or perhaps Randy Newman groupie Lasseter just isn't an Elton John fan?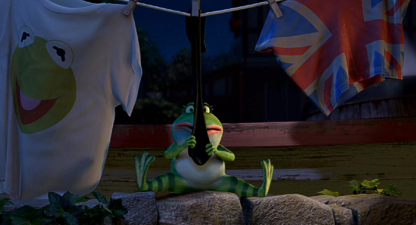 Whatever the reasons, it's here that Gnomeo & Juliet's journey to the screen takes an interesting, and unprecedented turn. The axe from Lasseter would have otherwise signalled the end of any production, no question about it, but with four years of work on the film already completed, not to mention a high-profile co-producer on the project that it was bankrolling, Disney could ill-afford to throw that work away and risk alienating a big-name associate. Rather discourteously, Gnomeo was shifted to the Studio's "independent" arm Miramax Films, solving both the issue of Lasseter's disliking of the material (it wouldn't then be seen as "a Disney picture") and managing to keep the movie alive (and Elton John happy).
A new director was sought, and the animation outsourced to Starz Animation based in Toronto, Canada; previously the Film Roman outfit that produces so much animation for television and had successfully handled the sometimes stunning CG visuals for the Tim Burton-produced post-apocalyptic thriller 9 (since Gnomeo's release, they have changed hands again, now branded as Arc Animation & Visual Effects). Taking the helm was Shrek 2 co-director Kelly Asbury, a long-time Disney Studio and animation veteran whose pedigree as a story artist saw him assisting in the development of such films as The Black Cauldron, The Little Mermaid, Toy Story, Beauty And The Beast, The Nightmare Before Christmas, The Prince Of Egypt, Shrek, Chicken Run and Kung Fu Panda, before co-directing the visually splendid Spirit: Stallion Of The Cimarron and the hugely popular Shrek 2.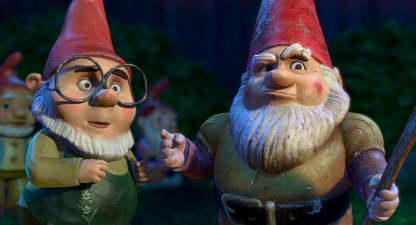 Asbury approached Gnomeo & Juliet with a clean slate, revamping the project and beginning the casting process over again. Out went McGregor and Winslett and in came James McAvoy and Emily Blunt, as well as several changes in music and tone. And then, just as the production seemed to have forged a niche for itself, Disney put Miramax and its library of feature films up for sale! Deciding to draw back focus to Disney's core brands, Studio topper Robert Iger began taking offers for the independent arm, with the sale to include the films currently in the making, such as Gnomeo. Goodness knows what kind of meetings went on next, but the rumors were that Elton John was not a happy gnome, debating that his deal was for a Disney picture, with the kind of release support that only the Studio could provide.
Production continued, but the release strategy for Gnomeo & Juliet remained a mystery, until a sudden announcement late last year marked the usually dead January/February period as when the film would finally come to screens…unusually under Disney's own Touchstone Pictures banner. This came as a surprise, as it had seemed guaranteed that Gnomeo would be sold off in the Miramax deal, although evidently some backstage negotiations had managed to curtail that event (and that of Julie Taymor's The Tempest). It seems that John had won his fight to keep the film at Disney's, while Disney itself could still release the film without making a link to Lasseter's animation department, making the movie the first animated picture to come from Touchstone since Burton's Nightmare Before Christmas almost twenty years ago.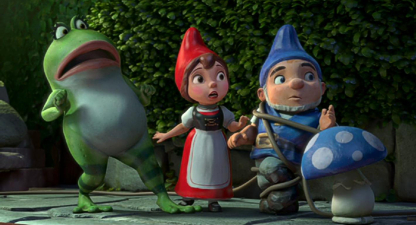 Like Nightmare, Disney may well end up embracing Gnomeo & Juliet as one of its own in the future, since the movie surprised many by becoming a genuine box-office hit! Granted the film had a release in the fairly quiet time after the big Christmas titles, but if a movie is no good, an audience won't go whatever little else is playing in the theaters next door. Gnomeo even managed to out gross the higher-profile Johnny Depp/Gore Verbinski collaboration Rango, no slouch itself when it comes to unique animated filmmaking, and although it doesn't seem to have gotten Americans gnome crazy, the film has arrived on disc with its Touchstone banner intact, but without being afraid of showing all the hallmarks of a usual Disney animation title.
Quite honestly, I really don't know what all the fuss was about: if Gnomeo was another kind of movie when John Lasseter first saw it then so be it. But the resulting film as released under Asbury's direction can only be described as a perfectly fine slice of Disney animation, albeit ironically a Disney animation that wasn't, ultimately, animated at Disney's! I was, admittedly, already rooting for this "little film that could" when I first saw it, but even so I have to say that I left more impressed than not, for a variety of reasons, and found Gnomeo & Juliet to sit much more favorably in the Disney tradition than the likes of Chicken Little, Meet The Robinsons' entire middle act, or even the rather bland entertainment of Bolt.
For something that was supposedly not "a Disney film", Gnomeo feels like a modern day Disney movie just as much as Tangled was a modern version of a classic fairytale musical. Given Lasseter's "Why are we making this?" statement, I was expecting something much more risqué and "adult", but after seeing the movie I could understand how something as potentially crude and out there as Wild Life got cancelled, but not what the "problems" were with Gnomeo & Juliet. Because the film is remarkably "old fashioned" – this meant as a very pleasing compliment! – and very sweet, much of it down to the vocal performances. And, in the biggest surprise of all, it isn't really even technically a musical.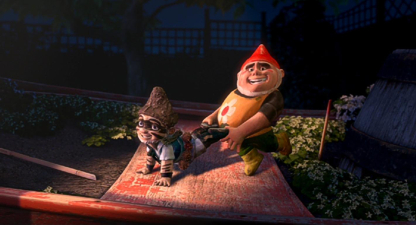 For anyone who knows Elton's music outside of The Lion King and the like, you'll be naturally expecting someone to be singing Your Song at some point in the picture, but that it doesn't happen as expected only goes to confound those who think they know what they're going to get. Your Song is sampled, yes, but it's one of the very few singing moments, and only then played for a big laugh by one of the supporting characters, and not by Gnomeo singing to Juliet. That would have been the more obvious direction, but that scenario had already been played in the jukebox musical Moulin Rouge!, with McGregor using it as his ode to love for Nicole Kidman (perhaps something that also contributed to his leaving Gnomeo's voice cast so as to not potentially repeat the trick).
Gnomeo is a jukebox of its own, in a way, too, although the use of songs is more along the lines of contemporary animated film, where they are used to accompany a specific sequence or convey the inner emotions of a given character. John has supplied two new songs, both of which he sings over the introduction of Gnomeo to Juliet, and the sad backstory of their plastic flamingo friend Featherstone, respectively (a moment that, for some, may be a little too close to When Somebody Loved Me from Toy Story 2). Of the rest, only Crocodile Rock gets a semi-incorporation into the score as a sing-along in the film's opening and at its close, while a wealth of John's music, sans Bernie Taupin's lyrics, is interweaved throughout James Newton Howard's orchestral score.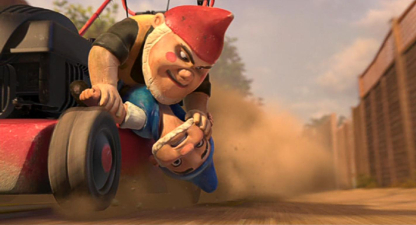 So we have some hints of Rocket Man associated with Gnomeo himself, and pretty good and full it sounds too when he jumps into action, or the lonely sound of Sorry Seems To Be The Hardest Word when Juliet's relationship with Gnomeo is at a low. At other times, the original catalog recordings are inserted in: Saturday Night's Alright For Fighting being used as source music to accompany a high-octane back-street drag-style race on rival lawnmowers, for example. It all kind of works, though the question must be why the songs were used this way, since it neither really "adds" anything to the score. Kids won't know the references and even adult Elton fans may struggle to pick out the melodies amongst the action, begging the point of why Newton Howard and his collaborator Chris Bacon weren't allowed to simple write a new score?
Not that incorporating Elton's songs into the score doesn't work: for anyone who doesn't know, or misses, the references, it simply works as a very good movie score, even if the songs themselves don't make much sense in the context. This is perhaps why the lyrics are missing: with them intact, or with characters singing them, the film just wouldn't work from a story/song standpoint. But take the lyrics away (or alter them, such as Saturday Night's chant of "Saturday! Saturday" to "Gnomeo! Gnomeo!" as his friends cheer him on) and there's some fun, random as it may be, to be had. But it's still a strange choice, even when it works, though I'd have liked at least one extra line of dialogue shoe-horned in to specifically set the mower chase as occurring on a Saturday night, as the song works more as a simple, aggressive action cue rather than one that fits into the plot specifically.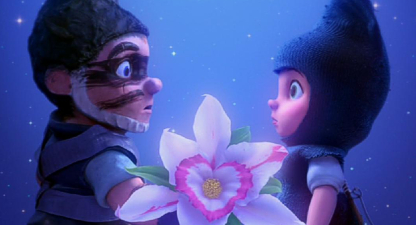 When it comes to John's new songs, the ballad Hello, Hello is the best, nicely matched to the title pair's initial pairing set against a starlit night sky, but a re-recording of Crocodile Rock is wasted and ruined by an attempt to bring it up to date by featuring Nelly Furtado and an over-excited beat that doesn't match any of the entire film's preceding music. Used at the film's close as a curtain call moment, the film suddenly seems lifeless, the lack of Foley effects for this final sequence is a strange choice, giving the sound a flat feel that is much less energetic than the track seems to be striving for. Better is the second of the new songs, which shifts the onus onto a supporting character, which opens up a unique facet of the film's structure.
In fact, it's interesting to note in Gnomeo & Juliet just how much the supposedly supporting characters get to do, and on watching the film again for this review, it dawned on me that the movie is that rare beast in animation: it's actually an ensemble piece. Thus Gnomeo and Juliet, despite the story essentially revolving around them and their title character status, are never true leads in the traditional sense, the plotting leaving just as much time for the other inhabitants of the duelling gardens of "Verona Drive". That's just one nice nod to Shakespeare's original, transplanting the action to the suburbs of Stratford-Upon-Avon, where the English garden gnomes of Mr. Capulet and Ms. Montague are as against each other as their neighbor owners. Helping the distinction along are the opposing red vs. blue colors, not only a clear visual characteristic, but perhaps a nod to politics or, at the very least, Elton's penchant for dabbling and following British football teams!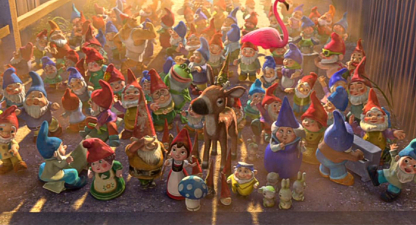 Bringing voice to this rounded cast of characters is a host of authentic British acting talent: McAvoy obviously as Gnomeo, sporting a genuine North London accent that's friendly while being typical of the region, and Blunt doing prim and proper while also coming over as sassy enough to be a modern damsel. As their parents, Michael Caine beats his own voice work for Pixar's Cars 2 to the screen as Juliet's Dad, while Maggie Smith is Gnomeo's Mother, with others in the line-up also including Richard Wilson and Julie Walters (as Capulet and Montegue) and veteran animation vocalist Jim Cummings as the Spanish-accented Featherstone, action man Jason Statham doing some lively stuff as Gnomeo's rival, and only Ugly Betty's Ashley Jensen hitting a sour note as Juliet's confidante Nanette the frog, overplaying in an attempt to be the film's lovable stand-out supporting character but merely coming over – one funny Japanese joke aside – as annoying with a capital A.
The rest of the film is much more confident with its jokes, the one-liners coming thick and fast ("Let's go kick some grass!"), the more risqué of them coming from Caine and Smith's bickering parents that play on Caine's gnome's lack of a full grasp on his grammar, but that will fly over the youngest of heads. There are many nice little touches as well, such as Gnomeo's belt buckle, and some great Shakespearian sight gags in play, too, drawing on the Bard's wider works (a moving company called Rosencrantz & Guildenstern for instance). Other stand-out sequences include the lawnmower race, that magical first meeting between Gnomeo and Juliet, Don't Go Breakin' My Heart's date preparation montage, and various amusing movie references, from Bambi to Forrest Gump via The Hudsucker Proxy, that are actually very subtle.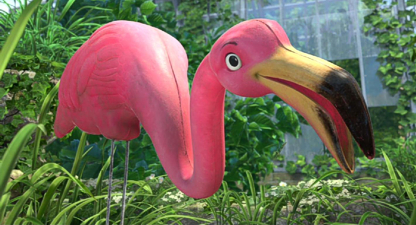 Although things do slow down a little in the middle act, and the introduction of the crazy flamingo Featherstone unbalances things somewhat, another nice touch is that the entire film takes place from the viewpoint of the gnomes themselves: not, of course, a revolutionary cinematic tactic, but one that makes their world come alive as something quite real. It's not that we don't see any humans, but that we only see them from the ground perspective, lending the film a further step into its own world. Indeed, it might have been cool to simply have live-action humans in a real garden, and then switch to the CG as the story got underway, but to Starz' credit, they have nothing to worry about, since the ploy works superbly and we never really question the lack of human interaction.
Starz Animation also scores big with the look of Gnomeo & Juliet, particularly in the texture of the garden gnomes themselves, which really could have been inserted into live-action backgrounds and looked totally authentic. What really makes them work is a combination of three elements, the first of which is wonderfully fluid animation thanks to a healthy budget that really ups the studio's game and marks them out as an independent to watch. Secondly is that the characters really look like they have been fashioned from terracotta clay: they exhibit a painted ceramic look complete with matte coloring, and even chips in them here and there, exposing the non-painted gray underneath. Lastly are the eyes, which manage to exhibit terrific emotion given than they, too, are "painted" dabs of color as opposed to the standard CG pupils that are usually more perfect than real ones.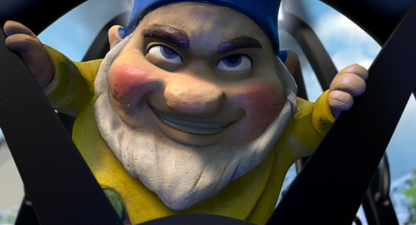 Added to this, the characters' respective gardens and the alleyway running along their back wall are intricately designed, rendered, and explored, with Asbury making total use of his real estate to conjure up the illusion of space to extend what would normally be a fairly small area into the kinds of locations the story calls for. And as for that story, well, naturally there will have been some changes to Shakespeare's original – he didn't write it with gnomes in mind, that's for sure! Of course, there have been many adaptations of the play's core plot since its 16th century debut, both faithful and stylized, on stage and screen, including animation, from television's Shakespeare: The Animated Tales to home video (the aforementioned Lion King II video sequel) to Phil Nibbelink's impressive 2006 independent one-man hand-drawn feature Sealed With A Kiss.
But this is the first time such a thing has been attempted in theatrical animation on a scale as large and high-profile as this, with the backing of a major studio behind it, even if the off-page, stylized direction is the path they have chosen to go with. This allows for several flights of fancy the Bard would never have imagined or intended, but that makes for an entertaining family movie. There's actually even room for an appearance from Bill Shakespeare himself, in statue form, lamenting about the gnomes' plight and how he feels sad at the way he believes things will end for them (not only a knowing nod to the original ending, but a cute way to change it for this happier version, given some subtle weight by having an old Shakespearian hand, Patrick Stewart himself, bring gently mocking spoofery to the scene).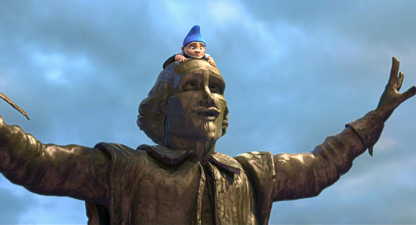 More faithful screen translations (particularly Zeffirelli's celebrated 1968 epic, or even the New York-set musical drama of West Side Story) have been saved for posterity if you're searching for an authentic retelling, but Gnomeo & Juliet serves up its own brand of family fun, taking a well-known premise and having fun with it. Will the film stand up for everyone? Probably not, but it's better than a lot of what passes for family entertainment these days, and easily tops the best of similar CG fare from any studio without Disney/Pixar or DreamWorks in their name (and at times even some of those films). Some may find the ensemble approach a little disjointed at times, but the movie does have a lot of heart and if there is to be a garden gnome version of Romeo with Elton John's songs peppered throughout it in the ever-growing list of animation films, then Gnomeo & Juliet does the job as well as anyone!
Is This Thing Loaded?
Spread out over three platters, Gnomeo & Juliet on disc offers up the usual Disney configuration, even if…shhhhhh…this isn't technically a Disney set. Disc One is a 3D Blu-ray, offering nothing exclusive in the way of extras, but the second, flat Blu-ray Disc contains more than might have been expected given the Studio's treatment of the movie, and Disney finally catches up with the idea of not wasting an extra disc and lumps the standard definition and Digital Copy-bundled versions of the film onto one regular DVD.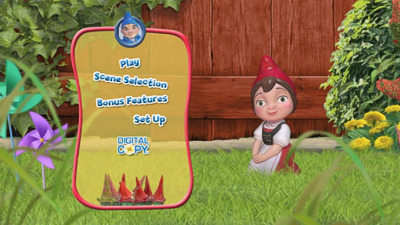 On the Blu-ray Disc, Gnomeo has been surprisingly well served for a production that was anticipated (or intended?) to die a dismal death at the box-office, although in addition to the packaging (see below), there's no real disguising this as anything but a Disney disc, especially when the Sneak Peeks promote such core Studio titles as the upcoming new Winnie The Pooh to theaters, The Lion King's 3D BD debut (making the Elton John connection),Dumbo: 70th Anniversary, The Fox And The Hound: 30th Anniversary, plus the Epic Mickey video game, Disney Channel's Phineas And Ferb: Across The 2nd Dimension and the latest in the Studio's successful video premiere series, Spooky Buddies.
The Main Menu is bags of fun, with the low-level camera panning along the garden as the gnomes do their best to freeze while us humans cast our eyes over them. It's a nice touch that basically reuses character movement from the movie, but it's done well and has enough animation in it to suggest that some care went into its creation. The first of the disc's supplements is the HD behind-the-scenes Elton Builds A Garden featurette (5:46), which is refreshingly honest about its production, forgoing the happy ever after approach that a lot of these kinds of things go for. Elton is clearly upset at the upheaval his movie has experienced – not least speaking frankly about his displeasure at Disney's handling of the film in radio interviews when the film proudly became a hit for him – and talks honestly about how "we fought tooth and nail for this movie".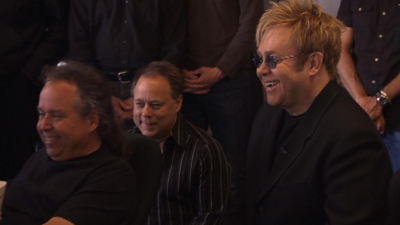 It's just a sound bite, but in the context of what should otherwise be a soft and fluffy promotional piece on a commercial studio product, it's not only daring to have said it but brave of the disc compilers to leave it in, alluding to the production shenanigans like no other recent Disney title has done. Elsewhere, producer David Furnish makes the Disney connection again, outlining their establishing of Rocket Pictures and the development of Gnomeo & Juliet at Disney Animation, while John confirms three new songs were written by him and his Lion King lyricist Tim Rice, before we catch glimpses the vocalists in the recording booth and there's a bit of discussion on the catalog songs and score by Newton Howard (who, it turns out, used to be in John's band back in the day), as well as a very fun "chicken sandwich song" closing anecdote from Elton's guitarist that proves the musicians' rock 'n' roll credentials!
It would have been great to hear more from Elton and director Kelly Asbury in a potential commentary track, but although the disc doesn't quite stretch that far, the director does appear to introduce a couple of Alternate Endings that run 4:05 in a Play All option. All's Well That Ends Well is a slightly better ending as far as I am concerned, mainly for the use of Foley effects integrated into the Crocodile Rock remix that gives the scene much more life, while an Alternate Dance Routine is more of what makes this otherwise quirky and charming movie fall a little flat in its closing moments, due to the lack of those same Foley effects.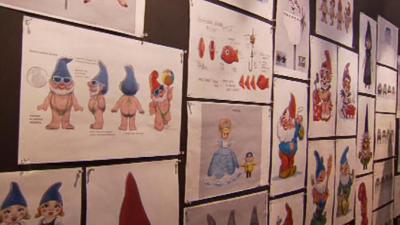 Asbury is back with even more insightful comments for an extensive grouping of eight Deleted and Alternate Scenes that Play All for a length half as long as the movie itself at 42:25! An Alternate Opening sets up the relationship between the red and blue gnomes with a little more mystery and focus on why neighbors Montegue and Capulet don't get along, while the others are an assortment of the genuinely interesting (an alternate version of Gnomeo and Juliet's first date and what happens while they're away from their gardens), fun diversions (especially the hilarious weathervanes) or the redundant (Featherstone's board games, a penguin trash can, and a strangely inappropriate CSI pastiche that goes off in some heavy directions). As with the endings, these scenes are presented in animated story sketch fashion, with temp vocals, effects and score music that keeps this generous helping of sequences moving fast and entertaining.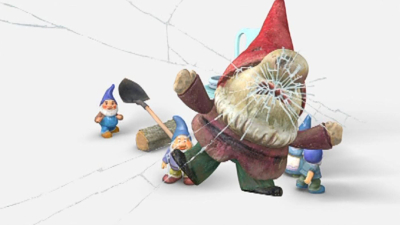 Frog Talk With Ashley Jensen (1:45) spends some time with the British comic actress, elaborating on her faintly annoying character and behind the microphone, while the same kind of thing applies to Ozzy Osbourne and his voicing of a concrete deer ornament in The Fawn Of Darkness feature (1:28). Despite not being a regular actor (and the last one anyone would associate with Shakespeare!), Ozzy comes off very amusingly in the film even if his character only appears sporadically throughout. Lastly, a pretty basic Crocodile Rock Music Video (1:30) has Elton and Nelly Furtado seen recording the new lyrics in their individual booths, intercut with movie shots and, at least bringing some production value to the clip, some new promotional animation of the characters, but it's really too short to be anything more worthwhile than a soundtrack promo.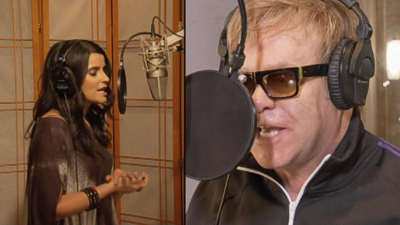 On the DVD, only a selection of these bonuses have been included, seemingly to make room for the also-included Digital Copy on the same disc, which should auto launch when inserted into a computer drive. The supplements are brief: just the Elton Builds A Garden featurette again, plus the clip of Jensen speaking about her frog role, and the John/Furtado Crocodile Rock "music video"/commercial. None of the deleted or alternate scenes are included (although understandably to squeeze the movie's digital file onto the same disc, which does actually make some sense). While the selection of extras isn't groundbreaking – and far from the generic "hours of bonus features" promised in the press announcement, there's more in the set overall than some higher-profile Disney movies have ever received, and the Blu-ray's deleted scenes are especially welcome.
Case Study:
Coming to disc under the Touchstone Home Entertainment banner, Gnomeo & Juliet is otherwise, to all intents and purposes, a regular Disney video release, from the lenticular cover on the 3D edition to the rest of the standard design aesthetics. Small details, such as the officially recognized BD logo over Disney's own, may be noticed, but just as normally in place is the Movie Rewards badge, and numerous other mentions of the "D Word". It has to be said that the cover art isn't the best, using a pre-release teaser image that isn't best suited for the dimensional lenticular treatment, when the general release poster image used on the regular Blu-ray and DVD sleeves would have been preferable. That isn't even Gnomeo on the cover!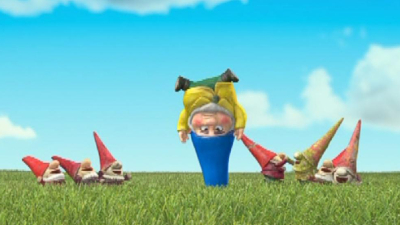 I also think the "from a director of Shrek 2" isn't the nicest or grandest way to promote Asbury, when the more usual "from the co-director of…" would have sounded less random or dismissive. Inside, there's a schizophrenic attempt to move away from the Disney branding by having an insert list other Touchstone Blu-rays available (such as family favorites No Country For Old Men and Con Air) alongside the usual Movie Rewards code insert. A random plug for a travel company is seemingly tied in because they have a garden gnome on the ad, while the BD disc artwork at least uses the preferred poster art. All in all, pretty much your standard Disney release, whatever they want you to think!
Ink And Paint:
Blu-ray 3D: Having now seen two examples of computer animation in 3D (the other being Tangled), I am convinced that if the format has a future it's going to be best spared for this medium. With the generally brighter colors and more dimensionality to the images, CG animation seems to be when 3D works best, especially, as it seems, in the home, where brightness levels can be optimized and the extra layers of depth can be controlled by the director in great detail. I continue, however, to be a naysayer about the format as far as live-action goes: after reaching a point in the new Pirates Of The Caribbean where my eyes were straining, I took off the 3D glasses only to find the remaining half of the movie didn't actually contain much of an extra dimension anyway, even if the theater was charging more for admission!
I'm still not sure that 3D has a home in the home, and herein lies the paradox: although adults may appreciate films such as Gnomeo & Juliet for one or two viewings, they will be best enjoyed on repeat play by those under ten, whose eyes are still developing. Should we really be subjecting them to prolonged exposure to eye-weakening processes such as home 3D? Even if we do, maybe once or twice a week, surely if they have friends around, won't they want to also watch, necessitating the purchase of many extra pairs of battery-powered specs? On the flip-side, if we decide 3D is for the grown-ups only, how many times are they really going to want to watch something like this? Tangled I could understand, but it seems to me there's a lot of 3D fare that works perfectly fine on the big screen, but doesn't always need to be readily available for the home.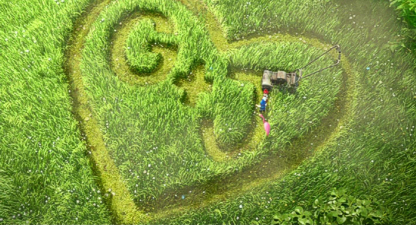 That said, I didn't see Gnomeo & Juliet in a 3D theater, so that experience was new for me on this disc. As with most animated features nowadays, the urge to throw things out at the audience has been mostly overcome, and it's in the background depth that director Asbury and his Starz animators have created dimensional space. It's actually most impressive for a smaller studio, and certainly on par with the rest of what animated 3D output I have seen, which suggests that even without the Studio's name attached to the film's release they would have still wanted to ensure quality was in evidence. As such, there are more than a handful of moments that are quite effective: Hello, Hello's meeting of the star-crossed gnomes, the Saturday Night lawnmower chase and Elton's "cameo" as the dream-like Your Song gnome all work well enough, even if it's not exactly groundbreaking.
Blu-ray Disc: The lack of the extra dimension shouldn't inhibit anyone's enjoyment of Gnomeo & Juliet, especially with the vibrant and strong coloring the digital HD transfer offers. As with most CG films, the illusion of depth is in effect even without wearing the glasses, so I can see it's mostly going to be this "flat" version that will probably receive most replays in a home with lots of younger eyes eager to watch the movie over and over. The detail on the gnomes is particularly impressive to note, and there's really not much more to say than that: this is an as-usual "better than perfect" presentation. The DVD and Digital Copy disc offers up fine standard definition editions for smaller screens.
Scratch Tracks:
As with the image, there's really very little to complain about with Gnomeo & Juliet's soundtrack, especially in the default 7.1 DTS Master Audio mix that provides a lot of thumping bass in the song and action moments. The good Foley work is also a plus, with the lawnmower scene again proving to be a highlight as well as the thousands of little clinks and clanks that make the character interactions feel more real. Spanish is also offered in Dolby 5.1 on the BDs and the DVD alongside subtitles in both languages.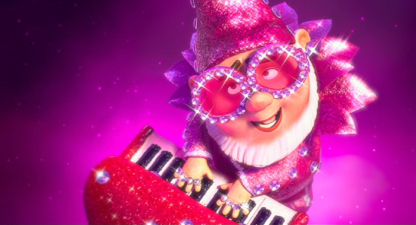 Final Cut:
If you're a fan of the Aardman films, I'd bet that you'd get a kick out of the albeit more pop-culture-influenced Gnomeo & Juliet, which still retains that kind of British quirkiness and atmosphere, mostly from the cast list that reads like a who's who of thespian talent. What's most impressive is that the film managed to get made at all, not least emerge as confident as it is and prove to be something of a box-office draw, and even though it's an often used story, the choice of garden gnomes puts a definite animated spin on Shakespeare and makes Romeo And Juliet feel fresh again.
The use of Elton John's back-catalog songs isn't a choice I'm more certain about, especially in their new context and even if they do work woven into the score, but despite these different aspects, I really did feel Gnomeo & Juliet fits into Disney's modern-day ethos more than some of their other films to have come along recently. A Disney movie in anything but name, this Touchstone-branded set provides top-notch image and sound, with a bunch of nifty extras that makes the package quite cutting hedge in its own way!
Animated Classic or Back To The Drawing Board?