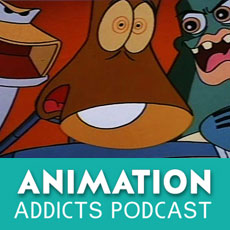 Learn more about The Rotoscopers!
The Rotoscopers take a look back at an interesting 1980s animated film, Disney's The Brave Little Toaster.
Highlights
Morgan gives the update of the Disney's third multi-plane camera and Chelsea has big news!
Main Discussion: The Brave Little Toaster (1987)
A little production history and John Lasseter's actual involvement in production.
Let the Toy Story comparisons begin!
We had a hard time relating to…appliances.
Talking about the voice actors: Jon Lovitz, Phil Hartman.
Where did all these songs come from? They didn't quite work.
The animal scene is just bizarre. Same with Toaster's dream. Yikes!
Mason favorite movie trope: the characters searching for each other and JUST miss each other.
The new electronics are fancy…but mean!
The dump. Gotta love the 80s/90s making trash evil.
Voicemail
Don't forget to use the hashtags #AnimAddicts and #AnimAddicts94 when talking about this episode on Twitter!