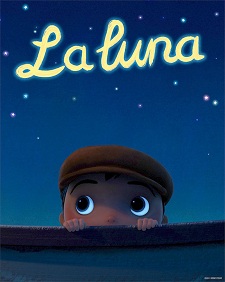 Enrico Casarosa joined Pixar Animation Studios in January 2002. He began working as a story artist on Cars and the Academy Award-winning feature Ratatouille. Casarosa's next project was as story artist on Disney•Pixar's Academy Award-winning feature film Up. Most recently, Casarosa made his most intriguing directing debut with the short film, La Luna, which will screen with the Disney•Pixar feature film, Brave, in 2012.
La Luna is the timeless fable of a young boy who is coming of age in the most peculiar of circumstances. Tonight is the very first time his Papa and Grandpa are taking him to work. In an old wooden boat they row far out to sea, and with no land in sight, they stop and wait. A big surprise awaits the little boy as he discovers his family's most unusual line of work. Should he follow the example of his Papa, or his Grandpa? Will he be able to find his own way in the midst of their conflicting opinions and timeworn traditions?
Enrico found early influences in Hayao Miyazaki's work and grew up watching Miyazaki's television series in Italy. Born and raised in Genoa, he moved to New York City in his twenties, to study animation at the School of Visual Arts and Illustration at the Fashion Institute of Technology. Before coming to Pixar, he worked as a storyboard artist at Blue Sky Studios on Ice Age and Robots. He also worked as a background designer and storyboard artist for a number of Disney Channel Television Series including 101 Dalmatians and PB&J Otters.
Currently, Enrico is working as head of story on an upcoming Pixar film. He lives in San Francisco, California with his wife Marit and their little daughter Fio Giulietta.
We had the pleasure to meet again with him to chat about La Luna…
---
Animated Views: Enrico, you're known as an illustrator and a storyboard artist. What led you to directing an animated short?
Enrico Casarosa: You know, working at Pixar, you see your friends like Pete Sohn and others telling you they're doing wonderful shorts. You see how fun that is, and they tell you about that as a learning experience, too. That seemed appealing to me – going through a process in which you're learning so much. So, learning being the first reason, probably, the second reason was the interesting challenge of finding a good story to tell, a story that works for this. At the beginning, I had no idea I would get to pitch to John Lasseter and that he would like it and that it would get made. But it seemed like an interesting thing to try. So, I really took the steps one by one without thinking: "I'm gonna make an animated short." At first, it was just about developing a story, which, in any media, is really the same thing in many ways.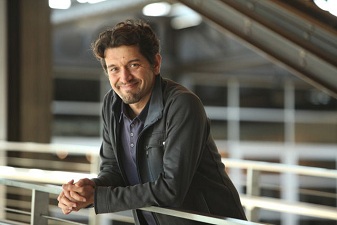 AV: How personal is the story of La Luna to you?
EC: It's a very personal story. Among the three ideas I pitched, this was the one that had more of a personal connection. We know at Pixar that it helps make the piece much stronger. So, I looked in my past. The story of La Luna connects a lot to the relationship I had with my Dad and my Grandfather growing up in Italy. We lived under the same roof and my Dad and my Grandfather didn't get along so well. So, this feeling of being a little bit stuck in the middle of these two guys – they would talk to me but they wouldn't talk to each other – the pressure of having to please one or the other, or to take side: that kind of memories seemed an interesting core to tell a story around. Because that seems personal but, as usually really personal things are, they're very universal. Around the world, people live similar things. So, that was the heart of it: this relationship I wanted to tell, the story of a kid that has to find his own way of doing things, and finding his own road in life.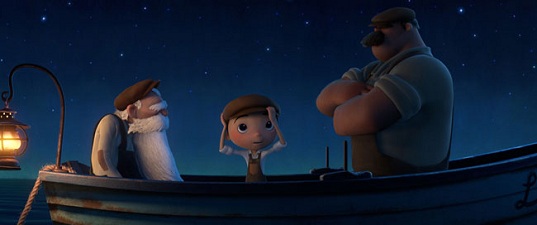 AV: Did putting that personal story to the screen help you understand better your Dad and Grandfather's issues?
EC: That's a really good question. I think that it did change a little bit. In many ways, it led me to realize: you know, I loved them both, but I probably wasn't even there to try and make them get along. So, the short is a way of making them get along on the screen. I still have to have a good conversation about this with my Dad when seeing the movie. I'd be curious to see what he really feels about it. But, we're not that kind of family where we talk really directly. I just know that he saw it and got very emotional after it. For me, it was about finding a little bit of closure.
AV: Can you tell me about some of your sources of inspiration in the making of La Luna? First of all, there's Antoine de Saint-Exupery's The Little Prince.
EC: I remember being in love with the illustrations by Saint-Exupery. That sense of a strange world that he completely made out, a different universe where things are different. But also the size. I love the fact that his planet was so tiny and people could walk around in five minutes. So, the visuals inspired me in The Little Prince. And on another level, I'm a huge Saint-Exupery fan because of his books about flight and old planes. I actually found Saint-Exupery through Miyazaki because Miyazaki is a huge fan of Saint-Exupery's. So, I read his biography and became a fan of all his books.The Little Prince was more of a visual love, first, and I got back to it about two years ago. With my daughter, we read it together… It was very inspiring. I wanted that feel of a tiny little planet with craters. I thought that could be something to use.
AV: You mentioned Miyazaki-san. Can you tell me about his impact on your work?
EC: I've been studying and loving and watching his movies for so long! Miyazaki's work has finally been the biggest influence on me. I think that, by the smallest things, he's always been part of the way I draw. And you can retrieve that especially in the character of the Dad. Laputa was a little bit of a visual inspiration because I like the setting of that movie. I wanted the setting of La Luna to be like in 1920-1930 in Italy, with very simple working men, peasants or miners. So, Laputa was a good analog to look at: simple people working hard, pretty poor and simply dressed. And in even more deeper ways, I love his sensibility: his attention for the small moments, the pacing. It's something that I love and I wanted the short to take its time, with small moments. It's a little different from the past works Pixar did. It's not built to make you laugh. Just to make you smile and hopefully think after it.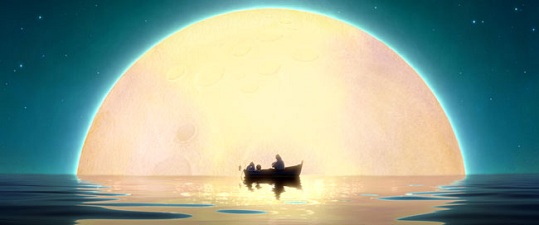 AV: When watching La Luna, you also think about Italian novelist Italo Calvino's La Distanza della Luna ("The Distance of the Moon"), with that very poetic approach to the Moon, in relation to the sea…
EC: Absolutely. I'm a huge fan. We read it in Italy in high school. It used to be duty. But for me, in the last maybe ten years, it's been a re-discovery and now I really love it. Calvino wrote those crazy, fantastic stories that are impossible and completely different. But they're really based in reality. How humble the characters are, how real they are – everything juxtaposes the fantastic and the mundane. La Distanza della Luna made me think that I would love to come up with my own myths on what's on the Moon. There's so many different myths about what we can imagine about it. For some, it's made of cheese; Calvino imagined there is milk in it. I absolutely loved those kinds of stories and I fell like it was the right kind of setting. Also because Calvino is from my own region in Italy, Ligura. So, the setting felt the same that the one I would know about and feel. There's also that kind of old feeling. I think his story starts like: "At one time, according to Sir George H. Darwin, the Moon was very close to the Earth." You could just put a ladder up and go on it. That was definitely a starting point for me to say: "hey, I'd like to come up with my own myth about it and that kind of a flavor of old Italy and simple people."
AV: How did you come to that nicest of designs for the boy?
EC: In Italy, I kind of drew that lightbulb shaped head and one of the guys here, Daniel Lopez-Munoz, who helped me in design for my first watercolors, said: "he's like the Moon". And I loved that point. But more importantly, I wanted him to be the complete opposite of Dad and GrandPa. So, I wanted him to be all eyes and all expression and all curiosity. On the opposite, it was very important for us to cover the mouths and the eyes of the Dad and the GrandPa. The other two generations have stopped looking around, stopped seeing how wonderful what's around them is. That contrast seemed to be just right for the characters. So, we really pushed in, and the boy's eyes got so big that, at some time, he didn't seem from the same world. In the end, I think we found a good contrast in them while having them belonging to the same world.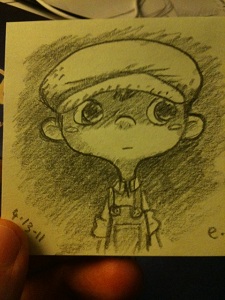 AV: During the pre-production, you worked with watercolors and pastels. How did that passed onto the final animation?
EC: I did all the story beats and some of the storyboards in watercolors and pencil. Then, Bill Cohen (who did those beautiful pastel color scripts for Pixar) came in. That gave us a starting point of saying: "hey, why don't we try and maintain some of the textural aspect to it?" The first idea that I had was like: why not putting those pastels directly on screen, with all those nice textures? Normally, in CG, we do matte paintings, just like in live action. We put them in the back behind our geometry. But we wanted to be simple. So, all the skies and the milky way and the universe are pastels that we put directly on the screen. That was pretty great as it gives you a very textural feel. And then we tried to use more watercolor textures on our objects.
The technical word is "shading" your objects: you model them then you put on them a texture. So, we started experimenting. We tried to make you feel like they were a little bit made on watercolor paper, with the texture a watercolor brush has. The same way for the boat: we actually painted each of the planks in watercolors and then mapped the planks on the geometry of the boat. So, it gives a different feel that we were trying to achieve. A little more animated and a little less realistic. The computer really loves to be very volumetric and we were trying here and there to kind of take away the sheen of 3D.
AV: Through that approach, art and technology really go in the same direction and collaborate for the good of the story. A Pixar signature.
EC: Absolutely. It's the story that supported those decisions. Our story is like a storybook fable. So, this slightly more illustrated style fits something like that that is a little bit otherworldly and fable-like.
AV: As a director, how did you build your crew?
EC: You know, you have a lot of help on that side from your producer and production manager. Kevin Reher and AJ Riebli were of huge help. You pretty much have to go and beg for some people to be lent to you for a few weeks. So, their expertise in dealing with the Studio's casting is great. Then, you know, what you do is that you meet with people and you can choose which one will be right for you. Art-wise, for example, I have close connections and close friendships that were willing to help even before we were given a greenlight.
Even in my early pitches, good friends like Dice Tsutsumi, who is that amazingly talented art director of Toy Story 3, made one illustration for me for the first pitch. We were hoping to get him for the whole show, but he's in demand, so I was able to only get him for a few weeks here and there. Another good example is the animation supervisor, Rodrigo Blaas. He's a great friend of mine. We used to work together in New York at Blue Sky Studio and we got to Pixar almost at the same time. And on top of that, he made this wonderful short called Alma. So, not only did he do a great animation job, but he could be there even for other matters because he had already directed a short.
AV: How big was your crew?
EC: It's very much about ins-and-outs since you get people for two or three weeks and then they're gone on another project. But we made the short roughly in nine months and we had roughly 70-80 people. Not at the same time. The crew went from three or four people to 30-40 in the middle of the production. There's a lot of give-and-take that also makes that experience great. The shorts feel like independent shorts because the resources that we have are much smaller, and people can do up to three jobs at the same time. As a director, for example, I did matte painting, I put stars on those backgrounds, etc. You do as much as you can. The more you can do, the better. I think that's why the crew enjoys that, because they're stretching their legs, even more than on a feature.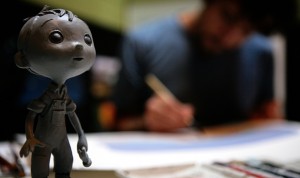 AV: What did you learn from that experience?
EC: I think the biggest thing I learned was how to talk to people. Ultimately, when you have a solid story, it's quite easy to get people on board. That's what I feel. It's not about me, it's not about having personal charisma! It's more about telling them a story and making them part of telling that story that they can really appreciate and connect. On another level, for me as a new director, I learned how to navigate notes. We would show our work to John Lasseter or Pete Docter or Brad Bird to seek counsel to make it better. So, as a director, the biggest things are the decision moments after you got feedback. I understood that, very often, you don't have to follow all the suggestions that are made, but they give you feedback so that you fix a problem your way, to make the film stronger. That was a very satisfying feeling at the end, but in the middle, that was a little disturbing.
AV: Now, you're presenting La Luna all around the world, from Annecy, France to New York and to Brazil. How do you feel about that?
EC: I always see the traveling and showing this work around the best perk! It becomes a little bit a way of presenting yourself. You put so much of yourself into a short. People that you're meeting for the first time have seen the short and maybe they know a little more about you than they normally would! To another level, I made a little making-of presentation that we are taking around the world with the short. That I almost see as something that, I hope, can inspire people. I make the talk and the key notes as visual as possible and hopefully as inspiring as possible. I hope to do that and I hope to show it to kids. I really feel that inspiring kids is the big one on my list!
---
---
---
---
Do not miss the upcoming screening of "La Luna" in New York City's Japan Society, 333 East 47th Street, Sept. 11. The money raised will benefit The Japan Society Earthquake relief fund.
With thanks to Enrico Casarosa, Chris Wiggum and Brianna Galloway at Pixar!