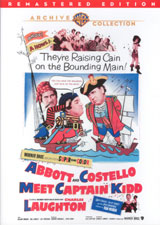 Warner Bros. (1952), Warner Archive (April 1, 2011), single disc, 70 mins,
1.33:1 ratio, Dolby Digital 1.0, Not Rated, Retail: $19.95
The Movie:
Bud Abbott and Lou Costello were comedic performers who met doing burlesque in the 1930s. Once they made a permanent partnership, they went on to do radio, and then Universal Studios cast them in supporting roles in their film A Night In The tropics in 1940. They stole the show, and from then on they headlined films for the next fifteen years. Tall, thin Abbott played the often conniving or lazy straight man, while the shorter and rounder Costello played a bumbling simpleton who nevertheless could often end up getting the better end of things. Most of their films were done under their Universal Studios contract, but they were also allowed to make one independent film per year. Two of these were color films distributed by Warner Bros. The first, Jack And The Beanstalk, also used sepia-toned bookends a la The Wizard Of Oz. That film has entered the public domain and is available on a number of DVDs. Their other Warner Bros. film, though, has not been widely available until now.
Abbott And Costello Meet Captain Kidd was their first fully color film, filmed in SuperCineColor, and produced by Abbott's production company Woodley Productions. The script featured typical Abbott & Costello silliness, in a plot about pirates and buried treasure. Of course, it's all just a wonderful excuse to see the pair engage in their usual routines that saw Abbott sacrificing his pal Costello whenever danger appeared, and alternately dismissing him when opportunity arose.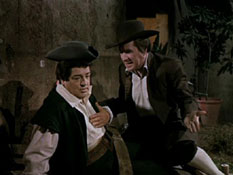 In this case, the team play American expatriates trying to get home from an unnamed island. One night, said island is visited by pirates, led by Captain Kidd himself. Charles Laughton reprises the role of Captain Kidd, having played Kidd in the eponymous 1945 film. Laughton is even better known for having played Captain Bligh in MGM's 1935 version of Mutiny On The Bounty, so audiences were quite acquainted with seeing him as an overbearing sea captain. In this film, he plays it mostly straight, before succumbing to the frivolity of the film's final act. Abbott and Costello always worked best for me when going up against real threats (their best film naturally being Abbott And Costello Meet Frankenstein), where their comedy hijinks gain from the contrast.
The pirates are no doubt vicious cutthroats, but they do enjoy a rousing song, as evidenced by the film's opening number on Kidd's pirate ship. Once they reach the island, they pursue the town's women with uncommon vigor. Today's sensibilities may lead one to wince at the sight of such pillaging, not to mention at how the women eventually give in and enjoy the attention, as the action moves to the town bar. Two employees at the bar are Rocky and Puddin'Head, our heroes. On their way to work, they accept a scroll from Lady Jane that contains a message for her beloved, Bruce, who is a singer at the bar (where he is backed up by a dozen beauties as he sings A Bachelor's Life in another rousing number).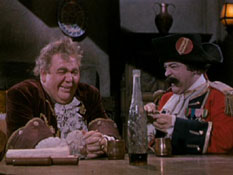 Rocky and Puddin' are asked to serve a meal to the cruel Captain Kidd, which is seen as a privilege, until numerous other waiters report their awful dealings with the pirate. Naturally, Rocky acquiesces and allows Puddin' to wait on Kidd. In a private room, Kidd is discussing business with a statuesque lady pirate named Captain Bonney, whom he has recently cheated. He agrees to take Bonney to Skull Island, where he has buried treasure, a treasure for which he holds a treasure map. Once Puddin' enters the picture, though, the map ends up switched with the love letter meant for Bruce. This is not the last time this occurs in the film— not by a long shot.
Suffice it to say that Rocky and Puddin'Head end up on Captain Kidd's ship as Kidd's guests (temporarily), alongside Captain Bonney (who later falls for Puddin') and a shanghaied Bruce. The love letter and the map constantly go missing, are switched, and are recovered, during which time foes become allies and allies come into conflict. The comic potential in such a set-up is obvious, but the skill at which the scenario is played keeps it from getting tired. Lady Jane joins the ship's complement before they get to Skull Island, setting up an all-out fight to the finish, for love and treasure.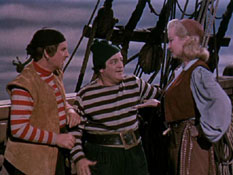 The writing is witty, the songs are actually quite fun and well performed, and the pace rarely drags. Prolific director Charles Lamont, who got his start doing silent comedy shorts in the 1920s, helmed not only Abbott And Costello Meet Captain Kidd, but numerous other Abbott and Costello vehicles, Ma & Pa Kettle films, and many episodes of Disney's Zorro as well as the Annette serial on Mickey Mouse Club. With such an experienced director at the helm, it's no wonder the film's stars come off so well. Abbott and Costello are in fine form, Laughton is a perfect foil, and Hillary Brook plays a sensual but dangerous Captain Bonney. Veteran actor Leif Erickson also puts in a skilled turn as Kidd's first mate, Morgan. After viewing all this classic fun, I couldn't believe that such a film had escaped my attention for so long.
---
The Disc: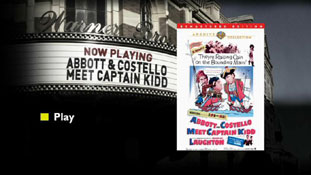 The picture on this film is its original 4:3 frame. Much to my delight, it has been remastered; but is clearly unrestored, with numerous scratches and other marks appearing right from the beginning. The picture is relatively sharp and colorful, but forget about seeing any detail in the inky blacks of shadows. Skin tones sometimes veer towards pink, but are usually accurate enough. The SuperCinemaColor might have looked a little better on screen in 1952, but really comes off quite well here on DVD. Overall, the image is far from perfect, but neither is it a disaster. As a Warner Archive release, it's par for the course and quite acceptable, though not as good as some other surprises from the Archive vault. The audio comes off just fine, with no hiss or distortion. Song lyrics and dialog are clear, and you won't miss a syllable of Abbott or Costello's punchlines.
The menu is the usual Warner Archive menu seen these days, and chapter stops come every ten minutes. No extras are on this release.
Cinematic Classic or Faded Print?
I grew up on the Abbott and Costello Universal Studios films, which saw plenty of play on my local TV station on Saturday mornings in the 1970s. For this reason, I have the same nostalgia for them as I do for Hanna-Barbera and Filmation cartoons. Even mediocre Abbott and Costello is worth watching for me, and fortunately I would consider Abbott And Costello Meet Captain Kidd to be a very strong effort, thanks largely to the presence of Charles Laughton, solid musical numbers, and a funny script. This film was made at the tail end of their theatrical popularity, with their next film being the interesting but lacking Abbott And Costello Go To Mars. At the same time, they were appearing on television in a series that reprised many of their best film bits. Given what was to come, Abbott And Costello Meet Captain Kidd may be their last great hurrah, fittingly captured in color just as they were about to fade off into the sunset.
SPECIAL ORDER! Preview and purchase Abbott And Costello Meet Captain Kidd
directly from the online store at Warner Archive.