Thanks to Warner Bros. Home Entertainment, Animated Views has five copies of Peanuts: 1970s Collection Volume 2 to give away to some lucky Charlie Brown and Snoopy fans!
The giveaway is now closed and our five winning names are:
• Wayne Clayton, Fresno, CA

• Denise Dean, Lincoln, UK

• Itai Reggev, Kfar Sava, Israel

• Jeremy Gatesman, Charlottesville, VA

• Anthony DiPaola, Harrington Park, NJ
Congratulations! Watch out for your Peanuts DVD sets in the mail!
Read Animated Views' review on Peanuts: 1970s Vol. 2 here!
---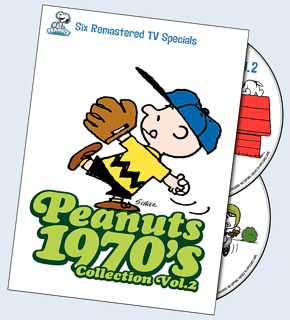 About
Peanuts: 1970s Collection Vol. 2
Warner Home Video brings six more beloved Peanuts primetime specials to DVD, in an all-new, re-mastered collection. The compilation consists of a series of specials that were broadcast between 1975 and 1979, several of which were either nominated for or received Emmy Awards. What A Nightmare, Charlie Brown, included in the set, is new to DVD. A follow-up to Peanuts 1970s Collection Volume 1, this set offers a series of specials which were broadcast during the second half of the '70s. Additionally, this collection also includes an engaging bonus featurette.
Be My Valentine, Charlie Brown (1975) –- In this Emmy nominated special, the Peanuts gang make preparations for the upcoming Valentine's Day holiday. Everyone has high hopes of having their dreams of love and friendship fulfilled. Charlie Brown wants to get a Valentine from anyone and patiently waits by his mailbox. Linus is on a mission to find a perfect Valentine's gift for his favorite teacher, Miss Othmar. Lucy wants Schroeder to finally notice her. Will they be satisfied to their heart's content or are they headed for heartbreak?
You're a Good Sport, Charlie Brown (1975) — Start your engines! Its Motocross season and competing against the likes of Peppermint Patty and the Masked Marvel – aka a certain daredevil beagle named Snoopy – can intimidate anyone. But if Charlie Brown – tagged with unlucky number 13 – can keep the pace slow and steady (as well as hold onto his helmet), he might just win the race! It's fast and furious fun right up through the finish line with this wonderful Emmy Award winner.
It's Arbor Day, Charlie Brown (1976) -– In this Emmy nominated special, the Peanuts gang undertakes a gardening project to celebrate Arbor Day and wind up turning Charlie Brown's baseball diamond into a lush garden. Charlie Brown, who has a game approaching against Peppermint Patty's team, makes the best of the situation by attaching gloves and caps onto the trees. Curiously, this turns as an advantage for him. Peppermint Patty's team is unable to score because all the balls are hit right in the gloves. Will Charlie Brown's team win the big game?
What a Nightmare, Charlie Brown (1978) –- Charlie Brown is dismayed at Snoopy's complacent attitude, thinking he's become too comfortable in his home life. That night, Snoopy dreams he's an Alaskan sled dog, who is mistreated by his sled master and his fellow sled dogs who deny him food and water. The comforts of home never seemed so distant and Snoopy reaches his breaking point. Will he take a stand and face up to the fierce pack as they make their way through the snowy wilderness?
It's Your First Kiss, Charlie Brown (1977) -– It's homecoming night and Charlie Brown is asked to escort the homecoming queen, who just so happens to be the elusive, little red-haired girl whom he has been pining for all his life. In spite of his trembling from nervousness, he escorts her to the dance floor and somehow summons up the courage to kiss her on the cheek. This kiss is electrifying and sends him to cloud nine. However, from that moment forward, everything becomes a complete blur. Charlie Brown wakes the next morning having no memory of anything that happened. Did he manage to sweep the little red-haired girl off her feet?
You're the Greatest, Charlie Brown (1979) -– In this Emmy Award winning special, hard work and team spirit are what Charlie Brown needs to win the decathlon at the school Junior Olympics event. His competitors are Marcie, defending Decathlon champ Freddie Fabulous and the Masked Marvel (aka, Snoopy). On the first day, Charlie Brown places third. On day two however, he begins to feel the pressure. He's faced with having to tackle the high hurdles, pole vault, discus/javelin throw, and other events. Will he emerge victorious and win the Olympics for his school?
The set's Special Features include You're Groovy, Charlie Brown: A Look at Peanuts in the '70s, a look at the daily work rituals and comic strip techniques of Charles Schulz and the environment of Creative Associates, examining Peanuts in a loving tribute to the comic strip and animation, the story of how Peanuts and the 1970s were the perfect blend.
Peanuts: 1970s Collection Volume 2
is available to buy from Amazon.com
Read Animated Views' review here!
---
---
THE SMALL PRINT: Winning names will be drawn at random. Participants must provide a full name, mailing address and valid email contact. This information will be kept confidential and deleted after the contest has closed, although Animated News & Views withholds the right to publish winning names and location area only. One entry per household. Disc prizes are Region 1 editions, but the contest is open to US and non-US international readers. Prizes are non-transferable and no cash alternative will be offered. No responsibility is accepted for inaccurate prize descriptions provided to us at the time we go to press. The administrator's decision is final and no correspondence will be entered into. Associates of Animated News & Views and Warner Home Video are unfortunately ineligible to enter. The contest closes on Monday, June 14 2010, at 11:59pm ET.