February 4, 2010 — Animated Views updates, and prepare for the new-look Animated Views Forum coming this weekend!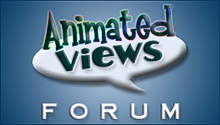 Hey folks…after a rather dreary winter (even if the snow was sometimes fun) and longer than expected in getting back up to speed in terms of work (both real and virtual!), I'm finally back in the saddle to post an update to what's been happening in the world of Animated Views!
Since my absence over the holidays, there have been numerous new articles and reviews been posted (more of which on below), but the big news is that the recent changes to the site are still coming along: James and I have been beavering away behind the scenes on the latest update, so this is just a head's up that the Animated Views Forum will be closed this weekend for its long-awaited overhaul. We apologize for having to shut down for a couple of days, but this is necessitated by the need to pull all the old messages across. However, we think you'll like the result, with some subtle but ergonomic design changes that will enhance the Forum experience, and some new features to make it more fun!
During the close, of course, we'll have you covered with some fresh content, including a couple of new reviews and the fifth and final part of Jeremie's fantastic career retrospective on The Princess And The Frog's supervising animator Mark Henn, which will be up on Friday to celebrate the film's international roll-out beginning in the UK. If you haven't caught them yet, the previous four parts are online now and make up a terrific look back on this legendary Disney animator's life at the Mouse House.

Also posted recently to the site has been a review roundup of several Thunderbean Animation releases, which took in a number of titles from Steve Stanchfield's always excellent DVD compilations (this time looking at Uncensored Animation From The Van Beuren Studio, The Complete Animated Adventures Of Van Beuren's Tom And Jerry, The Strangest Cartoons Ever Made, Van Beuren's Toddle Tales & Rainbow Parades Cartoons and Cartoon Commercials!), and Rodney has been busy grappling with the invincible Iron Man: Armored Adventures Volume 2 on DVD, a packed disc that otherwise only receives so-so remarks from Rodney.
If you didn't catch them yet, James has the full run-down of this year's Academy Awards Nominations, which deliver some surprises more along the lines of what hasn't been included over what has. It's something of a strange group, and the opening up of Best Picture contenders from five to ten has certainly seen an increase in popular fare making the grade. Whether they would have been there without that caveat is a question that can not be answered, and is probably best saved for another time…
Stay tooned! — Ben.