BBC-Masterpiece / Warner Home Video (2010), 2 Blu-ray discs, 270 mins plus supplements,
1080i high definition 1.78:1 widescreen, Dolby Digital 5.1, Not Rated, $40
The Movies: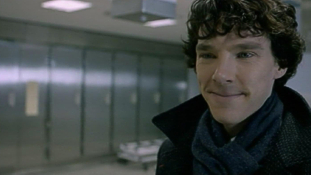 "You have been in Afghanistan, I perceive". So said Sir Arthur Conan Doyle's eminently proficient sleuth Sherlock Holmes to Dr John Watson on their very first encounter, and it's a similar line that introduces them, for very different reasons, in Sherlock, the Doctor Who team's new take on the classic stories. As one of the most filmed literary characters in screen history, current adaptations have been eager to break away from the deerstalker hat and pipe that characterized previous, though well celebrated, film and television series featuring Basil Rathbone, Peter Cushing and Jeremy Brett, who each made the character their own for different generations.
Most recently, Robert Downey Jr and Jude Law stepped into Holmes and Watson's shoes for a more action-orientated account, and although "purists" argued against several aspects of that film, it seems many have forgotten that Holmes did use his fists when it came to it, a fact that those three previous actors' more gentle renditions have almost wiped out. When the BBC announced its own take on the stories, the question was in what direction Holmes could be taken so that yet another version wouldn't be a simple retread of before. The answer was to bring him "here", to 2010, for a contemporary-set, modern day series of adventures.
Although that approach might, at first, seem like a desperate stretch, it actually works out to be Sherlock's masterstroke. Co-created from Conan Doyle's original works by the current master of Doctor Who, executive producer Steven Moffat (also the scribe behind Spielberg and Jackson's upcoming Tintin adventure), and League Of Gentleman actor and Who writer Mark Gatiss (also of a terrific recent BBC series on classic scary movies, A History Of Horror), Sherlock works extremely well as a detective story for the CSI crowd while packing in lots of nods, names and references for the Holmes fans, as well as many smart little touches of its own.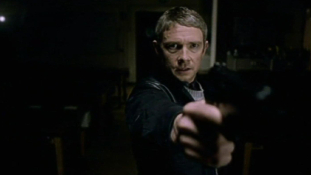 The Afghanistan line, in Conan Doyle's first story A Study In Scarlet, referred to John Watson's returning to England after being wounded in the Second Afghan War in 1880: here it's a much more topical war – in the same country – that has given him reason to return. Looking for lodgings, he and a presumptuous new companion, Sherlock Holmes, meet to check out an apartment at 221B Baker Street and, after Sherlock "convinces" Watson that sharing the rent will make it cheaper for both of them, they agree to move in together under landlady Mrs Hudson's watchful eye (a cause of recurring humor is that they are often mistaken for a item, much to Watson's chagrin).
As Holmes, Benedict Cumberbatch displays Moffat's wonderful knack for casting: he could quite easily have been the new Doctor Who, had Moffat not decided to go with Matt Smith, since both characters express themselves in much the same way. Indeed, although Smith may have been too young for Sherlock, it wouldn't have been too much of a stretch to swap the roles around and had neither show suffer as a consequence. Ironically, Smith did audition for Watson before he landed the new Who (more perfect casting), but the role eventually went to The Hitchhiker's Guide To The Galaxy's Martin Freeman, whose face gives Sherlock a nice dose of established star quality (a star that is only set to go stratospheric with his next role as Bilbo Baggins in the soon to shoot The Hobbit).
I'm not, it has to be said, that much of a Sherlock Holmes connoisseur, my experience with the original books being pretty much relegated to reading The Sign Of The Four and The Hound Of The Baskervilles one drab summer vacation as a child, but I love the character and know enough to have enjoyed various screen interpretations in the past. So that I and a friend of mine, who is a confirmed Holmes freak, both took vast pleasure from this new incarnation says a lot about the fine balance between creating a new world for Holmes (who, instead of a cocaine and smoking habit, is instead addicted to nicotine patches) to work in, while retaining some heady references to the books, that Moffat and Gatiss have achieved.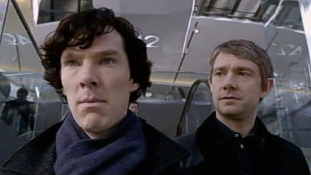 Some of these are clearly obvious: the long-suffering Inspector Lestrade is reincarnated as Detective Inspector of Scotland Yard here, teasing Sherlock that his brilliant and perfectly calculated hunches are nothing but wild guess work, even if he deploys a reluctant admiration for Holmes to Watson and his other officers.
Others are less so: in checking on some online sources in order to sound as if I'm a Sherlock fan worth his salt (oops…given the game away there!) I was astounded at the level of intricate details that should provide genuine followers with plenty of chuckles. One of my favorite discoveries? That in the original Study In Scarlet, Watson meets an old colleague at the Criterion Bar, whereas here they share a coffee in the park. The name on the cup? Criterion.
Created as a trilogy, Sherlock's plot spreads itself over three, apparently unconnected stories, each one of them a feature-length 90 minutes. In A Study In Pink, the crime-solving pair must unravel the clues to explain the truth behind a series of suspicious suicides which turn out to be the beginning of a game masterminded by a formidable foe. The mystery deepens in The Blind Banker, in which a criminal syndicate is broken by Holmes on his quest to discover the man behind the growing London crime wave, while the final The Great Game sees not only some loose ties connected up, but the eventual face to face showdown with the mysterious "M", leading to a tense conclusion that…well, now that we know a second series is coming, leaves things a little more certain for our heroes.
In fact, it wasn't always to be the case: the success of Sherlock caught the BBC off-guard. Word of a potential disaster had been mooted around before the series debuted in the UK, and the Sunday night timeslot in the middle of summer didn't exactly display great faith in the program from the network. But with a surprising 30% audience share average for all three episodes, the company line was quickly switched to Sherlock's unusual summer showing being an experiment for new television drama, etc, and that a second series would be forthcoming.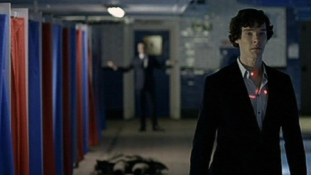 Except…no-one had expected there to be a second series, not least Moffat and Gatiss, who had ended their first run with a cliffhanger that would have worked both ways. However, success in the bag, and the BBC desperate to not look like that hadn't forward planned for more, meant that the creators were quickly enticed to convene for a rush-meeting to discuss another three feature-length stories, to be shown in late 2011.
That's good news for Moffat and Gatiss, both of whom now seem to be established in the BBC hierarchy thanks to their success with Sherlock and other projects. The spirit of Who looms large over this trilogy of stories, not least because it shares many of the same filming locations (a mix of city streets in Cardiff, Wales, doubling as in Who for London, as well as London itself, adding authenticity) and crew. Their episodes, the first (easily my favorite) and the third, are best, the second (written by Steven Thompson) being less successful but possibly containing more straight plot as opposed to the sometimes showier aspects of the other two.
But it's those showier aspects that really make Sherlock work, especially elevating it into something quote unique and able to stand up as its own version of Holmes. Not absolutely everything works: I wish James Bond composer David Arnold's main theme wasn't so close to resembling Hans Zimmer's music for the Guy Ritchie/Downey Jr movie – even if, as Arnold's Twitter page updated, he had written that cue for the Sherlock pilot some seven months before Zimmer's (who ended up being Oscar nominated!) score, which suggests some musical shenanigans that Holmes would do well to get to the bottom of.
Likewise, I'm definitely in the "not sure" camp in regards to the casting of Moriarty (I won't reveal who, since it's intended to be a surprise after dropping several hints throughout the first two episodes) and will wait with anticipation to see how this somewhat offbeat choice pans out. But where it counts, Sherlock is remarkably faithful to the books in spirit, as well as some great little touches that mark the series out as its own thing: phone text messages depicted on screen will never be the same again, a clever effect that will impress early and make the clear distinction that this isn't the Sherlock of old. And yet, in many ways, it is. The game is once again afoot, in a very new and appreciated direction!
The Disc: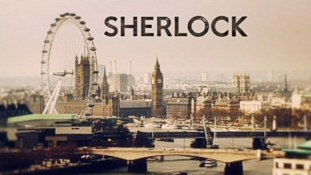 Released in the UK just a couple of months ago, it's pleasing to report that Sherlock comes to Blu-ray with the same extras and presentation. Shot in HD, the three feature-length episodes themselves look fantastic (spread equally with the extras across two BD50 discs), with a very cinematic quality to them that just shows how great contemporary television can come towards big-screen quality. Being shown in their original 1.78 widescreen ratio helps add significant production value on the program, which also benefits from a first-rate audio treatment by way of Dolby Digital 5.1 tracks that create a nice atmospheric soundfield, especially the apparently pre-Sherlock Holmes music.
The first two episodes, A Study In Pink and The Blind Banker are featured on Disc One, along with an Audio Commentary track on the first episode, featuring writers Moffat and Gatiss and producer Sue Vertue, which just adds an unexpected extra layer to the bonus package in the set. On Disc Two, the third and final The Great Game episode also features another Commentary, again with Gatiss, this time joined by leads Cumberbatch and Freeman. Both tracks are extremely informative and light-hearted with their seriousness, the participants running through everything from the Who story meeting genesis and development as a 55 minute pilot, to scene specific remarks, Holmes references and, with the cast members, their approaches to the characters, location stories and the challenges of making the three episodes in reverse order, providing excellent insights.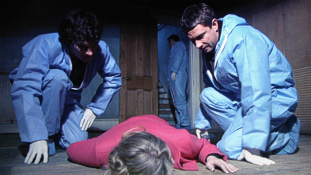 Making up an episode-length grouping of supplements are two "exclusive" selections: Sherlock Pilot – A Study In Pink is the unaired one-hour show that got the series the greenlight. The British press made much fuss over the fact that the BBC had spent around $1.5 million on this initial outing for Holmes and Watson and then not shown the result, though the reasons are clear: realizing the pace would be much better suited to the longer breathing space, the eventual series differs in several aspects, but most notably in pace, the 90 minute length allowing for more nuance and feature-film feel. What's more, this isn't just a 55 minute edition of the first story: it's an entirely alternate version (with no Mycroft, for a start), shot almost one year before the eventual season was finally shown.
Although it does share some similarities, including some cast members (obviously including the two leads), ironically the shorter run time doesn't mean that it's tighter: after enjoying the roomier final version, I found this to be a little choppy, too rushed at times in the editing, and much more like a (still a very good) television drama as opposed to the almost feature-approach of the proper season. Technically it's proficient, and although the pilot origins are evident in the earlier costume choices and less inspired photography and locations, the sound mix and score are all in place (backing up composer Arnold's confirmation that he wrote Sherlock's theme before the debut of the Zimmer-scored movie) and this is still enjoyable in a different way, if not quite as assured and satisfactory.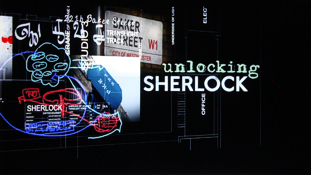 Finally, Unlocking Sherlock – The Making Of is a handy, half-hour behind the scenes exploration of the series produced by the team involved in the Doctor Who Confidential programs found on that series' discs, including producer (and an old friend of mine) Gillane Seaborne.
Again unaired on television, I'm glad that her efforts have found an outlet here, as not only is it a typically good, offbeat and well-compiled program in its own right, but it gives this set exactly the kind of bonus feature that is otherwise standard (and suggests a level of BBC foresight that wasn't necessarily the case). Here, all the major players are heard from in soundbites, accompanied by much on-set footage that follows the project from the initial stages through to the music recording.
If you've ever seen a Who Confidential you'll know that Seaborne and her crew pack a ton of information into those featurettes, and it's all great stuff, with the fast but factual pace managing to cover a lot of ground in a full half hour and it's great that, as with the pilot, the extras are all also presented in HD. The package is topped off by a standard slimline Blu-ray case featuring the show's main publicity shot (of Holmes and Watson) on the front of the sleeve, and a nice and mysterious Holmes in shadow on the back (though with very teeny explanatory text!) , with Holmes and Watson each taking up disc art duties on the first and second platters respectively.
Cinematic Classic or Faded Print?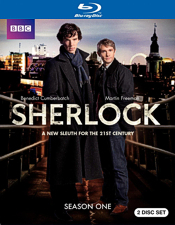 For any Holmes fans out there, I found Sherlock to be an unexpected delight and a total change from any previous incarnation of before.
As a contemporary telling, it works successfully in updating the characters to new situations, and the integration of technology as both an aide and a foil to Holmes' crime-solving abilities is fun to see in the ways Moffat and Gatiss handle what could have otherwise been story-killers.
Sharp, witty and very well played, Sherlock is an affectionate return to the screen that I look forward to seeing continue with three further stories next year.
---