It's Star Wars parody time again for Robot Chicken! Continuing what has become a tradition, Cartoon Network's Adult Swim will premiere the hour-long special Robot Chicken: Star Wars Episode III on December 19, 2010. Robot Chicken is a stop-motion, half hour comedy series created by Seth Green and Matthew Senreich. Every episode features pop culture parodies from TV sitcoms, movies, and cartoons. Nothing is considered sacred on the show, except laughter, but even that gets parodied. In 2007, Senreich and Green animated the first Robot Chicken: Star Wars and due to mass popularity followed with a sequel a year later.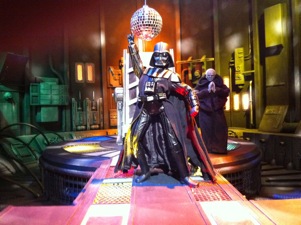 One could say that Robot Chicken inspired the more mainstream cartoon series Family Guy to make their own Star Wars parody: Blue Harvest. Green provides the voice for the Chris, the son on Family Guy, so he collaborates with the show's creator Seth MacFarlane quite often. Robot Chicken's first Star Wars episode actually premiered a couple weeks prior to Family Guy's parody—it's even commented on in the closing of Blue Harvest.
Robot Chicken: Star Wars Episode III is a little different from its previous versions. Instead of the usual one-shot segments, the story has a linear progression through all six films told from the villains' perspective. Emperor Palpatine, Boba Fett, Darth Vader, and Gary the Stormtrooper are the main characters with the good guys thrown in as a supporting cast.
Emperor Palpatine (voiced by MacFarlane) opens the special being thrown down a reactor shaft on the Death Star. He begins an interior monologue to an upbeat synthesizer tune and ponders where his life went wrong. Staying true to the linear progression we learn about Palpatine's past, before we switch over to the regular channel surfing montage known to Robot Chicken. Revealing too much about the sketches will ruin the humor, but a few notable moments are when we learn that Anakin Skywalker is a whiny little boy, Darth Vader shows off his new suit by disco dancing, Emperor Palpatine's annoyance with Stormtroopers, Boba Fett's joyous time in a sarlac's digestive track, and C-3PO's trouble with Spanish.
Gary the Stormtrooper adds a new sense of originality to the show. He's an average soldier, working a nine to five shift for the Empire and somehow finds himself in the most unlikely situations tied to main events in the movies. He's left to pilot the Death Star, which is almost a disaster. He visits a familiar Tatooine farm and causes destruction, then on Endor he learns about the dangers of road-kill. Every sketch involving poor Gary the Stormtrooper will definitely crack a smile.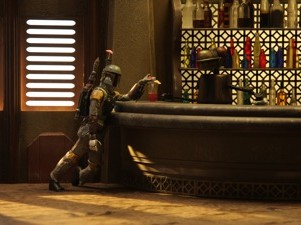 Telling the story through the villains' perspective adds to the humor level and separates it from the prior two Robot Chicken: Star Wars specials. We're so used to Boba Fett, Emperor Palpatine, and Darth Vader being taken seriously, that when they do something absurd such as playing a fiddle in a hoedown one can't help but laugh.
While the special proves to be funny, a few of the sketches rely too heavily on cursing and sex to move the punch line forward. With these sketches, it feels like the writers ran out of original parodies and relied on shock factor as a last resort. This is roadblock that many comedies run into—tossing sex and curse words around without a point never works. Seeing that this is the third installment of a popular special, it's kind of given that every joke won't be hilarious. The Robot Chicken creative team has done amazingly well keeping the Star Wars humor going for so long, but I wonder if they'll be able to keep it up if they decide to continue with a fourth or even a fifth.
While the writing provides half of the hilarity, the other part comes from the voice actors. Anthony Daniels (C3PO), Billy De Williams, (Lando Calrissian), and Ahmed Best (Jar Jar Binks) reprise their roles from the original films. Other notable voices are Zac Efron as Anakin Skywalker, Seth MacFarlane as Emperor Palpatine, Donald Glover, and Mike Henry. The usual Robot Chicken cast is featured once more, including Green and Senreich.
The stop motion animation is very fluid and the character models' movements are life-like. Compared to earlier Robot Chicken seasons, Green, Senreich, and the rest of their team have mastered this form of animation. They are never afraid to experiment with this medium and Robot Chicken: Star Wars Episode III shows off their creativity.
Robot Chicken: Star Wars Episode III's extra length makes it more enjoyable. Robot Chicken episodes last only fifteen minutes and you're left wanting more once the credits roll. There are places where the jokes drag, but the sketches don't last more than a few minutes, so it picks up again quickly. Whether or not you're an uber Star Wars fan, this special will provide you with a few laughs. May the force be with you!
Animated Classic or Back To The Drawing Board?
Robot Chicken: Star Wars Episode III
Cartoon Network: Adult Swim
December 19, 2010
60 minutes
Rated TV-14
Directed by Chris McKay