Lucasfilm (2017-2018), Buena Vista Home Entertainment (July 31, 2018), 2 Discs, 353 mins, 16:9 ratio, Dolby Digital 5.1, Rated TV-Y7, Retail: $45.99
Storyboard:
The crew of the Ghost wrap up their mission on Mandalore before returning once again to Lothal to face off against Grand Admiral Thrawn, Governor Pryce, and their lackeys. The fate of Lothal is determined, and destinies are realized as the Rebel Alliance matures into a true threat to the Empire.
The Sweatbox Review:
The conclusion of Season Three found some of our heroes assisting Sabine on her home world of Mandalore, that place with all the cool warriors wearing jetpacks. If the Clone Wars TV show taught us anything, it is that Boba Fett was not the only great character to come from Mandalore, and Rebels has explored this even further. Here, Sabine is trying to recue her father from Imperial imprisonment in the two-part Heroes of Mandalore, but then the Rebels also face the need to destroy a terrifying Mandalorian-targeting weapon that was designed by Sabine in her Imperial academy days.
While the first two episodes provide great Star Wars fun and excitement, they are just prelude to the real story of the season – the Rebels' attempt to liberate Ezra's home planet of Lothal. First, though, in the two-part In The Name Of The Rebellion, the influence of another character comes to bear on the thoughts and motivations of our Rebel crew. After a stop at the new Rebel base on Yavin 4, where Ezra, Kanan and Sabine re-join Hera and Zeb, we find out that Mon Mothma and her colleagues are not willing to commit to a Lothal mission due to the strength of the Imperial blockade there. A communication by Saw Gerrera mocks the Rebels for their lack of willingness to take risks in order to see their goals achieved. The crew of the Ghost is frustrated, but soon have their next mission: tapping signals from an Imperial communication relay. As things often do for our heroes, things go awry, and the entire mission goes wrong, requiring Ezra and Sabine to be rescued by Gerrera, a rebel extremist practically seen as an outlaw by the Alliance. Gerrera then convinces Ezra and Sabine to join him on a mission to find further evidence of a rumoured Imperial super-weapon. Depending on how one looks at it, things then either go very well or very badly once again, ending in massive explosions.
With the success of that mission, Ezra feels emboldened to plea once again for assistance for Lothal. While Mothma still cannot support a major campaign, a few of the Ghost crew do get themselves smuggled back to the planet by their ally Vizago in The Occupation, where they reunite with the freedom fighter Ryder Azadi. Ryder is not happy about the Alliance's lack of support, but his report of a new TIE Defender manufacturing project gives the local Rebels a new mission. The next couple of episodes deal with the Rebels' efforts to work against the manufacturing effort, beginning with Flight Of The Defender, where they try to obtain a Defender flight data recorder. Once again, failure somehow leads to success as Sabine ends up stealing a whole fighter, before crashing in the desert.
Two major developments occur during this part of the story. With the Rebels becoming ever more a nuisance for the Empire, Grand Admiral Thrawn sends out his assassin Rukh (who also first appeared in the original Thrawn novels by Timothy Zahn). Meanwhile, Ezra begins seeing legendary Loth-Wolves, which haven't been spotted on Lothal in generations. Rukh continues to be a menace to the Rebels for the rest of the season, and the Loth-Wolves take on greater and greater prominence, as the series veers more towards telling tales involving Force mysticism.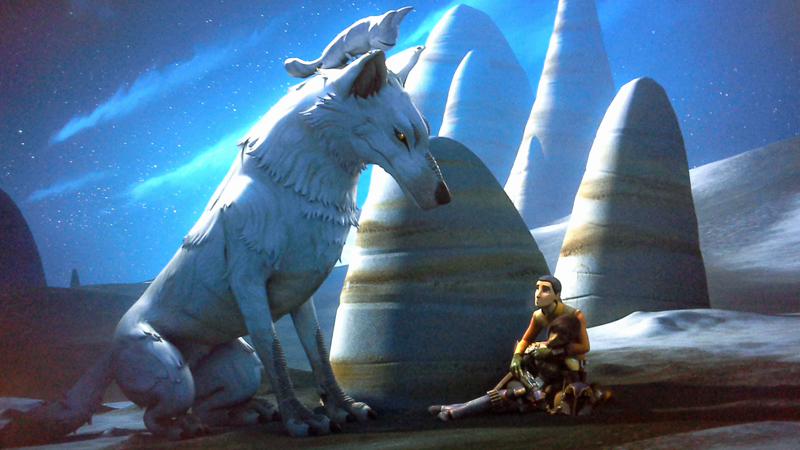 And that is where Season Four began to lose me a bit. Once we get magical wolves mystically transporting people through "Force wormholes" (in Kindred) it stopped feeling like Star Wars for me. My son, however, loves the mysticism in these episodes, so maybe it's just me.
And, despite my reservations about Loth-Wolves, there is still a lot I enjoyed about the next few episodes. The Rebels have to take over a Mining Guild ore crawler (whose driver is voiced by Seth Green) in Crawler Commanders, and Hera comes to Lothal to join the others in Rebel Assault, where an attack on the TIE factory is attempted. It does not exactly go well, so Hera must be rescued in Jedi Knight. The rescue ends in massive tragedy as well as massive victory for the Rebels, and they will never be the same again.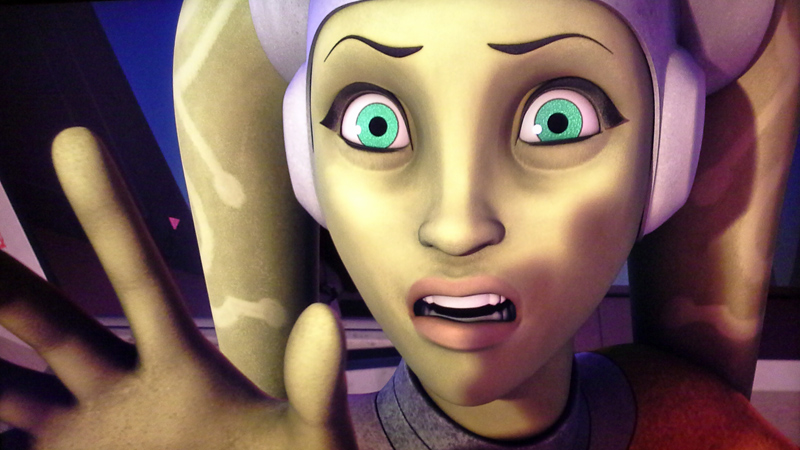 In Dume, Governor Pryce seeks to shield herself from the disastrous events of the previous episode by holding a parade to celebrate the one part that went well for her. Thrawn is not fooled, and makes plans to come to Lothal. Meanwhile, the Rebels deal with their last mission's tragedy, as Ezra makes further contact with the Loth-Wolves, spending time with a particularly regal one named Dume. The result of that meeting is a new imperative for the Rebels to return to the Jedi temple in order to keep its secrets form the Imperials. Wolves And A Door sees the Rebels' attempt at disrupting the Imperials' plans at the temple, and A World Between Worlds sees Ezra enter a sort of Force time portal to rescue someone from death, even as he sees the folly of saving someone else. In the end, the Empire's temple plans have been dealt with decisively.
Again, the "Force time portal" threatened to lose me for good, as another new concept failed to feel like it belonged in a Star Wars story. However, the conclusion of the series still managed to stick the landing, beginning with A Fool's Hope, where Ezra's friends and allies (including my favorite character, Hondo, who shows a sincere affection for Ezra) decide to ignore the odds and liberate Lothal. Ezra hatches a crazy plan that actually seems to work.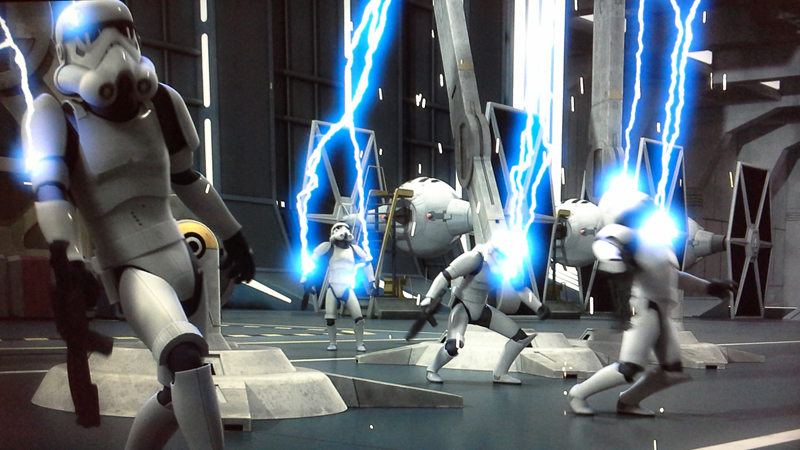 This leads to the double-sized series conclusion, Family Reunion And Farewell. The entire series has kept reminding us of the need to save Ezra's beloved Lothal, and the finale does not disappoint. A wild plan that cannot (and does not) work out, swiftly-changing strategy, and moving heroism all figure into a wrap-up that manages to bring the story to a close while acknowledging there are more stories to come for not only the crew of the Ghost, but the Rebellion as well.
Though the newer story elements introduced in the latter half of the season threatened to dampen my enthusiasm for the storyline, I still found this season to be satisfying and engaging. These characters that we have come to love see their destinies realized, cementing their importance to the broader Star Wars story. With the latest "Episode" films failing to connect with fans as much as we might have hoped, the TV team at Lucasfilm shows that they can still capture our interest and provide us with stories that (overall) flesh out the franchise in a way that is true to our childhood memories.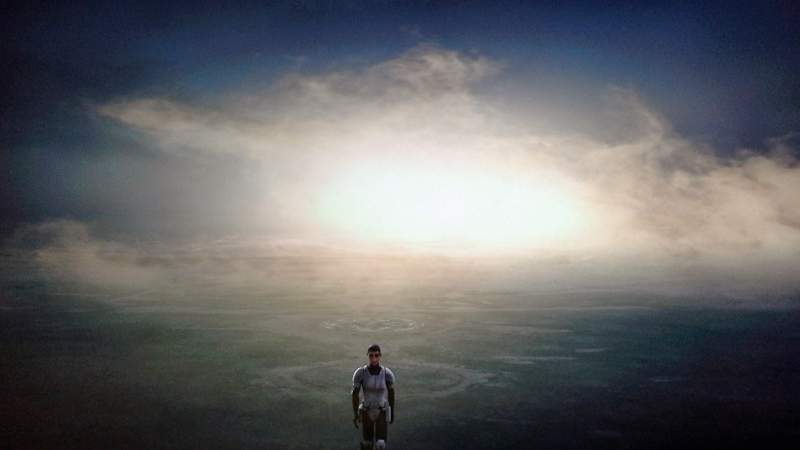 Is This Thing Loaded?
As usual, we get a lovely set of Rebels Recon segments, with host Andi Gutierrez. Though there are only eight segments, this is reflective of the many two-parters and two-airings-per-week episodes from this season, so everything is still covered. These seven-minute segments give all the background on each story that a fan could ask for, including interviews with cast and crew, and behind-the-scenes looks at the magic behind the making of the show. Plus, Chopper Cam!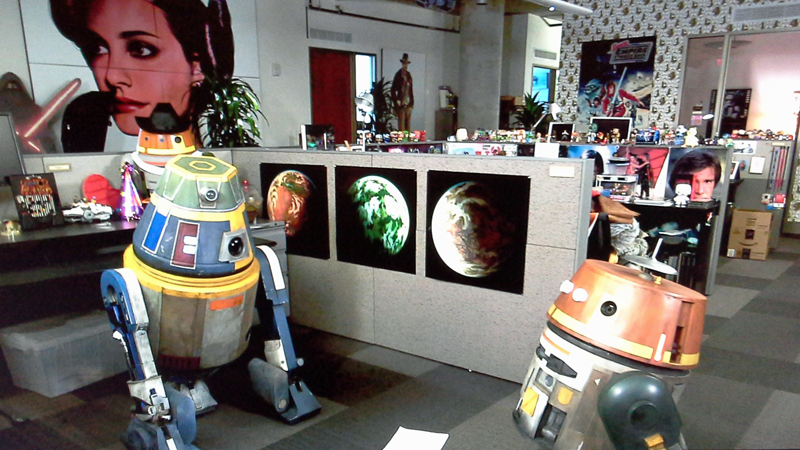 Numerous featurettes are provided, discussing not only this season, but the entire series. Altogether, they provide a comprehensive overview of Rebels. First is a section called Ghosts of Legend (27:48), which serves as a wonderful retrospective for the whole series, from inception to examining how each character developed over the course of the show. It is broken into eight segments, or you may select Play All.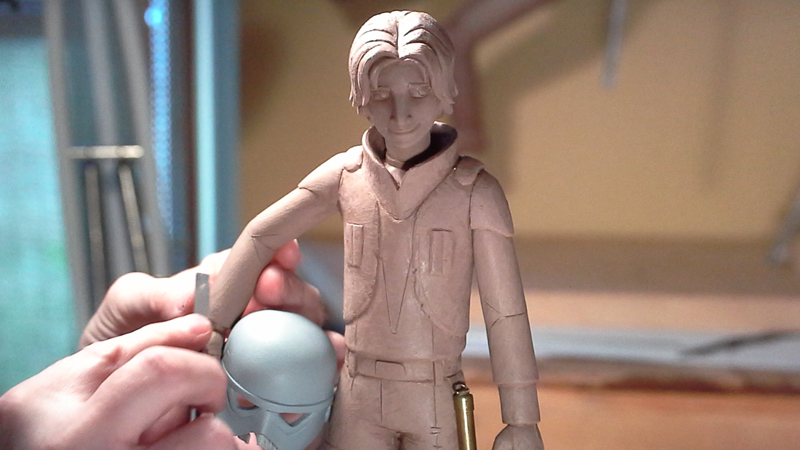 Force Of Rebellion (15:22) has four segments to it, examining various aspects of the Force in the Star Wars universe, largely from the perspective of executive producer Dave Filoni. Kevin Kiner: The Rebel Symphony (9:38) gives a proper spotlight to the series' music composer.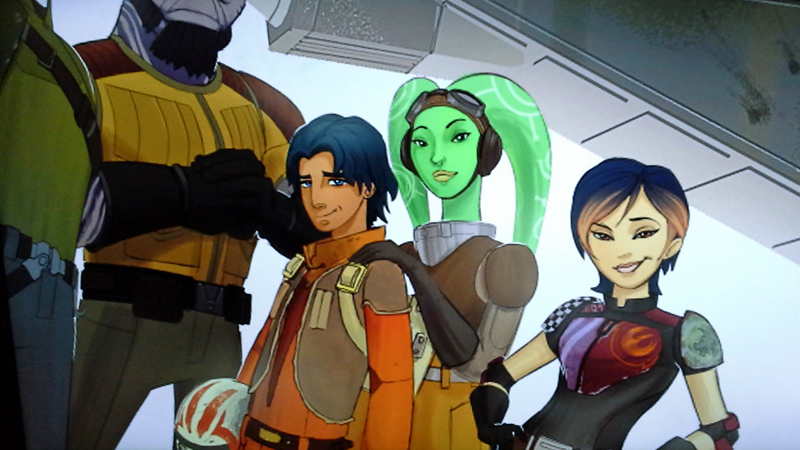 Finally, executive producer Dave Filoni appears in six audio commentaries, along with a few other production members. By the time you have gone over all the featurettes and commentaries, there may not be much left to find out about the show. All that is missing, possibly, would be galleries of production art or animatics, but such things appear in the featurettes anyway.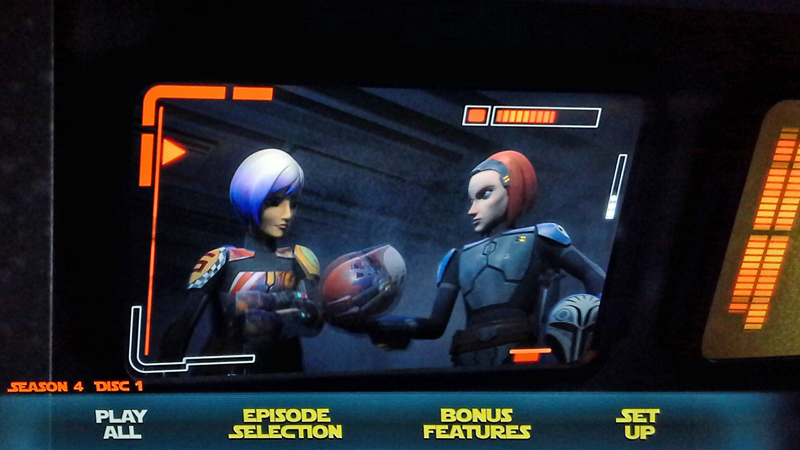 Case Study:
The packaging stays consistent, with a matching embossed cover slip, and an insert with a Disney Movie rewards code. There are just two discs with this set, so each one can be found on the front and back interior of the case.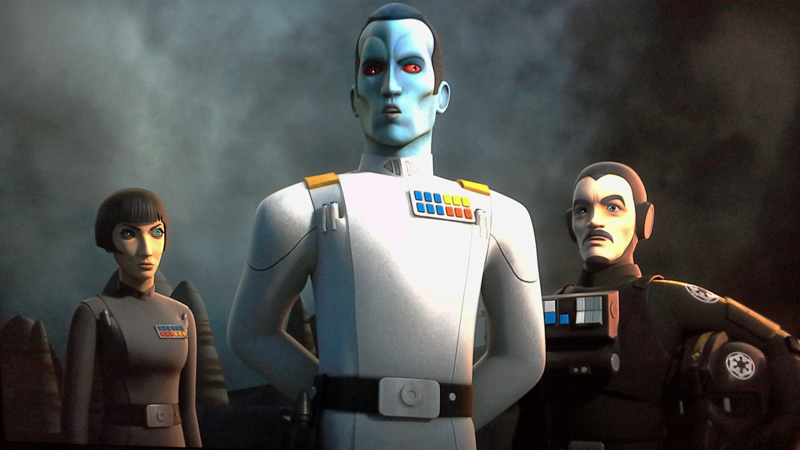 Ink And Paint:
As a digital-to-digital disc release, there is not much that can go wrong. The image is perfection, given the limitations of the TV budget animation. And when we get space battles, they are pretty indeed.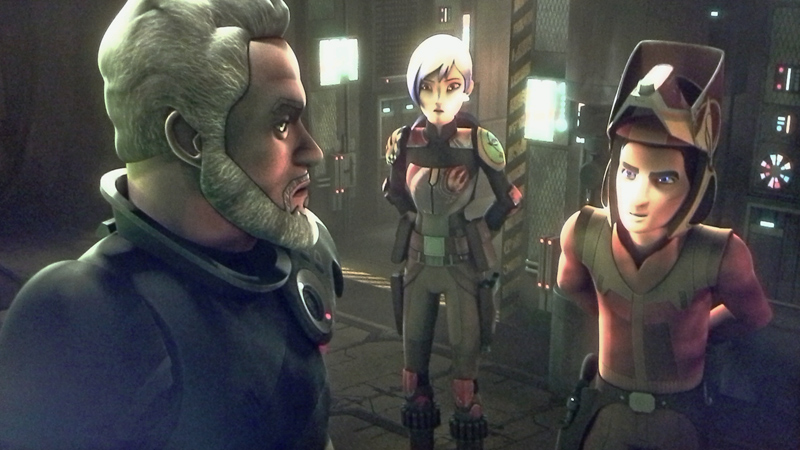 Scratch Tracks:
Disney sticks with lossy Dolby Digital 5.1, but for a TV show, it's "good enough," I suppose. We still hear lots of great effects, though your subwoofer won't have to worry about an over-emphasis on bass. Sound design is always a Star Wars strength, and that continues to be the case in Rebels, with a grand assortment of bonks, bleeps and whooshes. Lossless tracks are always preferred for maximum fidelity, but there's nothing really wrong with what we get, either. There are also French and German Dolby Digital 5.1 track, and a Spanish 2.0 track.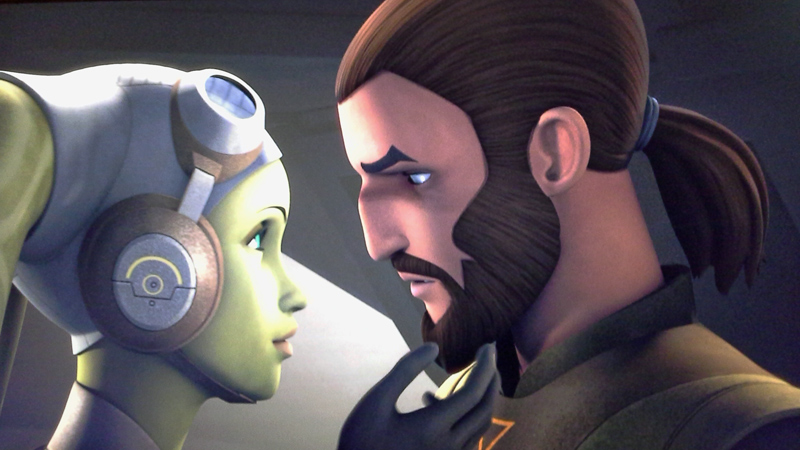 Subtitles are available in English, Spanish, and French, and there are a separate English captions.
Final Cut:
Star Wars Rebels has proven itself to be a treasured addition to the Star Wars mythos. I can recall that fans worried initially that the tone would be too juvenile, but the show ended up exploring and adding to the canon is very satisfying ways, while still providing plenty of action, characterization, and adventure. It has been a pleasure to watch the formation of a fledgling Rebel Alliance, with so many call-backs to characters and situations that we have been familiar with, while all still being fresh and informative. Dave Filoni and his crew crafted a number of great new characters, and expanded our understanding of that faraway galaxy from a long time ago. This season's emphasis on Force mysticism was not always my cup of tea, but that is a minor quibble when one steps back to appreciate all the season had to offer— Manalorean battles, Ezra's facing the Emperor, and the liberation of Lothal. The rich and plentiful bonus features then make this set all the more valuable to Star Wars fans. The show didn't quite come up and meet Rogue One: A Star Wars Story in the timeline, but it came very close, solidly bridging a big chunk of the gap between Episodes III and IV in a delightful way.
Animated Classic or Back To The Drawing Board?