Studio Ghibli (Japan 2008, US 2009), Walt Disney Home Entertainment (March 2, 2010), 2 discs, 103 mins plus supplements, 1.85:1 ratio, DTS Master Audio 5.1, Rated G, Retail: $39.99
Storyboard:
A goldfish-type creature dreams of being human. She rebels against her human father as she attempts to return to the surface world, where she first came to love a little boy. As the balance of nature threatens to shift forever in disastrous fashion, her goddess mother intervenes to help settle the issue.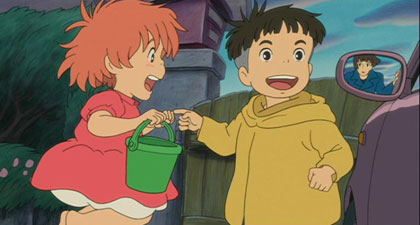 The Sweatbox Review:
Already seen as one of the greatest animation directors ever, Hayao Miyazaki continues to come up with exciting visuals and heartfelt stories well into his sixties. His latest film began production in 2006, and was partially inspired by the Hans Christian Anderson story of The Little Mermaid, but also took mythical elements from Wagner's opera Die Walkure. Its seaside setting was based on a Japanese port village that the Ghibli crew had gone to while on retreat after completing Howl's Moving Castle. This combination of elements makes for a unique film that seems destined to be more appreciated over the course of time.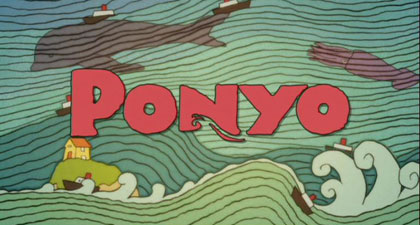 Many reviews at the time of the release stated that this was not Miyazaki's best. I say, "So what?" We're talking about the man who created Spirited Away and Princess Mononoke. With Ponyo, I don't know if he set out to surpass those films; they will likely always be seen as his masterpieces. Ponyo deserves to be considered on its own merits. If one must compare it to other Miyazaki works, it is closer in tone to My Neighbor Totoro, though despite how much that one is viewed as a children's classic, I much prefer Ponyo. That's right— I loved watching Ponyo.
The film is just overflowing with ideas and imaginative imagery. I can't say that I could appreciate all of the mythology being presented, but I caught most of it, which is more than I can often say when watching anime. Based on visuals alone, this would be one of my favorite Studio Ghibli films, but the story is pretty good, too. It concerns a small, fish-like creature who lives with her many siblings, and is watched over by her human father under the sea. She longs to see more of the world, and one day manages to get to the surface world, where a five-year-old boy named Sosuke finds her. Sosuke immediately becomes very fond of his new little pet, which he names Ponyo, and brings her to his school. On the way, while in his mother's car, a cut on his finger is healed by a lick from Ponyo, our first big indication that she has magical powers.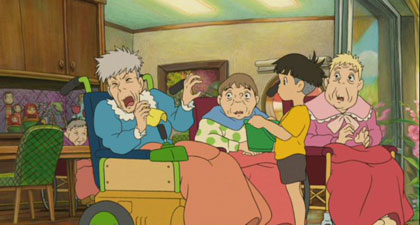 After showing Ponyo off to another little girl at scool, as well as the older ladies at the rest home where Sosuke's mother works, Sosuke loses Ponyo to her father, who manages to reclaim her with the help of some water spirits. Sosuke is heartbroken at the loss of his new friend, but Ponyo has no intention of staying away. Now that she has tasted human blood, she has gained the ability to undergo a metamorphosis into a human. Her father, quite alarmed, manages to prevent her from going past an amphibian stage (where she looks not unlike a Muppet), but through sheer force of will, she again manages to free herself from her father's home, and ventures to the surface, accompanied by her siblings. She pursues Sosuke from the sea in the midst of a fantastic storm, leaping across fish-like waves, in a scene that is more magical and musically rousing than anything I have seen since maybe Fantasia 2000.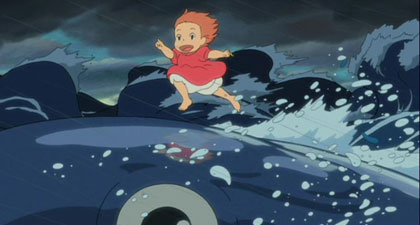 Once Sosuke and Ponyo are reunited, he and his mother seem to take the events in stride, even accepting the fact that by now Ponyo has become fully human, and appears to be the same age as Sosuke. While this may seemed far-fetched, it is perfectly in keeping with Miyazaki's other films, particularly Totoro, where magic is special but still somewhat taken for granted when it does appear.
Alas, Ponyo's efforts to become human have upset the natural order of things, and her father is horrified to see that the Earth is no longer in balance. Tidal waves appear, the moon draws closer, and a terrible storm begins. The father must seek out his former mate, a sea goddess, and her intervention shall assist Ponyo and Sosuke in finding a solution. Ultimately, it is the love of a little boy for his friend that will decide the fate of the Earth.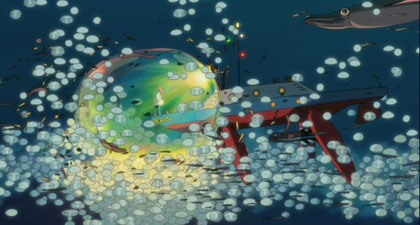 Throughout my viewing of the film, I was fully focused on the events, often in awe of what I was seeing. There is a tremendous amount of imagination and animation on the screen. Apparently, this is the most drawing-intensive of Studio Ghibli's films, and the results are plain to see. Ponyo is a tour de force, reminding one of a celebrated short film where the animator went crazy, imbuing just a few minutes of animation with impossible detail— except this film has several sequences like that. Miyazaki goes to great pains to make this a living world, on both land and in the sea, and his efforts pay off in producing an amazing looking film.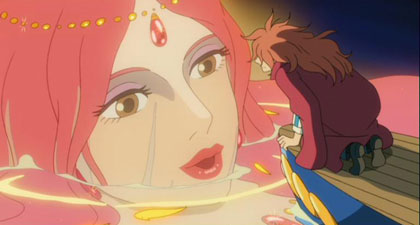 This would be for naught if the story did not hold together, but fortunately that is not the case. Though I was sketchy on some of the exact mythology, the basics are clear enough to be followed by a child (who won't question the finer points), and my kids certainly loved it— enough to watch it again the next day. (And they would have done so again and again if I had let them.) The plot is actually quite straightforward, as Miyazaki was aiming the film at young children, and there are only small distractions from the bigger plot. I did yearn to have a bit more meat in the subplot about Sosuke's mom being mad at his father for being away at sea so long, though he does figure prominently in the storm scenes, even if he has little to do. The biggest weakness of the film is its ending, as what is expected to be a grand finale is surprisingly anticlimactic. I suppose that, with a five-year old hero, maybe Miyazaki didn't want to stretch things too far past credulity in serving up a big ending. Still, there's a little more whimper than bang in the ending, but not enough to dampen my enthusiasm for what came before. What happens in the final act with the seniors from the care home distracted me enough that I managed to remain fairly satisfied with how things finished overall.
With a stronger ending, I would have come to regard Ponyo as another masterpiece, and even with its quiet ending it would still be a lifetime achievement by anyone less than Miyazaki. Animation fans should really want to see this, and for kids this is a wonderful way to introduce them to anime.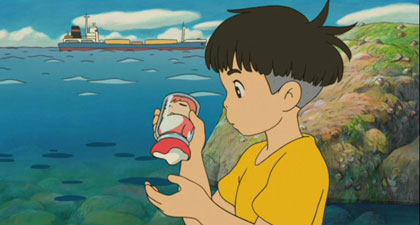 Is This Thing Loaded?
Previews on the Blu-ray include Beauty And The Beast: Diamond Edition, Toy Story 3, and The Princess And The Frog. Further Sneak Peeks available from the menu include those for the Toy Story Blu-rays, Tinker Bell And The Great Fairy Rescue, Disney's Friends For Change: Project Green, an anti-bootlegging spot called Genuine Treasure, Disney Movie Rewards, and Disney Blu-ray.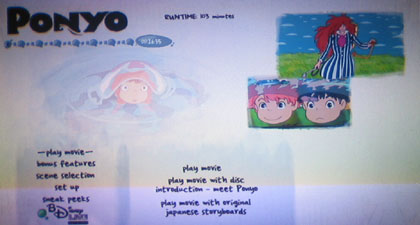 When choosing how the view the film, there are two options in addition to watching the film by itself. You may choose to first view an Introduction (3:20) that largely has English version producers Kathleen Kennedy and Frank Marshall discuss why they love the film, and how they went about producing their version of it. This includes describing the casting process, and selecting Melissa Mathison (E.T. The Extra-Terrestrial) as the English version screenwriter. Your other option is to view the film with Complete Storyboards, presented as a picture-in-picture option in the top right-hand corner. Those that would have preferred to have the storyboards fill the screen might be disappointed.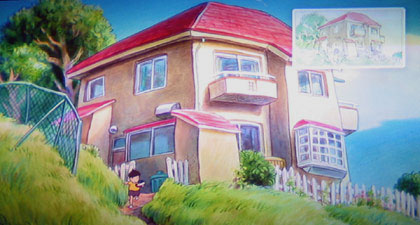 The other bonus features (all in high definition) fall under the heading of "The World Of Ghibli", and are divided into two sections. Behind The Studio has materials that are in Japanese, with English or French subtitles, primarily short featurettes that use interviews with Hayao Miyazaki and Toshio Suzuki, plus some featurettes that will be familiar to those that have been looking at the other Ghibli DVDs that just came out. A Conversation With Hayao Miyazaki And John Lasseter (3:33) presents a meeting between the two men at Studio Ghibli in Japan, where they share their mutual admiration. Miyazaki holds court for the next couple of featurettes, including Creating Ponyo (3:58), where he describes the film being aimed at a five-year old sensibility, as they are "more perceptive than they are able to describe"; and Ponyo & Fujimoto (2:59), where he says that Ponyo's father is typical of modern Japanese dads, who try to protect their daughters but often drive them away. In The Nursery (2:00), Toshio Suzuki discusses a children's play area at the studio, which was a dream of Miyazaki's. Suzuki goes on to describe Miyazaki's insistence on developing both story and characters in Producer's Perception: Telling The Story (2:29).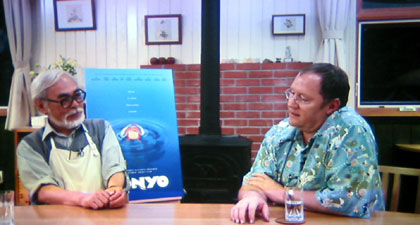 Then, we get The Locations Of Ponyo (9:35), an excerpt from a Japanese documentary called The Scenery In Ghibli; this excerpt visits a port town in the Seto Inland Sea. Scoring Miyazaki, repeated from other Ghibli DVDs in this wave, interviews music writer Joe Hisaishi. Two Original Japanese Trailers (3:21) are available for viewing, and then we get the requisite Behind The Microphone: The Voices Of Ponyo (6:04), with lots of fun shots of the actors reading their lines, with commentary by Kennedy and Marshall.
From another bonus menu entitled Other Ghibli Worlds Preview, Disney tries to promote its simultaneous Ghibli releases by also including Creating Kiki's Delivery Service (2:26) and Creating My Neighbor Totoro (2:58), as well as a short featurette on Castle In The Sky called Character Sketches (2:47). These featurettes also all appear on their respective DVDs.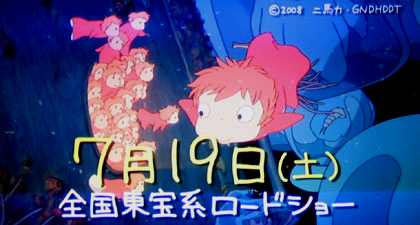 The second and by far the lesser of the main two sections of the "World Of Ghibli" bonus features is called Enter The Lands, which provides an interactive map with narration as the viewer is allowed to go through the lands and learn about the stories, characters and objects from Ponyo (with character quiz), My Neighbor Totoro, Castle In The Sky, and Kiki's Delivery Service. There are further icons on the main map that go with other Ghibli movies, but these are not yet selectable, assumedly until the next wave of Ghibli DVDs hit.
The Blu-ray also comes with a bonus standard DVD: The DVD has anamorphic 1.85:1 video, and audio in 5.1 English, Japanese, or French. It contains basically the same Sneak Peeks, but adds Muppets Studio DC Almost Live: Extended Edition (a melding of the Muppets with Disney Channel kid stars—- saints preserve us!), and a promo for the current wave of Ghibli DVD releases. Its only other bonus feature is the disc introduction.
Case Study:
The Blu-ray case contains one disc on either side. There are inserts for Disney Movie Rewards (with a code, even though there is no DMR logo on the cover), Disney Blu-rays, and one advertising Ponyo books on one side, and Ghibli DVDs on the other. The case fits inside an embossed slipcover with a gold foil spine.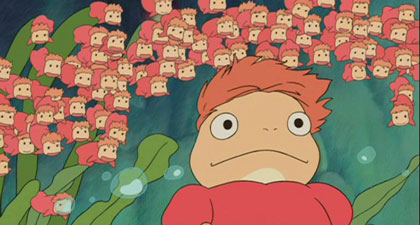 Ink And Paint:
What can one say? It's another perfect job from the Mouse House. The colors here are brighter and more fun than in some of the other "naturalistic" Ghibli films, and the Blu-ray shows them off nicely. The 1.85:1 image has no compression issues, no shimmering, no problems at all. I was able to be totally absorbed into the sometimes astoundingly designed visuals with no distractions.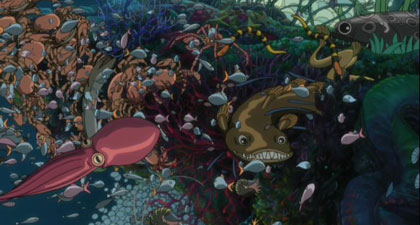 Scratch Tracks:
Ponyo sounds fantastic too. The movie defaults to the English DTS Master Audio 5.1 track, and it is a doozy. Right from the opening of the film, you can hear waves crashing from all corners of your home theatre, and may find yourself looking for water on the floor. The aural richness continues throughout the film, with sounds of the sea, laughing of children, and calls of seabirds constantly present. In a movie that attempts to carry an environmental message, it is appropriate that the sounds of nature figure so prominently and encompass the viewer.
I was initially worried that the Japanese track was missing from the DVD, as I could not switch from the English track using my remote button; but then I found out that the language options could only be changed from the menu. There is in fact a Japanese track, as well as a French one. Unfortunately, those are lossy Dolby Digital 5.1 tracks, so they miss out on achieving the perfect depth and clarity of the English track, and that is a disappointing choice for Disney to have made. There are English, French and Spanish subtitles, and English captions for the hearing impaired.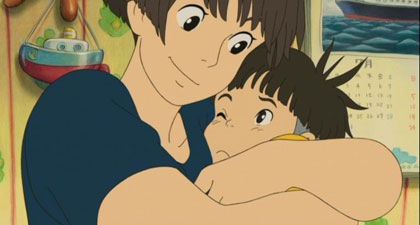 A note about the English voice cast: They all do a fine job. I did find Liam Neeson's voice too recognizable and overpowering (though he gives a good performance), but Tina Fey was enjoyably lost in her role as the mother, giving a very natural reading that suited the character extremely well. Supporting roles were played by Betty White, Lily Tomlin, and Cloris Leachman (not as shrill as she was in Castle In The Sky, thank goodness), and Cate Blanchett does marvellous work as the sea goddess. However, special mention must be given to the young leads. The "bonus Jonas" Frankie (little bro to the older Jonas brothers) and Noah Cyrus (Mylie's little sister) give perhaps the finest readings of any child actors that I have ever heard. They are absolutely engaging, expressive, and immersed into their roles. Bravo.
Final Cut:
Don't hesitate to pick this up just because you heard it was a "weak Miyazaki." "Weak" is relative, and Miyazaki is still a master. Personally, I hope Miyazaki is still making movies in his eighties.
The animated sequences here are beyond reproach when it comes to imagination, power, and detail; and the story is sweet and delightful. The weaknesses of the story are minor, and on further viewings I think I shall be more forgiving. This is simply a wonderful, impressive film. The video and audio on this Blu-ray are beyond reproach, the only caveat being the lack of a lossless Japanese audio track. The extras are very good and make for a complete Blu-ray experience.
Animated Classic or Back To The Drawing Board?