A present-day magician, an authentic poet marrying the most unique ideas to the most oniric images, director Hayao Miyazaki is back to offer us one of his most touching fables, Ponyo, just released in theaters.
Four years after Howl's Moving Castle, the Japanese master chose to produce his latest animation wonder all by hand, without computers, in a plain visual style that gives his characters and backgrounds a familiar aspect and an energy that can be achieved only in traditional animation.
His vision of the film being born as he was staring at the ocean during a storm, he gave a particular attention to the rendering of the sea and of the waves, creating a world far beyond our expectations.
But, above all, he proposes a magnificent poem on childhood…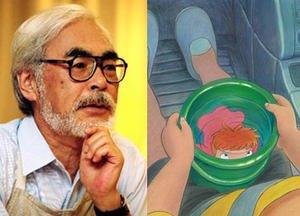 ---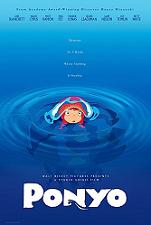 Animated Views: How would you describe your latest film?
Hayao Miyazaki: This is the story of Ponyo, a little fish-girl who dreams to be with Sosuke, a five-year old boy who promised to take care of her. It is also about how Sosuke will be able to be true to his word. Ponyo is a love story between two young children and it's at the same time a wonderful adventure: an adaptation of Hans Christian Andersen's The Little Mermaid in present-day Japan.
A small town at the sea, a home at the top of a cliff, a few characters and the ocean, seen as a presence, a living entity. A world where magic and alchemy are part of everyday life. Down, like our unconscious mind, the deep sea, and at the surface, the tumult of the waves. In altering space and shapes, the sea becomes not only the setting of our story, and at the same time one of the main protagonists. A small boy and a little girl, love and responsibility, ocean and life, and the essence of all that: this is what Ponyo is all about, a fairytale that is my answer to the distress and uncertainty of our time.
AV: The first draft of your story seemed to rather lean toward the relationship between a mother and her son.
HM: When I'm working on a project, I write ideas down and then I change lots of things. What I write at first is always different from the final film. My first idea was to depict a character at the beginning of her life, searching herself, including in her relation to her child. I figured out Sosuke's mother was 25 years old, but my collaborators thought she was too young. They realized she was even younger than themselves. They felt it difficult to draw a mother who is less than 35. My team has grown older…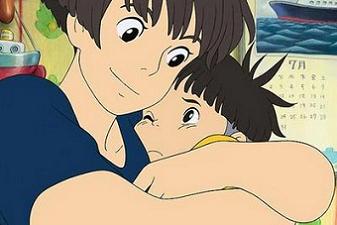 AV: In the end, the subject of your film is childhood itself, through the eyes of that extraordinary child that Sosuke is.
HM: I wanted Sosuke and Ponyo to act naturally, according to their desires. There are many scenes like that. When Ponyo splashes Sosuke, he's not frightened. If he were, they wouldn't have become friends. Sosuke is the only one who is not bothered by that. In general, children don't like that, but he doesn't care. As you're watching the film, you're not surprised by his reaction, he's truly believable. And when Ponyo turns back into a fish thanks to her magical power, he's not impressed. He just says she's great. He's a funny little guy. During the dubbing session, people really liked his reaction. Sosuke truly admires Ponyo. He doesn't ask any question. He accepts everything, and that's wonderful. Then you wonder what is going to happen to him. He accepts everything but, to me, it won't be so forever.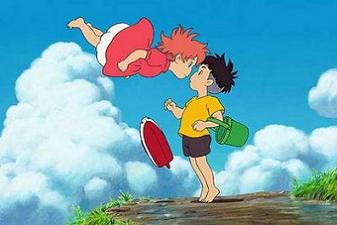 AV: The movie is much about children's promises, as Sosuke promises to take care of Ponyo.
HM: That's the point, but one doesn't always keep true to one's word. It's like a baby chicken you want to protect but that finally dies despite your care. Today, when you grow older, you have to learn not to keep your promises. That said, in my movie, I wanted to show a child who does.
AV: You mean, things change when you grow up.
HM: I imagine, if Ponyo went to the Kindergarten, she would get closer to Kumilo and would leave Sosuke…
AV: How sad!
HM: Not at all. It may be a relief for Sosuke, or not. But I think things are not that simple for him. You can imagine Sosuke should marry Ponyo, but life is not that simple.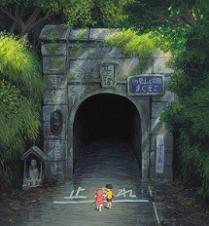 AV: Dealing with childhood, you're dealing with something essential, something that deals with our origins. Hence the scene with the young parents.
HM: It had to be. It's difficult for Ponyo to fit in. I wanted to present her like someone who grows up and evolves a lot. Her faculties allow her to succeed. It's a strength. In that scene, she really cares, and she can communicate with the baby, but not with words. I see that as a mean of communication anterior to humans.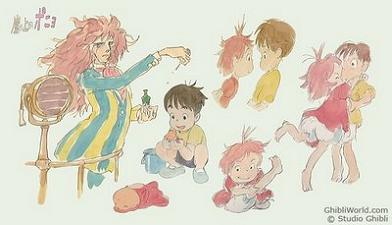 ---
---
Interview kindly provided by BCG (France), for which our sincerest thanks go to them.