Technicolor has issued an press release announcing that its Paprikaas Animation Studio, based in Bangalore, India, has been named as the facilities house that will handle the computer generated imagery for Nickelodeon's Kung Fu Panda television series. Paprikaas previously built a relationship with the channel with its Penguins Of Madagascar show, based on another of DreamWorks' properties. The press release can be read here:
TECHNICOLOR'S PAPRIKAAS ANIMATION AWARDED
NICKELODEON'S KUNG FU PANDA SERIES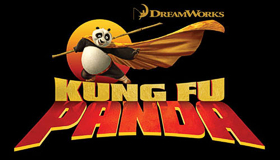 April 6, 2010 – Technicolor today announced that Nickelodeon, part of MTV Networks, a division of Viacom Inc., has awarded Technicolor's Bangalore-based animation studio Paprikaas the Kung Fu Panda TV series, which will be produced as an animated series for the worldwide broadcast market, initially comprising 26 episodes.
Nickelodeon and Technicolor have developed a strong production relationship based on Paprikaas' work on the CGI production of Penguins of Madagascar. According to TV By The Numbers, Penguins of Madagascar was the No. 1 kids show on cable TV in the United States in 2009.
"We have built an excellent relationship with the team at Technicolor during our collaboration on Penguins of Madagascar," stated Mark Taylor, senior vice president and general manager of Nickelodeon Animation Studios. "They have developed a world-class CGI production studio and animation team with an established competence that dovetails nicely and efficiently into our production pipeline."
"We are delighted to be awarded such a prestigious franchise to work on at our studio," stated Tim Sarnoff, president, Technicolor Digital Productions. "We believe Kung Fu Panda both strengthens and enhances our production relationship with Nickelodeon. With this show, we're looking to continue the growth of our team and infrastructure."
The production has already commenced and season one is scheduled begin airing in fall of 2010. Kung Fu Panda had already achieved iconic status as a blockbuster movie for DreamWorks Animation SKG, Inc. The broadcast series will extend and leverage its brand equity and global fan base.
Technicolor India has an 800+ member team across different disciplines and has worked-on top-rated animation TV shows in the United States and abroad, as well as short films including 3D stereoscopic projects and video game art.