January 1, 2010 — Animated Views wishes you all the very best for the coming year! Plus thoughts on the season's big blockbuster, James Cameron's Avatar…
As age begins to creep up on you, it's actually quite nice to start receiving some more practical gifts for Christmas, and this year apart from a usual selection of asked-for books and discs, I was surprised by a couple of very nice thoughts from various family and friends which proved to be real space savers. Did you get what you hoped for? I trust that you all had a great holiday break and now, as a new year dawns once again, I wish you all the best for 2010! Animated Views will of course be here as always, covering the big titles from their announcement, production and theatrical debuts, through to their box-office fortunes and eventual home video release on DVD and Blu-ray, and we'll be adding some more new features to compliment our new look, too!
---
Speaking of what's new, judging by the extraordinary box-office James Cameron's Avatar is doing around the world, I'm guessing most of you have either donned the 3D specs and experienced his new world, or at least seen the movie "flat" in a good old regular movie theater. I managed to catch Avatar at a sold-out screening in 2D, since it's the kind of movie that if I wanted to see in 3D I'd go the extra length and travel to the nearest Imax to experience fully.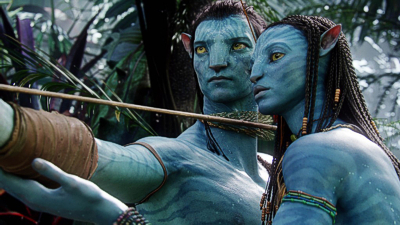 I can't exactly say reviews have been "mixed", though they do stretch from good to the not so good, which didn't pique my interest enough to make the Imax trip. I'm a strong believer that a gimmick shouldn't make a movie, and Avatar is a great example: though no doubt the 3D goggles would put the viewer onto Cameron's planet of Pandora as if one were there, the film remains visually impressive enough, and whatever the extra dimensions, they wouldn't do anything to enhance the ultimately boring and rehashed storyline. Ironically, I also saw a documentary on one of Hollywood's first directors, Cecil B DeMille, over the holiday, and the basic plot of Tinsel Town's first ever feature film, 1914's The Squaw Man, is about a white male who falls in love and controversially becomes integrated within a community of Native Americans, and it seemed amusing to me that almost one hundred years later the hottest blockbuster of our time would be mining the very same elements.

Of course, the whole thing has been spruced up with genuinely amazing visuals and the kind of motion capture that only Weta Digital can accomplish, putting even the likes of some of A Christmas Carol's sometimes very well done scenes to shame. Unfortunately, the visuals can't entirely hold up the rambling plot, which takes the first reel to get going and then peters out a couple of times during one of the many "middles" the film has. Timing and events happen all too conveniently, and from the first time Sam Worthington's character enters the avatar machine one is wondering what convoluted way Cameron will find in order to make the effect permanent. The way that eventually comes, part-way through the film as a result of another character's death, just made me roll my eyes and shrug: the ending of the movie, while never in doubt, then simply becomes a destination it needs to get to, rather than remaining an interesting series of twists or turns.
The constant onslaughts from Earth's military, out to mine Pandora for a magical floating rock, get tiring too, even if they are fun eye candy. But I did have problems with the scale of the giant blue Smurfs (much changed from the more interesting "alien Tron" like concept art that once floated around, though never really encroaching on Delgo territory), to which the humans were sometimes elbow high and sometimes as small as half. And I'm not sure if it's me, but Worthington – who didn't impress much in the noisy Terminator Salvation earlier this year – seemed (slightly) more expressive as his motion-captured avatar than he did in human form, where his face was strangely blank and motionless…proof again at how good Weta are at drawing a real performance out from the data generated by the actors (even the not very good ones).
Best of the bunch are Star Trek's Zoe Saldana as the Navi alien that captures Worthington's heart, and Sigourney Weaver, whose avatar was obviously designed on how she and Cameron wished she looked, but also looked just like her. Her performance is the stand-out here, working well in both human and avatar form, and much better than the one-note military officer out to destroy anything and everything: a bland, stereotypical caricature that actor Stephen Lang does what he can with. Of the rest of the effects, there's a frustrating mix of the excellent (the subtle withering of Worthington's human legs, explaining his use of a wheelchair), the predictable (the giant robot suits, not as good as similar ones we've seen in such films as RoboCop or Cameron's own Aliens) and the pretty poor (some of the very basic things, like fire and water, stand out in their sheer awfulness), and a flight on a couple of dragon-like creatures gets dangerously close to watching another person having more fun playing a video game.
Ultimately, Avatar doesn't represent the huge leap forward in moviemaking that the hype would have you believe. It's not on a scale, to use recent examples, of Jurassic Park's integrating of CGI, or the use of "invisible effects" in Forrest Gump, but more of an extension of what Peter Jackson had developed in the Lord Of The Rings and King Kong with Gollum and the giant ape in terms of motion-capture. The audience numbers suggest it has the appeal of Cameron's last large scale outing, Titanic, but I'm not sure it will have the repeatability factor, especially on DVD. It's a wonderful piece of super-hyped moviemaking from a truly innovative director, but it will be what either Cameron or others do with this technology next that will be the real test. If they can mix the visual wonders with a story that will wow us just as much – in 2D or 3D – then the holy grail will have been reached. All eyes will be on Weta's Tintin with even more interest now…
Stay tooned! — Ben.