January 18, 2010 — Up and Avatar win at the Globes. And more to come this week!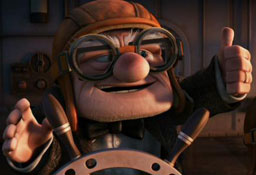 Hi, folks! This is Randall, stepping in for Ben, who has been under the weather the past couple of weeks. Our apologies for starting out the year slowly, which was unplanned and unintentional. Of course, the News headlines have kept coming, while our features will be picking up shortly. Some of us have been at work in an invisible capacity, as we have actually been preparing some exciting content that will be showing up over the next few days. Jeremie's mammoth, multi-part interview with Mark Henn will of course continue to be rolled out as scheduled, with the next part to be posted at the end of the week; but there are also several DVD reviews coming. In addition to catching up on the latest studio releases, we will soon have in-depth looks at the latest from Thunderbean, who continue to do collectors a huge service by collecting the most obscure and wonderful cartoons to be found on DVD.
In terms of what's happening right now, we have just seen Up and Avatar win big at the Golden Globes on Sunday night. Up should be no surprise, but I hadn't realized that anyone was serious about Avatar being a Best Picture contender. I really enjoyed it, and it certainly deserves some technical awards, but I'm not sure it's the best movie of 2009. Still, it's nice to see genre works getting more respect the past few years. And let us not forget that Avatar is in many respects an animated feature, right? So, good for Mr. Cameron and his animation crew! Look over to our News headlines to learn more about the Golden Globes.
Sorry for the tease folks, but I just wanted you to know there's lots more coming. For now, we'll wish Ben well, and try to keep things rolling this week for all of you! So stay tooned! — Rand.