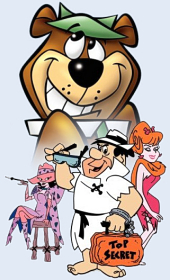 Hey there, and welcome to another week here at Animated Views, where our takes on March's major titles will start to trickle through this week. Tomorrow's big release of Pinocchio and Beverly Hills Chihuahua are on the way but in the meantime we zip back just before Christmas for some belated but valid words in praise of Hey There, It's Yogi Bear!, the 1964 animated feature comedy from Hanna-Barbera that marked their return to the big screen after producing so many of the original Tom & Jerry shorts.
Hey There sees them on fine form, and the DVD presentation, while it lacks anything in the way of deluxe treatment, has a surprisingly robust soundtrack and comes loaded with a very unexpected widescreen transfer that assists the higher than average animation in making this come over as a real movie. One of the first, if not the first, animated television translations to the motion picture screen, Yogi goes the route of expanding the TV series concept, and it does it very well too. A surprise success in cinemas, it was followed a couple of years later by The Man Called Flintstone, a feature outing for the modern stone-age family that was an unofficial capping off of the original The Flintstones series. All three of these titles came out from Warners last fall, with Yogi catching up to complete our coverage of that batch!
---
We've some new announcements for ya: the Oscar-sweeping Slumdog Millionaire comes to DVD ($29.98) and Blu-ray ($39.98) from Fox on March 31, with featurettes, deleted scenes, commentaries and, on the BD, a digital copy, music video and short film. From Warners, their Ultimate Vacation Collection collects all four of the classic Chevy Chase movies on May 19 on DVD and looks to be a re-pricing of the previous set, now going for a listed $39.92. Chase's Three Amigos! co-star Steve Martin pops up in his rom-com Roxanne on May 5, going for $28.95 on BD and an extras-light package.
More along our animation lines, Speed Racer The Next Generation: Comet Run The Movie brakes in time for a May 12 release from Lionsgate on DVD, with the disc packaged with a Mach 6 toy car. Lastly, on BD from WB comes Batman: 20th Anniversary Edition (man, it just can't be that long aleady!), also on May 5 for $39.99. A Batman Anthology featuring the 1990s caped crusader movies is also available on BD.
---
In other home entertainment news, it seems that Panasonic is leading the way for 3D to strike out in our home theaters, with James Cameron's anticipated picture Avatar, which Panny part-sponsored, perhaps the first film to break that ground. Elsewhere, it's being reported that Blu-ray sales should reach 100 million by the end of the year with continued growth for the hi-def format, while Genius Products must be happy with all those direct to video animated titles from the Weinstein Company because they've just inked a new deal worth some $63 million to carry their titles through 2010.
---
Of course the big news of the week is the release tomorrow of Disney's second animated feature Pinocchio, genuinely one of my true favorites from Walt's early era and looking pretty amazing on its Blu-ray debut. We have a really lovely piece from Jeremie that will accompany tomorrow's release, but to whet your appetites, follow the "More…" link at the end of today's post for a selection of clips from this new Platinum Edition. I'm already wading through it for our review…but I think you'll like what you see below!
Stay tooned! — Ben.
---
Sweatbox Session:
---
Rotoscoping:
---
Transitions of Pinocchio:
---
Honest John:
---
Pinocchio's Lie:
---
A Real Boy:
---
The Wish: