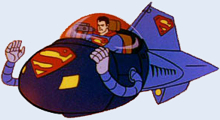 We've a couple more new reviews for you this morning, starting the week off with a Race To Witch Mountain on Blu-ray, the Disney Studio's modern update of their 1975 adventure. This time around a lot of elements have changed, but it's still the same basic plot — two otherworldly kids must team up with a friendly face in order to get to a secret destination — given the now obligatory whizz-bang effects treatment. As a fan of the original, I didn't find this offensive in the least, but Disney's disc release certainly fails to deliver; despite this being comprised of no less than three discs, there's a total lack of supplement value, marking this out as a rental at best.
Randall Cyrenne is just as positive about Super Friends: The Lost Episodes, a two-disc collection of 1983 shows that got a little shoddy treatment first time out, but appear complete in this set. Suggesting that the episodes are "up to the same standards as any other season of Super Friends", Rand confirms that "there are actually a number of meatier stories here. You've got guest stars galore, a number of supervillains, Superman destroying Krypton, Phantom Zoners going after Superboy, and a Malusian blob, all in addition to the regular nuttiness one expects from the show".
---
How sad it was to read about Virginia Davis' death last week. Although Disney's empire was often said to be "all started with a Mouse", those that know their Disney history will point out that it all really started with a little girl, Alice, in Walt's first successful series, the Alice Comedies, which took him to Hollywood and provided the foundation from which he launched Oswald The (not so, for him) Lucky Rabbit, and eventually Mickey Mouse. Davis starred in the first thirteen of Walt's silent comedies, where a young girl would enter an animated wonderland, as highlighted in Disney historian Brian Sibley's lovely tribute for The Guardian.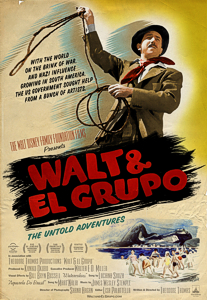 More Disney history comes in the upcoming release of Walt & El Grupo, a new documentary charting the Disney artists' trip to South America in the early 1940s. In recent years, the Studio has been very reverential to its past, with a wonderful run of serious studies on such figures as Ub Iwerks, Frank Thomas and Ollie Johnston and Walt himself produced by various family members, but fully endorsed and supported by the current Studio brass. Directed by Ted Thomas, Walt & El Grupo chronicles the ten-week trip Walt and his artists took to South America as part of the government's Good Neighbor Policy.
The trip was important for various reasons: it was set up to gain support against the rising Nazi threat, gave the artists new inspiration for material, and got Walt out of Los Angeles so that brother Roy could deal with the unease of the infamous animators' strike. The film is set to open in limted engagements in LA and New York on my birthday, September 11, though I hope to catch up with Walt and his group on Blu-ray soon afterwards.
A documentary of a different kind next, but still keeping with the magic of the Mouse, and Don Hahn's Waking Sleeping Beauty sounds most intriguing. We've all heard about the shenanigans that went into the making of The Emperor's New Groove, as documented in Trudy Styler's practically never-seen The Sweatbox (how do I get a copy!?), and some may even have witnessed the upheaval at the Studio in Dream On Silly Dreamer, so I'm intrigued to see how much dirt this officially sanctioned retrospective dishes up in its tale of despair and triumph during the Disney renaissance period that culminated in the 1990s.
Hahn's new film promises the full dope, and I hope he has been given the freedom to express all the highs and lows. Not that I would want to see a warts and all expose that could damage the Studio's reputation, but with what is already known to the public, it would be a shame if Disney's scissors came out and kept this from being an honest account, though I have faith in Hahn. Waking Sleeping Beauty will screen at the Toronto International Film Festival next month and is set for what will probably be another limited theatrical release in the spring of next year.
For a bigger look at the brilliant Walt & El Grupo poster (thanks to our Animated News contributor Jafar), check out the "More" link, and stay tooned! — Ben.