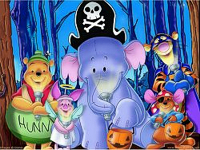 Another of Disney's recent Winnie The Pooh reissues has joined our site line up with Rodney Figueiredo's review of
Pooh's Heffalump Halloween Movie: Limited Edition
, which sports the same 2005 disc as its original release but now comes bundled with a Pooh-as-Tigger plush just in time for All's Hallow Eve next month. A follow-up to the
Heffalump Movie
from the year before, this one mixes then-new animation with footage from the
New Adventures Of Winnie The Pooh
television series, but the result "does make up for some of its standard story with the charm we come to expect from Pooh and his friends", as Rodney says, and long time fans will find it "noticeable for being John Fidler's final performance as Piglet".
---

Well, you know you know the holiday gift giving season is about to descend when the studios start announcing their big Christmas present titles, and there's been a bunch of 'em this week! First up, for all you muggles that just bought the first five
Harry Potter
pictures on Blu-ray, comes the not at all surprising news that extended cuts of the films are to debut on the format starting with
Harry Potter And The Sorcerer's Stone: Ultimate Edition
and
Harry Potter And The Chamber Of Secrets: Ultimate Edition
, both on December 12. Each will be a two disc affair (on DVD for $39.92 and BD for $49.99) with the theatrical and long-rumored extended cuts, documentaries, featurettes, deleted scenes, screen tests, TV specials…you name it, you got it! Accompanying this is the latest in the franchise,
Harry Potter And The Half Blood Prince
, on the same day (two-DVD $34.98, three-BD $35.99) with featurettes on the cast, JK Rowling and a look at Universal's new Potter theme park. I'm still doing what I said I'd do in 2001 and am waiting for all eight movies'
Ultimate Editions
before the
Potters
make it to my shelves!
On December 1, the appallingly disappointing Night At The Museum: Battle Of The Smithsonian lands on DVD ($34.98) and BD ($39.99) with commentaries, a gag reel (which must have all the funny bits in it since there was little to laugh at in the movie), featurettes, deleted scenes (wasn't it long, pointless and illogical as it was!?), an alternate ending (though nothing, I'll bet, that could save this retread masquerading as a sequel) and games, with the BD adding more featurettes and a digital copy. On a similar note, Disney/Bruckheimer's G-Force will be available from December 15 with bloopers, deleted scenes, music videos, featurettes and digital copy in the DVD ($39.99), and a movie-only DVD bundled in with the BD package, which will contain additional featurettes and the Cine-Explore mode for $44.99.
November 3 is shaping up to be a big spend for big movie fans: that's when the Watchmen: Ultimate Cut will integrate the separate animated spin-off Tales From The Black Freighter into the Director's Cut of the film and bundle in all previously released spin-offs including the twelve chapters of The Complete Motion Comic and the Under The Hood documentary. On DVD for $43.87 and BD at $59.99, numbers will be limited to just 70,000 copies. The same day, classic fans will probably jump at the chance to go six rounds in the ring with Sylvester Stallone for the seven disc Rocky: The Undisputed Collection, on Blu-ray for a cool $99.99 from MGM. Extras include documentaries, interviews and behind the scenes footage and featurettes, though no word on the commentary tracks that featured in an earlier DVD edition. These films have had a rocky road on DVD, so you may want to wait on the final bell and read the reviews before you buy.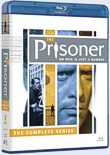 Finally, a show I've really come to love over the years, Patrick McGoohan's legendary
The Prisoner
, comes to Blu-ray just before AMC's remake is due to hit screens. This definitive collection of the original series comes to A&E via the beautifully restored film elements and 5.1 remixes undertaken for the most recent British DVD release, and will contain hours of bonus material never before released in North America, including the new feature-length documentary
Don't Knock Yourself Out
, chronicling the production. Additional featurettes, original cuts of two of my favorite episodes plus select commentaries, trailers, and a 1200+ image archive, amongst many other things, make this the definitive set that devotees have been waiting for. We hope to bring you a full review, but the $99.95 five disc set (for those in the know, where is Number 6?), which streets October 27, will no doubt come highly recommended!
Rand's take on the original bewitching classic Bedknobs And Broomsticks is coming up, so stay tooned! — Ben.