Thanks to Disney Interactive Studios, we have five copies of the new Tinker Bell And The Lost Treasure game, for the Nintendo DS console, up for grabs — all you need to do is enter your details in the forum below!
The contest is now closed, and our five lucky – and uniquely international – winners' names are:
• Ralph, Virginia

• Daniel, Australia

• Simon, England

• Daniel, Missouri

• Andy, California
Congratulations, folks, and your Tink games will be on their way to you shortly!
---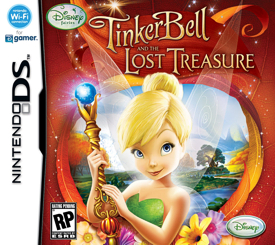 About
Tinker Bell And The Lost Treasure
on Nintendo DS
Last year, Disney Interactive Studios invited girls and fans everywhere to grab their Nintendo DS and fly away to Tinker Bell's enchanting Pixie Hollow to play as a Disney Fairy. The follow-up to that rich and immersive experience is now available in retail stores nationwide. Disney Fairies: Tinker Bell And The Lost Treasure for Nintendo DS comes to North America this holiday season to coincide with the all-new Blu-ray and DVD release from Walt Disney Studios Home Entertainment, the second in a series of direct-to-DVD computer-animated adventures.
"Working closely with the filmmakers, we've been able to once again extend the beautiful environments, whimsical character animations and engaging tale of discovery seen in Tinker Bell And The Lost Treasure onto Nintendo DS," said Craig Relyea, senior vice president of global marketing, Disney Interactive Studios. "The video game sequel allows players to mix creativity with gameplay, recreates memorable film moments and gives players more ways to connect with the online world of Pixie Hollow, the center of the Web-based universe for Disney Fairies. This cross platform synergy is indicative of how we are able to introduce compelling new ways to play every year."
Unique to this year's game is the ability for players to create and personalize up to five of their own fairies, from facial features to hair accessories, each with different talents focusing on tinkering, light, water, animal and gardening. One of those fairies can be uploaded onto the Disney Fairies Pixie Hollow virtual world from Disney Online, where visitors worldwide have created more than 22 million fairy avatars. Players are then able to use their DS fairy to go on quests, play talent games and gather items within the Pixie Hollow world.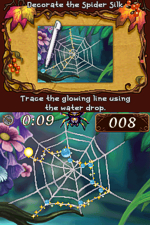 The film-based Story mode opens as the Disney Fairies prepare for the Autumn Revelry, and Tinker Bell is chosen to create the prestigious Fall Scepter that can rejuvenate the Pixie Dust tree. But when her good friend Terence offers to help, Tinker Bell's stubbornness and temper get the best of her, causing her to shatter the scepter's fragile moonstone, as well as her friendship with Terence. To make things right, Tinker Bell must now embark on a perilous quest north of Never Land to find the Mirror of Incanta, which will grant her one wish.
Players will notice that similar to the film, Tinker Bell's wardrobe has been updated to reflect the Autumn season and her evolution. In addition to the iconic green dress, she will be seen in-game sporting a jacket, leggings, boots and belt to carry all her tinkering tools. Other delightful activities in Tinker Bell And The Lost Treasure are mini-games that involve fun tasks such as sewing, collecting water drops, balloon making and unscrambling puzzles.
Players can also embark on an online quest that ultimately unlocks a special item on both platforms and they can add ingredients gathered in the DS game to their collection on PixieHollow.com. The two platforms are now linked through up-to-date news and polls, dispatched from the online world directly to DS.
In addition, Disney Fairies: Tinker Bell And The Lost Treasure includes DGamer, the online community exclusive to Disney gamers on Nintendo DS, allowing players to connect with others and unlock Fairy-themed items in their DS game.
Developed by Hyde and published by Disney Interactive Studios, Disney Fairies: Tinker Bell And The Lost Treasure is rated E for Everyone by the Entertainment Software Rating Board (ESRB), with a suggested retail price of $29.99. For more information, please visit Disney Fairies Videogame.com.
---
Read our full review of the Tinker Bell And The Lost Treasure Blu-ray disc here!
---
---
---
THE SMALL PRINT: Winning names will be drawn at random. Participants must provide a full name, mailing address and valid email contact. This information will be kept confidential and deleted after the contest has closed, although Animated Views withholds the right to publish winning names and location area only. One entry per household. The contest is open to US and non-US international readers. Prizes are non-transferable and no cash alternative will be offered. No responsibility is accepted for inaccurate prize descriptions provided to us at the time we go to press. The administrator's decision is final and no correspondence will be entered into. Associates of Animated Views and Disney Interactive Studios are unfortunately ineligible to enter. The contest closes on Wednesday, November 18, 2009 at 11:59pm ET.