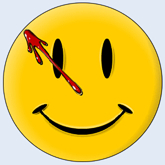 Who's watching the Watchmen? Well it seems, after a somewhat lacklustre theatrical outing earlier this year, that many of you are, since it's been topping the DVD and Blu-ray sales and rental charts. It's the kind of film that, as I say in my review for the Watchmen: Director's Cut on Blu-ray Disc, is more likely to find its audience on home video, the intricate plotting and multi-layered world perhaps being too much of a slog for many to sit through in a theater. On disc, the longer cut is more developed too, not providing for anyone to change their basic like or dislike of the film, but at least offering a more definitive adaptation that feels like the film it should have been rather than the one that seemed to have several holes in it, as did the one that played in theaters.
It's still not a perfect movie, but one has to marvel at the scope and depth that director Zack Snyder has brought to the screen in his alternate 1985 reality. It would have been neat to compare versions, but the previously announced DVD Video disc in the set turns out only to feature the Digital Copy of the theatrical cut, and is not a regular DVD as was expected. It's a disappointment, and although that is a lot of info to squeeze on to a disc, why can't WB have bundled in both (as Universal has done with Coraline) or as a double sided flipper? As such, it's just another platter that will remain redundant for me, when a DVD would have been very welcome and just as easily ripped/converted for those that know what they're doing.
While I found the film more of an experience in the longer cut, I was underwhelmed by the supposed awesome BD: the "immersive commentary" was spotty and not as in-depth as some others, while the extras are a lot of filler (the vigilantes documentary) or stuff fans would have seen before (the webisodes). I have a feeling the Ultimate Collectors Edition (which will also recycle previously released material like the Complete Motion Comic) will be the more all-encompassing edition, from what is announced on the insert inside this version, and not having seen the Tales Of The Black Freighter animated comic in any form, I will say I am at least sufficiently intrigued to check out that set at year's end.
We're back on Monday, when Jeremie has something very special for us: a discussion with none other than Hayao Miyazaki himself, whose latest film Ponyo is just out in theaters today.
So stay tooned! — Ben.