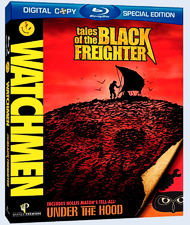 Although the
Watchmen
film ultimately failed to fulfill all the very heavy expectations both fans of the comic book and those coming to the property for the first time might have had, it still offered a sprawling mass of eye candy on an epic scale, and Zack Snyder's film is an accomplishment, whatever anyone takes away from it.
The interesting aspect is the way Warners have thrown themselves behind this would-be blockbuster, surely hoping for the bonanza that The Dark Knight pulled in for them last summer. As such, Snyder seems to have been given a very loose leash in bringing his vision to the screen, even stretching as far as providing a platform for some extra exploratory plot to make it to the screen.
This comes in the form of Watchmen: Tales Of The Black Freighter, the subject of Randall's latest Blu-ray Disc review. Ultimately rumored to have its scenes re-inserted into an ultimate Director's Cut of the main Watchmen movie, this is a chance to see the "comic within a comic" play out in all its animated glory, with a heap of really cool extras sure to appeal to Watchmen fans. As Rand says, "If you want to collect everything Watchmen, you can rest assured that this disc is a great little purchase".
---
Congratulations to Adinont Santisaranyu, who wins our first ever Blu-ray giveaway for the Pinocchio: Platinum Edition and, as an Easter treat for the rest of our readers, we have some more video clips for you, including the first look at the full trailer for Warner Premiere's Green Lantern: First Flight title, which I know Rand is already pumped up about, and the latest in the Peanuts discs, Snoopy's Reunion: Deluxe Edition, just out on DVD.
You all have a Good Friday, and a great weekend! — Ben.
---
Green Lantern: First Flight
on DVD and Blu-ray July 21st 2009:
---
Snoopy's Reunion: Deluxe Edition, available on DVD now: