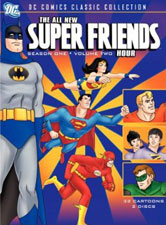 We've a couple of varied reviews for you this morning, beginning with Randall swooping in from Justice League HQ to comment on the "pretty hokey" second and final helping of the 1970s take on DC's band of heroes,
The All-New Super Friends Hour: Season One, Volume Two
. Despite being superseded by more modern and serious approaches to the characters this is the show I watched as a kid too, and nostalgia plays a big role in enjoying a set like this; as Rand says, "Cynical adults will find much to ridicule, nostalgic adults will find lots to enjoy, and smaller kids of today should also get a kick out of it". With decent audio and video attributes, and a featurette look back at Wonder Twins Zan And Jayna, the set gets good comments all around, and Rand's episode descriptions are great fun too!
Less successful, on a multitude of levels, is the recent reissue of one of Disney's earliest direct to video efforts, The Little Mermaid II: Return To The Sea: Special Edition, a film that certainly didn't help the "cheapquel" accusations towards the television unit that was churning product like this out at the time. As such, I've managed to avoid it until now, but finally catching up with it I actually found it to be less a travesty than last year's third film, Ariel's Beginning, which was supposed to be some kind of apology for Return To The Sea but was, in retrospect, even worse. There are a couple of nice touches here, and this is the lesser of two evils, though both are non-essential forgettable outings, but those who feel they must have II will at least find some joy in the deleted song moment that's been added to this "special edition".
More soon, including a look at Disney's first Chinese co-production The Secret Of The Magic Gourd, so stay tooned! — Ben.