ITC Entertainment (September 29 1967), A&E Home Video/Granada International/Network (October 27 2009), 5 disc set, 884 mins plus extensive supplements, 1080p high definition 1.33:1 original full frame ratio, Dolby Digital 5.1 Surround and Original Mono, Not Rated, Retail: $99.99
Storyboard:
A soon to be ex-secret agent, a top British espionage man, hands in his resignation, only for a mysterious organisation to kidnap and start probing him for "information". Trapped in an isolated location known only as The Village and given the label of Number 6, whether he is in the hands of his previous employers, desperate to find out if he has defected, or if he has been taken by the enemy to be drilled for the top-classified knowledge he knows, is just one of the big questions posed by The Prisoner, one of television's great cult achievements.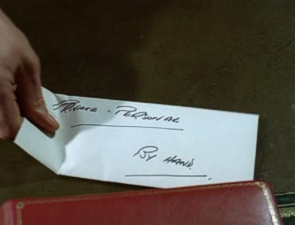 The Sweatbox Review:
The big problem when discussing The Prisoner in any regard is where to begin! Such was the impact of this genuinely groundbreaking adventure thriller back in 1967 that followers at the time and since continue to debate its meanings, what it doesn't tell us, and what the underlying truths are…all of them kept mysterious and under wraps, and the teasing as to what it all meant boosted by writer-director-star Patrick McGoohan's reluctance to let anything slip on the subject. Even its production and broadcast order are open to massive debate, with changes to the original British airing chronology when the show was televised in the United States leading to all kinds of conspiracy theories!
The Prisoner was born when Patrick McGoohan was given carte blanche by ITC's head Lew Grade – the man who also gave Jim Henson the go ahead to bring The Muppet Show to television – to write his own ticket, when the star began frustrated with having to churn out week after week of Danger Man episodes. McGoohan hadn't actually been on the scene for very long before being able to call the shots, making his screen debut only in 1953 and appearing in non-credited roles, such as a door guard in that great British war drama The Dam Busters. A real breakthrough was the tough antagonist part of Red in the gripping road thriller Hell Drivers in 1957, alongside a who's-who of later star talent including Stanley Baker, Herbert Lom, David McCallum and Sean Connery.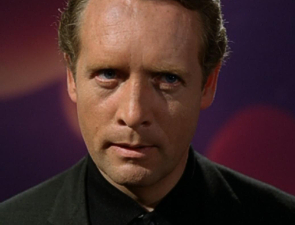 More television bit parts followed, before McGoohan was approached to appear as arguably the screen's first serious secret agent, John Drake, in Danger Man, cunningly re-titled Secret Agent for American showings. Beating 007's Dr No to the screen by over two years, Drake laid the groundwork for the international espionage agent, McGoohan insisting on using his brain to get out of a scrape rather than simply resort to gunplay or chases. There was plenty of those anyway, but the series wasn't as successful as hoped and ended after one year, McGoohan turning down the part of James Bond for being more of the same. However, the show had caught the eye of Walt Disney, who took to McGoohan and offered him the role of Dr Christopher Syn, alias The Scarecrow Of Romney Marsh, in a celebrated three-part mini-series for the Disneyland television series.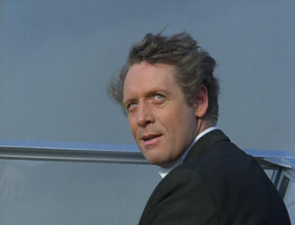 Dr Syn was a hit both on television and later in a theatrically released edition, and noted by McGoohan was the choice to shoot in color so that a feature could later be released and the episodes re-run when color sets had caught on, a factor of great importance to the actor. McGoohan stayed at Disney's to appear in The Three Lives Of Thomasina (directed by Don Chaffey), but had designs on production and, when Danger Man had proven to be a big hit in syndication and Grade offered him the chance to make new episodes, McGoohan was able to dictate the rules. Running from 1964 until 1967 and, stealing a page from Walt's handbook to put out a two-part adventure as a feature spin-off, Koroshi in 1966, Danger Man became more developed under McGoohan, expanding to one-hour stories with more depth. But after three seasons in black and white and only just winning his argument to shoot in color for the fourth, McGoohan had had enough and burst into Grade's office ready to quit.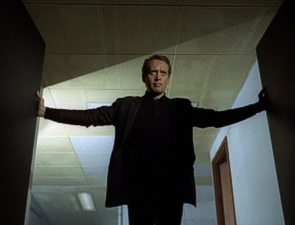 Grade didn't want to lose the biggest actor on television at the time and asked McGoohan what he wanted to do. Mirroring what was happening in real life, the star created the story of a secret agent who resigns without warning and goes home to start a new life but is knocked out and wakes up in an abnormally pleasant, and therefore sinister, location. The character, assigned a number, would spend the entire series trying to break out of The Village and find his way back home. Who had taken him, and which ever side they were playing for, would remain a mystery to Number 6 and the audience. This time, McGoohan called all the shots, writing, producing and often directing the episodes himself (under pseudonyms, alongside other notable names such as Chaffey and David Tomblin), and insisted the show be shot in color. Grade hated losing control (the results being the beginning of a heated relationship between the two men) but would have hated losing McGoohan altogether, and a gentlemen's handshake sealed the deal.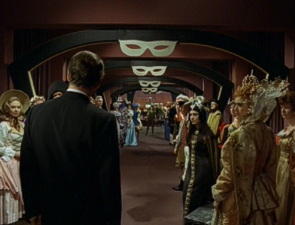 Not having seen the series on its original broadcasts, I couldn't say what the reaction was, but in speaking to long-time fans, I understand that The Prisoner was one of the first "water cooler moments" in television history. The intrigue was stretched to breaking point: who was Number 6, and more enigmatically who was Number 1, and why was Number 2 a continuing changing of faces? As one watches the series – I eventually saw it all for the first time in the 1990s – the details start to creep out, but it was never actually intended to be that way. Such was the haphazard filming schedule of The Prisoner that episodes were shot and shown out of sequence, and even hard-core dedicated fans can't decide on what the definitive running order should be.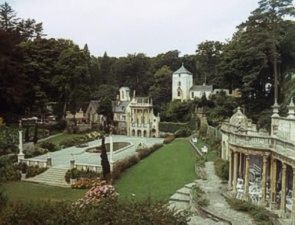 Clearly, the first episode is Arrival, in which we see the agent – to all intents and purposes John Drake, although this was never confirmed or denied by McGoohan but remains more or less a "fact" to fans given the additional little clues ("Be seeing you" is a phrase used in both series) dropped in the series – resigning from his post. Arriving home at his London pad, a sequence of events transpires that provide a re-cap at the start of each new episode. All end the same way: Number 6 wakes up in a strange apartment and looks out of a window…only to find he is still trapped in the too clean and colorful Village. What follows over the next 15 episodes are various games of cat and mouse, in which an obstinate Number 6 refuses to play by The Village's rules, leading to a continually changing parade of Number 2 replacements, each convinced that they have what it takes to break Number 6's resolve.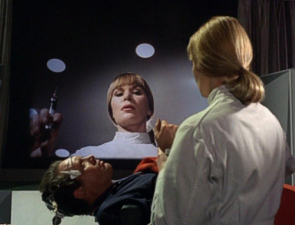 During this always gripping battle of wits, Number 6 never fails to try to escape, almost achieving his aim in perhaps my favorite episode after Arrival, The Chimes Of Big Ben which, if we're going to start talking about program order, I always felt should have come somewhere part way. After previous releases toyed around with the running order, The Prisoner Blu-ray set presents the episodes by their original airdates. They're all good, but other real standouts are The Schizoid Man, Many Happy Returns, Hammer Into Anvil (with a returning Patrick Cargill mysteriously taking up Number 2's role but having the tables turned upon him by a resilient Number 6), the psychological A Change Of Mind and the final two-part conclusion, of which more below.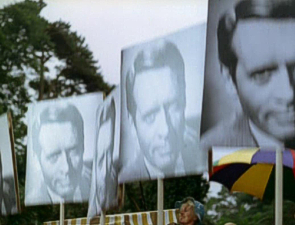 Always a bit on the surrealistic slide of the scale, The Prisoner also dipped into out and out of strange moments, all helping to construct the feeling of paranoia in both Number 6 and the audience. As with most subjects in the series, these episodes raise certain questions that are left to the audience to decide their own answers, such as the election theme of Free For All, or the quite bonkers The General and Checkmate. Sometimes the more fantastic elements were an ironic desperation by the filmmakers to free themselves from their own Village trappings, but other times they were more unintentional, such as Do Not Forsake Me, Oh My Darling, where a lack of McGoohan's participation in the episode is not really down to the body swap premise plot but rather because he was off shooting his scenes in Hollywood for Ice Station Zebra!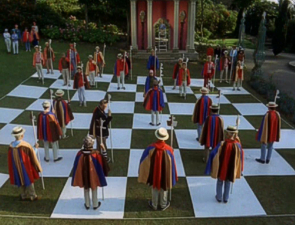 The initially baffling Living In Harmony, set in the Old West with a completely re-shot opening credit sequence, and The Girl Who Was Death, both shot in and around the Borehamwood-based studios of MGM British are two more consecutive shows that expand The Prisoner's scope outside the confines of The Village through the use of mind control. The consequences in Harmony and rather unsettling – a pointer to the psychological dangers about to be faced in the conclusion, and a genuine moment where Number 6 is visibly angry at his captors for fooling him, while Death is almost a throwback to Danger Man, a prequel of sorts that apparently sees Number 6 on a case, even bumping into one of his old Danger Man accomplices. Not only is this peculiar episode highly entertaining, but location aficionados will have a fun time spotting the EMI Elstree Studios and Grade's ATV Studios in the background, as well as the much-used Edgwarebury Hotel and other local film landmarks from what was still then known as Britain's Hollywood.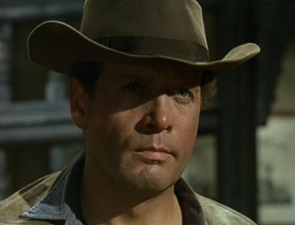 The Orwellian aspects are clear enough, but there's also a dark streak of knowing black comedy in The Prisoner. Although he's a sometimes smug character, one can't help but identify and root for Number 6, and one even gets the notion that Number 2 often begrudgingly has to admit defeat to a better opponent. The real danger comes not only from the various hypnosis, mind control and manipulation methods Number 2 inflicts on Number 6, but from the deadly Rover, a sentient being that keeps The Village inhabitants in line. It's never revealed exactly what Rover is or how it operates, but it clearly has consciousness, and the way the other villagers remain frozen when Rover is on the prowl is quite spine-tingling. Aside from being referenced in The Simpsons, Rover is also the inspiration behind the moving smoke in Lost, a show which the creators have acknowledged their debt to McGoohan's pioneering program.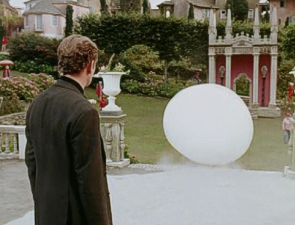 And ahead of its time it was too, the sometimes perplexing storylines proving too much for viewers, who started to drop off in their droves toward the end of the initial 13 episode run. With work already started on the second season, Grade sent McGoohan (the two barely speaking to each other at this point) word that The Prisoner was to be cancelled. An episode already shot but not included in the run so far, the terrifically psychosomatic Once Upon A Time, was recycled and a new ending filmed, to lead in to Fall Out, a hastily patched together final episode, number 17 in the much shorter than anticipated two season run. Once Upon A Time is a gruelling affair for both McGoohan's Number 6 and a returning Leo McKern as Number 2, the pair locked in an isolated final battle to break each other, with devastating effects on each other and the audience.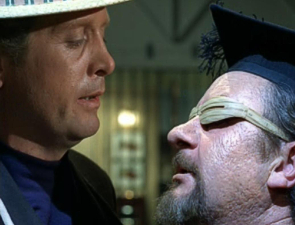 McGoohan and a visually weary McKern, suggesting he is resigned to his destiny, truly inhabit their characters, and a suggested reason the episode (originally to be number six, ironically) was not completed initially was because of the toll the dramatic ambitions had upon McKern, who turns in a brilliant performance opposite a top-form McGoohan. This is the real culmination of the series, the following actual final episode, the chaotic Fall Out, offering some answers while it raises other questions. It outraged viewers in 1968 who had wanted a clear cut conclusion to the series, and again fans to this day are split on what the Fall Out episode means. Tapping into the psychedelia of the time, Fall Out goes all out, revealing the mysterious Number 1 (is it all in Number 6's mind?), the deactivation of Rover, and a resolve of sorts for The Butler character who is equally a member of The Village and is perhaps still trapped in other ways.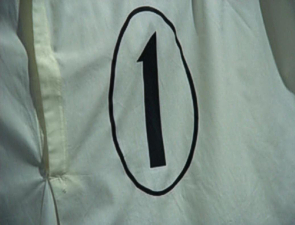 Without wishing to provide any spoilers, I can't say how I think the series ends up here, but having gotten into the show again six years ago as a result of the 35th Anniversary DVD release, and engaged with fellow fans, I have to say that it's all pretty clear enough to me what the underlying answers are. For his part, McGoohan never explained anything and, as the series gained a phenomenal cult popularity almost as soon as finished airing, he often included little knowing nods to his signature show in other projects, especially his numerous appearances as a brilliantly formidable foil for Peter Falk's Columbo in the 1970s, which McGoohan also directed. Villainous feature parts also included Silver Streak, the brutal prison warden in Escape From Alcatraz and Braveheart, returning to Disney in the 1980s for the ill-fated Baby: Secret Of The Lost Legend and again in his final credit, the voice of Billy Bones in the Studio's Treasure Planet.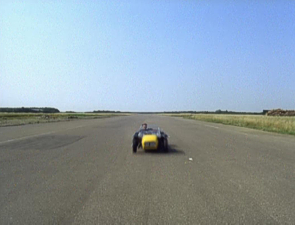 But The Prisoner has never died, and rumors of a feature film remake have continued to surface, like Rover, for many years. Mel Gibson was attached to star and direct in a film to be written and executive produced by McGoohan in the early 2000s, and Batman director Christopher Nolan also had a shot at adapting the material. Eventually the rights holders, the UK's ITV corporation, in association with American Movie Classics, chose to remake the series for television, with a new six-part adaptation featuring Jim Caviezel as Number 6 and Ian McKellen as a recurring Number 2, screening in the United States from November 15 and in the UK later in 2009 or early 2010. It will be very interesting to see if, in the first new episode's opening, if Caviezel is referred to by name, thus solving at least one part of The Prisoner puzzle. My money says it was John Drake that tried to resign, but as for the rest of it, I have my suspicions, but you'll have to visit The Village yourself to make your own mind up! Be seeing you!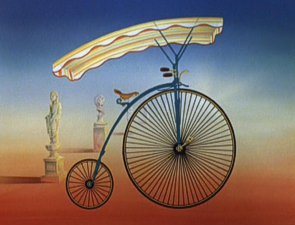 Is This Thing Loaded?
Always a popular program since it ended in 1968, the cult of The Prisoner has endured for one reason only: at the end of the day, the isolated, closed off from reality Village puts the show in a timeless void where it is neither the past, the present or the future. As such, it remains as valid as the day McGoohan got the green light from Grade, and though it has been released several times on DVD, this is its first showing in high definition, restored from original elements.
Released first by A&E in a series of stand-alone DVD compilations, The Prisoner first got some decent treatment for its 35th Anniversary in 2002, with a bonus disc of archival and new interviews packaged into a "megaset" of ten discs, while in the UK, the same content was released in a six-disc digipack collection. Last year, celebrating the 40th Anniversary, ITV's licensees Network undertook an extensive restoration attempt to create new HD masters. The results were first seen in The Prisoner: 40th Anniversary Collection, released by Network in the UK and A&E in the US. Both featured the same extras as before, plus a seventh disc with the all-new feature length documentary Don't Knock Yourself Out and several episode commentaries.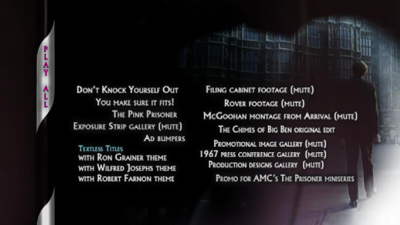 It's essentially this collection that makes its debut on in this five-disc Blu-ray set, though it loses the 40th Anniversary 60-page companion book, and again there are discrepancies between the US and UK editions, the Brits getting an extra disc and deluxe fold-out packaging with a 288 page book detailing the series' production. However, the amount of discs appears to be down to how the content has been sliced up, the final platter somewhat disappointingly being a standard definition DVD. The only other discrepancy seems to be the loss of what was labelled "ultra-rare footage of the 1966 location shooting" with commentary from production manager Bernie Williams. Although missing from its own entry in the extras, there is a generous amount of such footage in the feature documentary, and so one assumes this is one and the same, though spliced up and missing Williams' words.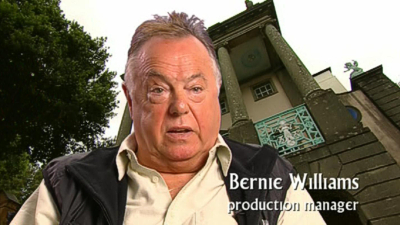 But there is still plenty to go through, and no-one can say The Prisoner has not been given the treatment it deserves in such a handsome packaging of material. Spread across each disc, the supplements offer up no less than three episode audio commentaries (Arrival, Chimes Of Big Ben, The Schizoid Man) with various crew on each. Best of the bunch with his recollections is Williams, who reveals lots of in-secrets along the way. Long-time fans perhaps know more than the filmmakers at this point, but there's much to savor in all the commentaries, from cool things like the house number that Number 6 is abducted from, to where location and studio footage is matched, and many of the themes and ideas behind the series. Also on Disc One is an Episodic Image Gallery with Music Score Suite, an excellent 20 minute trawl of hi-def production and publicity photography accompanied by rarely heard original archive score, and the five television preview trailers for each of the corresponding shows; each running around a minute and teasing the next week's episode, all unrestored but in HD.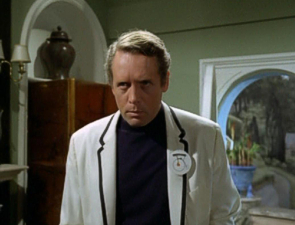 Disc Two features much of the same, such as two more episode audio commentaries, including the nightmarish and multi-layered Dance Of The Dead, another Episodic Image Gallery with Music Score Suite, again in HD and this time running 12 minutes, plus the five television preview trailers for the corresponding episodes on this disc, in unrestored HD. On Disc Three, there's a further audio commentary, for A Change Of Mind, an 18 minute Episodic Image Gallery with Music Score Suite and the five television preview trailers for the disc's episodes, again all unrestored in HD.
Each disc features five episodes on each, the final two-part climax on Disc Four rounding things out with a similar selection of extras: there's a final episode audio commentary on Fall Out, and the Episodic Image Gallery with Music Score Suite, running 12 minutes, the last two television preview trailers, plus two generic series trailers, all again in unrestored HD. Familiar to fans but fascinating for newcomers is the original edit of Arrival, presented full and uncut at 51 minutes in HD. What's most notable for this cut is Wilfred Josephs' completely different music score, before it was replaced with Ron Grainer's iconic theme, as well as a less fearsome audio treatment for Rover and a significantly altered final shot after the end credits, which raises questions of its own. The print is in very good shape; one might have expected them to replace scenes from the final version with the restored shots, but this cut comes from its own element and so is much more consistent.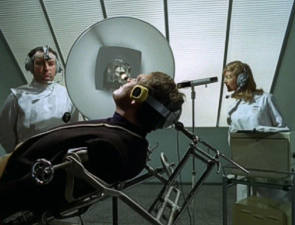 As soon as you've watched Arrival you'll want to watch it again with the original alternate music only, which substitutes much even from the final mixed version, swapping out some cues, deleting others, and replacing some scenes with music that was later removed. All of it is very interesting, but McGoohan clearly made the right decision to change composers: Josephs' music is very 1960s ITC instead of being the innovative and original approach The Prisoner's star was striving for. An Arrival original edit restoration comparison shows the terrific work carried out by Network for this release: watching this Arrival is a good indicator to how the episodes previously looked on DVD, so one can appreciate the even further restoration work undertaken on the final 17 episodes. Lastly on this disc, textless title sequences presents the shots used in the main titles, end credits, Fall Out and Living In Harmony without those superimpositions, as well as what appears to be stock and test shots, and several foreign language versions of the Resigned filing label, all of which runs 10½ minutes in mute HD.
Disc Five, a standard definition DVD disc, is where the remainder of the supplements are ready for discovery. It's understandable that a regular disc be used, since many of the bonuses are only available in standard def (though mostly at least in 16:9), but surely the major new 95 minute feature-length documentary Don't Knock Yourself Out was shot in HD? A quick check on the specs for the UK release of this set show that it is indeed included in HD, with that set's sixth disc a single-layered DVD, which marks down the scores for the extras here somewhat. But at least this is a dual-layered disc, which means that the UK material is mostly preserved, if only in standard def, and this disc even packs in a couple of exclusive extras itself. Don't Knock Yourself Out proves to be the set's standout moment, and is perhaps the most comprehensive retrospective documentary yet seen on a vintage television program.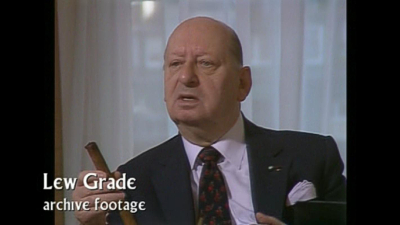 Speaking to nearly 40 cast and crew members involved in the production via archival interviews and, where possible, newly filmed talking heads, nicely mixed in with contemporary shots of The Village. Shot in the private Welsh estate of Portmeirion, which was only revealed in the titles for the final episode, McGoohan wished to keep the location secret to not only preserve the mystery of The Village but also to dissuade fans and onlookers from trying to visit while the series was in production. Here all is revealed, and although McGoohan chose once again not to be involved in anything that discussed his landmark series, this is as close to the true story as we're ever likely to get. Taking the lead again is Bernie Williams, the production manage on the first 13 shows, and someone who shot a lot of home movie footage on the set, here reproduced to illustrate such things a Rover Mach One, a terrible flying saucer contraption that never got off the ground.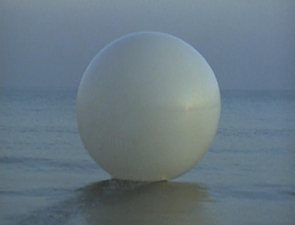 Don't Knock Yourself Out really is an exemplary piece, though there are some technical strikes against it. Some of the contributors have been mic'd so as they raise their voice there is a bit of distortion or raised volume, which could well have been dealt with and sweetened in post-production, while all of the speakers, and narrator Neil Pearson, are featured at a volume much louder than any of the original series clips included, meaning that the excerpts from the show don't have as much punch as a result. But in all other respects this is a top-notch review of the making of a television series, and many major topics are covered, such as McGoohan's working practices, the wink-wink use of the John Drake publicity photo in the resignation opening titles, the history of Portmeirion, production stories including the failure of Rover #1, and Leo McKern's involvement (with a slip of an expletive from McKern in archive footage).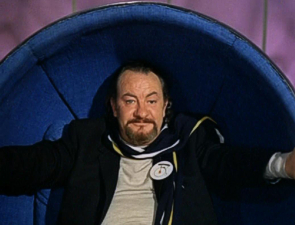 You Make Sure It Fits!, exclusive to this set, contains nine minutes of further interview footage with sound editor Eric Mival, who explains his role on the program, how and where he sourced much of the background music heard throughout the series, which genuinely went a great deal towards making The Village a "character" in its own right, and offers a peek through his original Music Bible – the log book in which he made note of every cue – from 1967. The much stranger The Pink Prisoner features Brit TV star Peter (Jason King) Wyngarde ("written by and starring"), from the Checkmate episode, ruminating about his association with the series. An odd nine minutes, billed as part-interview, part-comedy sketch, it is ultimately neither, and although Wyngarde offers some insight, he often wanders off tangent and the ridiculously muffled interviewer is pointlessly stupid. The title also baffles me; half expecting a Pink Panther spoof, I wonder if it is intended more to allude to Wyngarde's personal preferences and, if so, I find it highly inappropriate on a set like The Prisoner.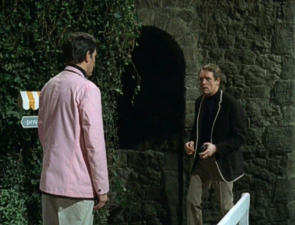 Although The Prisoner was lucky enough to shoot on 35mm color film, each day's filming was printed on black and white stock. To give an idea on color, only one frame from each take was printed to color film and an Exposure Strips gallery of 200 images present these selected frames, which include alternate camera angles and even stills from ultimately deleted and long destroyed deleted scenes. Presented as 10½ minutes of slide-show video, you'll need your pause button handy so as to not miss some of these, as they whiz by pretty quickly – why not save space and offer them as a still frame gallery that one could step through at their own time? A pair of original Ad Bumpers show what would have been shown between the episode cliff-hangers on commercial television, while Filing Cabinet Footage, Rover Footage and the McGoohan photo montage from Arrival, presented full frame, replicates much from the textless title roll at the end of the last HD disc.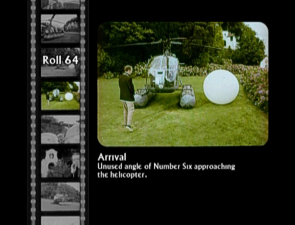 Ported over from previous sets, but newly offered with different attempts at the main title score, are three textless titles with clean versions of the original themes. Taking the first stab at providing The Prisoner sound was Robert Farnon, who had been instructed to draw upon, for some reason, the Big Country theme, as his result clearly emphasized. Visibly out of place, Wilfred Josephs was next in line to come up with the music, moving as far away as possible from Farnon's western approach, but too closely resembling themes for other action-orientated ITC shows. After a frustrated McGoohan whistled him the music, composer Ron Grainer, who had scored a couple of Disney productions and is perhaps most famous for providing another iconic theme, for Dr Who, arranged a much more sedate version of the eventual theme.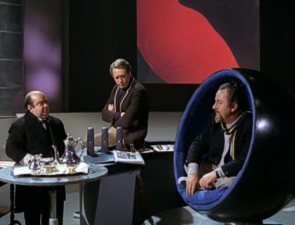 But it wasn't enough for McGoohan, who insisted on increasing the intensity of the music, insisting on a punchier arrangement and adding in the lightning bolts at specific story beats. It is this so called "fourth" version that was the one used, but all three are fascinating to see matched up to the opening and closing credits. Also included is an original edit of The Chimes Of Big Ben, unrestored from the only surviving 16mm print available and again most notable for Wilfred Josephs' alternative music scoring. Rounding things out are three Promotional, Press and Design Image Galleries, which feature various shots of McGoohan, stills from a 1967 on-set event, and Jack Shampan's intricate concept paintings, though unfortunately no context is given, a fact that tarnishes some of the other supplements too. Finally, there's a hardly worthy 30 second spot for AMC's The Prisoner remake, which looks like a fairly bland take on the material, presented in letterboxed 4:3.
Network's UK edition features even more, including some very interesting sounding bonus Easter Eggs not carried over here, such as some back ground lava lamp footage, an almost one-hour audio interview with McGoohan from 1980 (in which he apparently has some not-too-kind words to say about the rest of Lew Grade's ITC catalog), and a three minute video interview with the star. Also still missing among The Prisoner supplements is an early 1980s retrospective that was produced when the UK's Channel Four screened the series again, but all in all, this is a very fine collection of Prisoner material. The lack of HD on the outstanding documentary is a great shame, but is somewhat made up for by a final, "hidden" extra, an extensive DVD-ROM production paperwork archive presented as a collection of over 80 PDF files. Ranging from reproductions of each script, documentation, press releases, call sheets, magazine publicity and even some front pages of The Tally Ho, amongst much more, this is a fantastic exploration through the personal collections of some serious Prisoner fans.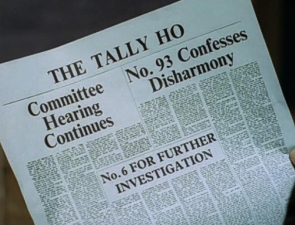 Case Study:
Where A&E's set really lacks is in the deluxe packaging stakes. As mentioned, Network's UK set not only comes with an extra Blu-ray Disc, but a hefty 288 page BD-sized book, all housed in a custom fold-out box. By contrast, A&E's set loses a disc and doesn't even come with a slipcover or anything special to distinguish the standard Blu-ray case. A little thicker than usual, the five platters are held inside the case on two disc trays (one disc on each side), with the final DVD attached to the back of the case. The artwork reflects the split-nature of the show, while the sleeve covers the basics and lists the supplements, commendably admitting that the final disc is a standard DVD. Inside, the reverse of the sleeve lists all 17 episodes, with synopses, guest star, writer/director and air date information, and a full listing of the bonus features, together with a double-sided insert that publicises AMC's mini-series remake.
Ink And Paint:
Those that have only seen The Prisoner in off-air broadcasts or even the previous DVD incarnations will be simply blown away by the clarity on offer here. Always a bright looking show (the clean and happy Village being one of the ways "They" continue to try and break Number 6), The Prisoner looks stunning, restored from the original film elements and presented in the correct 1.33:1 television ratio. The opening titles are so vivid, that one can even see the slight "worn" look of the font used in the lettering, which I've never appreciated before. Color is also impressive, much more appropriate than previous versions though no less saturated as intended. Being a television production, albeit one luxurious enough to shoot on color film, The Prisoner was probably shot on lower grade stock than that used for big-budget features, but a few very minor giveaways aside, you'd never know it. Like the production values it throws up on screen, The Prisoner's Blu-ray debut looks better than some, more recent, feature films I've witnessed on the format. Absolutely exemplary.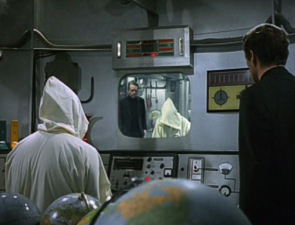 Scratch Tracks:
Just as the visuals stand up much more than a 1960s television program should do, the series' original mono audio is also as dynamic as any feature film from that era. Also offered is a new 5.1 mix, which hard-core fans may have some issues with (in that, as I understand it, a very few lines have apparently been moved, deleted or replaced), though more obtrusive is some of the background music, here amplified too much under the dialogue, and some of the new spot effects, which simply are not there in the originals. I'm not sure which track is the more authentic: both do their jobs as far as presenting alternative audio options, though that the 5.1 track is basically the mono with slight separation and sometimes too obvious stereo panning means that I'll likely stay put with the mono (or the Number 1.0 track if you prefer!), even if it is quieter overall.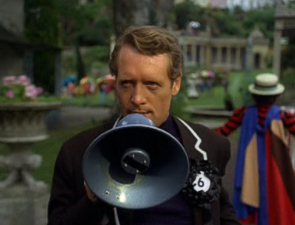 Final Cut:
$100 is a bit pricey for a standard-cased collection that is available (if region locked) in another territory with much better packaging, especially considering the supplements disc is a regular DVD, but with online discounts it's easily found for as much as 50% off that suggested retail price. If I haven't revealed too much about the episodes themselves, it's because if you're familiar with the program then you already have your own opinions, and if you aren't, well, I wouldn't want to spoil a moment of it for you. I do have my own very firm ideas about exactly what is going on, which seems to be fairly in line with the hard-core fans' popular consensus, but it remains a very teasing show, offering some answers while opening up new lines of questioning.
Whatever else, The Prisoner was an amazingly groundbreaking series, the Citizen Kane of television, as it has been compared, and made with a feature-film approach that has rewarded McGoohan's faith in shooting on color film by coming back in HD looking just as relevant and new as it did back in 1967 and '68. ITV/AMC's new mini-series remake may draw some new fans to the concept, but this is the original and will be hard to beat, the ultimately limited run of just 17 episodes going some way to preserving the show's place in television – and film – history. Darkly wry, blackly witty, and with a generous collection of supplements including an absolutely stunning restoration, The Prisoner never fails to intrigue and impress. Be seeing you!
Animated Classic or Back To The Drawing Board?