November 25, 2009 — The Princess And The Frog is here! Plus Snow White back on DVD leads a comparison of all available editions, plus comments on "It's A Wonderful Shrek"…!
It's a big day across America, not only because of the holiday tomorrow but because Disney's latest princess is finally here! After much lobbying by traditional animation fans and the storming of the Magic Kingdom by new animation topper John Lasseter, Disney finally returns to the hand-drawn medium that just somehow feels more warm and human-made than impressively rendered, whizz-bang CGI features.
Debuting in US theaters nationwide today, The Princess And The Frog has been garnering rave reviews, has restored the real magic to the Studio in the public eye, and looks to be another winner for the division. I truly hope it enjoys the success that it seems to be lined up for, that audiences react favorably to this just as visual style of animation, and that it breeds more of these kinds of movies from the very studio that should be making them!
---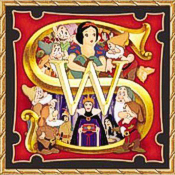 Naturally, The Princess And The Frog is the latest in a long line of Disney animated features, and only the seventh such true fairytale to be created by the Studio even though they are well known for them. That tradition began almost 75 years ago with Snow White And The Seven Dwarfs, the gamble that Walt Disney made in 1937 which could have seen the end of the Disney Studio right there and then.
Of course, Snow White proved to be the blockbuster of its day, leading to several theatrical reissues over the decades and, more recently, a number of different options on home video. With the various Blu-ray editions standing almost Dwarf height in October, Disney's first princess has just arrived on a regular two-disc DVD set, released only yesterday to coincide with The Princess And The Frog in theaters.
We wouldn't blame you hadn't even attempted to navigate the minefield you needed to get through to work out which version was right for you yet, but if it's still all too much of a headache, we offer our simple listing of all the now available options. In short, our advice is if you can only play DVD, keep your Platinum Edition or find a copy for the much better supplements than in the new set, but if you can play or are planning for Blu-ray, then the BD/DVD/Book Collector's Set, found for around $40 online, represents the best allover value for money.
---

A film that can only hope to match the Disney fairytales in terms of still being talked about 75 years later is Shrek Forever After, the latest in the series that – hurray! – has been announced will end with this fourth-quel. It took a while for me to warm to the first Shrek but found the second film to be exceptionally good. That goodness all but flooded away with the awful Shrek The Third, when my fondness for the franchise had faded. Even Shrek looks pretty fed up in the first image to be released from the upcoming movie [right].
Although Shreks 4, 5 and 6 had been announced, it seems the creativity that was sorely lacking in the third film is going to drag on here, albeit only for one more outing. They can dress it up in 3D and put all the bells and whistles on it, but the plot, in which it is said Shrek "makes a deal with Rumpelstiltskin to see what the world would be like if he had never married Princess Fiona" is basically that of the Christmas perennial It's A Wonderful Life! Probably best to put the Donkey out of his misery sooner than later, I suppose, but it's going to take a lot for this to recapture the spirit of the second and end the series on a high.
---
We're taking a break for the next few days, but stay tooned for those new reviews including Ruby-Spears' Superman (which will arrive later today), Plastic Man and Zorro, and don't forget to enter our Princess And The Frog contest to be in with a chance to win one of three copies of Jeff Kurtti's new Art Of book in celebration of the film's release!
So have a great Thanksgiving holiday, and try and pull you families along to the movies to make Princess' debut the smash it deserves to be. We've all waited a long time for this, and we all want more traditional animation on our threater screens, so go make it a hit!
Happy Turkey Day! — Ben.