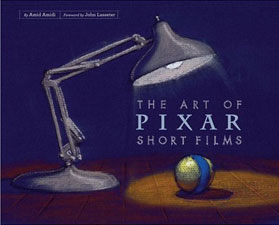 Added yesterday to the site is Randall's look at Amid Amidi's latest animation book,
The Art Of Pixar Short Films
, a weighty tome that uniquely explores an often overlooked aspect of the CG studio's output. Covering thirteen of Pixar's short films from
The Adventures Of Wally B.
to
Lifted
, the book very neatly separates them up into sections: the Early Shorts that preceded
Toy Story
, followed by The Next Generation Of Shorts, and the Feature Film-Based Shorts, which I think is a great way to regard the films and breaks up the DVD spin-offs away from their usually more illustrious theatrical cousins.
Written to supplement the 2007 release of The Pixar Shorts Collection on DVD and Blu-ray, that disc now becomes the perfect companion for one to see the final results of the stories and sketches described within the book's pages. As Rand says, "If you have enjoyed previous Pixar art books, and particularly if you would like to know more about the history of the studio, this book is an ideal way to explore more of the company's legacy".
---
One can explore a bit of Pixar's parent company's legacy with the prize bundle up for grabs in our Animated News & Views 2009 Oscar Contest, in which we're giving away over $200 worth of Disney DVDs to the lucky person who predicts the most correct wins on Sunday night's Academy Awards presentations. As usual, you'll be able to join myself, James and whoever else manages to drop by for a live discussion in our forum chat lounge while the ceremony takes place, kicking off here at 7:30pm ET, where we'll also be keeping track of who is winning our contest in real time! To be in with a chance of winning that Oscar-worthy prize bundle, be sure to select your choices and submit your entries before tonight, February 20 at 11:59pm.
Have a great weekend, and we'll see you Sunday night at the Oscars! — Ben.