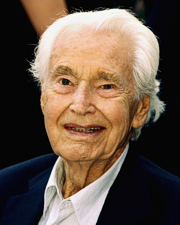 How very sad to wake up to the news this morning that celebrated director (and sometimes writer) Ken Annakin has passed away at his home in Beverly Hills, aged 94. Annakin was one of the names that seemed to keep appearing on all the films I enjoyed growing up, and as an adult he's still one of my favorite directors, helming such classics as Those Magnificent Men In Their Flying Machines, or How I Flew From London To Paris In 25 Hours And 11 Minutes and its underrated sequel Those Daring Young Men In Their Jaunty Jalopies, or Monte Carlo Or Bust, and a pair of very respected war films, The Longest Day and The Battle Of The Bulge. But it was his comedy fantasies that always entertained me personally, from the gentle humor of Very Important Person, The Fast Lady and Crooks Anonymous to The Pirate Movie and his last major release The New Adventures Of Pippi Longstocking in 1988.
I'm clearly not the only one to have admired him: it's no coincidence that George Lucas' young Skywalker shares a very similar name. Annakin was, of course, also Walt Disney's director of choice when he ventured into live-action territory in England, directing Richard Todd in the first two of his historical trilogy, The Story Of Robin Hood And His Merrie Men and The Sword And The Rose in the early 1950s. Before that, he'd been the guiding force behind the fondly remembered British comedy Miranda, with Glynis Johns, and the successful film series The Huggetts, but soon he was working for Disney, which led to Third Man On The Mountain, Swiss Family Robinson and further recognition and work in Hollywood.
For anyone interested in the movie business, I can't recommend Annakin's autobiography, So You Wanna Be A Director, enough. Not only is it packed with the globe-trotting stories behind the making of some very notable films, but his period of work with Disney is focused upon, as well as the reason he believes he unfortunately never made another film for Walt after the critical and commercial success of Swiss Family Robinson in 1960. More recently, Annakin contributed to the feature documentary The Age of Believing: The Disney Live-Action Classics, reminiscing on his days working for Walt, and was able to move his delayed 1992-shot Genghis Kahn biography, with a cast including Charlton Heston and Pat Morita, into post production last year, so we may see another flash of his brilliance yet. Whatever else, the film world has truly lost one of its best.
---
Certainly not in the same league in terms of craftsmanship or classic Disney movies, is Adam Sandler's jump to family fare: Bedtime Stories is an uninspired, drab and flat fantasy that lacks any magic whatsoever, and the Studio's Blu-ray and DVD presentation doesn't do a lot to add any. While it wastes (that being the operative word) a couple of hours without much incident, one could easily nod off to sleep and not worry too much about missing out on these Stories. Perhaps it's best to forget them, make up your own, or go and re-watch one of Ken Annakin's instead? You'll have a lot more fun, I guarantee, but my full review, for what it's worth, is online now.
Have a great weekend, and stay tooned! — Ben.