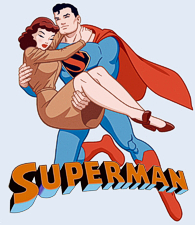 During the 1930s there was but one outfit that could lay legitimate claim to rivaling Walt Disney in the animated cartoon stakes: the Paramount-sponsored Fleischer Studios, run by producer Max and his director brother Dave. Together they would give Disney a run for his money with the Silly Symphony styled Color Classics, bring the comics character Popeye to animated life and propel him to a stardom that at one time beat Mickey Mouse in merchandising popularity, and became only the second Studio to release a full-length animated feature after the success of Snow White, beating Pinocchio into the bargain.
We'll get to that film, Gulliver's Travels, in a moment, but first up is a full and lengthy review for their next project, the absolutely brilliant set of Max Fleischer's Superman cartoons that have been recently restored and released by Warner Home Video. I simply adore these short films and really got stuck in to watching them again, my comments reaching to an overview of each title in the series, from Max and Dave's originals, to the Famous Studios editions that were made after their departure under Paramount's walking orders. For anyone who hasn't seen them, you've never experienced anything like them before, and for the fans that have, this release will really be down to how much of a fan you are…it's not perfect by any means, but I hope you'll enjoy my take, with over 30 images, before you make a decision one way or the other.
By a Fleischer coincidence, I've also reviewed that recent issue of Gulliver's Travels on Blu-ray, an absolute travesty of a release that we flagged up some weeks ago. I have no idea on how it's been selling, but I hope the bad words online will make distributors realise that cinematic works of art shouldn't be mistreated in this way. Rather than babble on as I did with Superman, I've relied on the old adage "a picture speaks a thousand words", and once you've seen how Gulliver has been pulled about, you'll get that sinking feeling too. Shameful.
Pulling the quality level back up, Randall is also just about to add his thoughts on the latest in Warners' Peanuts collection, Snoopy's Reunion. You won't hear a bad word on the cartoons from big Shultz fan Rand, who's been enjoying these deluxe remasterings: in this disc, we meet Snoopy's musical siblings, and as usual the studio has included a second vintage Peanuts special (new to DVD), while the supplements center on a Peanuts Voice-Cast Reunion, a nice idea that gathers the original talent from the show and discovers where they are now. Sounds neat!
Stay tooned! — Ben.