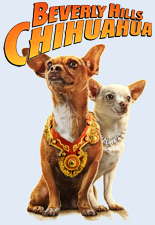 While the majority of our coverage naturally concerns major Hollywood studio fare, we do like to champion independent film here at Animated News & Views, and so today Jeremie does just that: speaking to the creators of You're Outa Here, Lorraine Feather and George Griffin, about their new animated musical short. Taking the jazzy music of Fats Waller and adding new lyrics and visuals to his Minor Drag, You're Outa Here is just about to play at the South By Southwest and Aspen Shortsfest film festivals. Jeremie talks to both filmmakers about their inspirations, including the Fleischer Studios' work, and their aspirations for their film to play further festivals in the future and maybe lead to other things. I wish them the very best of luck!
---
Of course the big Hollywood fare is what drives the business and, as such, we have a couple of varied examples for you to round out the week. Beverly Hills Chihuahua (on Blu-ray, though the DVD is also covered) is as slick as moviemaking comes, a glossy Disney family picture that would be great fun if its central marketing hook – an amusing song and dance number seen in the teaser – had actually turned up as a scene in the actual movie. Without it there, BHC seems to lack a center and the rest of the film, while entertaining enough, can only be described as another typical addition to the genre.
In the complete opposite direction, South Park: The Complete Twelfth Season (on DVD) rips the guts out of everything from Mickey Mouse, High School Musical, Heavy Metal, Cloverfield, Obama and McCain, and our fascination with celebrity figures, as well as a frankly brilliant appraisal of the black hole that was last summer's Indiana Jones And The Kingdom Of The Crystal Skull, which we ourselves took apart in our review. The season may be a little more scatter-shot than usual, but South Park's still showing how right it can be while being so wrong!
Have a great weekend, and stay tooned! — Ben.