Well…I've done it. I've canceled my Amazon order for the
Snow White And The Seven Dwarfs
Limited Edition Collector's Set (the lavish big red box version). As mentioned recently in
Tooning In
, I was most interested in this set for the added hardcover book, but since detailed information on what the contents are seems to be shrouded in mystery (the best we could find out was that it was a 160-page "
Chronicle Of The Art, The History, And The Magic Of Walt Disney's Masterpiece
"), and I already have a number of
Snow White
books, I just didn't want to take a very expensive gamble.
With the suggested retail price of $250 for this collection and the regular Blu-ray edition going for less than $25 online, the difference of $225 ostensibly for a book is simply too big a hit to anyone's wallet. Even with Amazon's discount bringing the cost down to $150, I still didn't feel paying over the odds for a book that could well replicate what I already have was a very good deal.
For all the overblown different editions of the movie coming to disc over the next few weeks, it seems Disney didn't pay enough attention to its most luxurious option: overpriced and under-described, they really needed to release many more details on this book if they were serious about selling this extremely expensive set in the current market. As such, it's sadly a no-sale for me.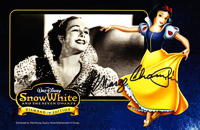 BUT
…elsewhere it's going to be something of a
Snow White Week
here at Animated News & Views, with new articles and interviews ready to roll each day in celebration of the disc's release on Tuesday.
First up – and most excitingly – we have a terrific new Snow White Contest, with a chance for one reader to win a copy of the 3-disc BD/DVD combo pack as well as nothing less than a signed photo of Snow White's live-action model Marge Champion herself, with some lucky runners up also in with a chance at winning the signed photo! In a Cinderella twist, you have until midnight seven days from now (seven days for seven dwarfs, geddit?) when the contest closes, so get entering!

Snow White
's songs were a major part of its tremendous success, of course, and in the first of his new articles this week, our very own Jeremie Noyer has taken to the pages of
The Disney Song Encyclopedia
, a new compendium of the Studio's many songs and the projects they were written for. Thomas Hischak and Mark Robinson's book gets much praise from Jeremie for its detailing of over 900 songs, even if he is disappointed that it "could have been so much more". Nonetheless, he adds that this is "a good start for anyone wanting to know more about Disney songs; a great occasion to discover titles you ignored and re-discover titles you had forgotten".
Rounding things out for today is another review as Rodney finishes up on Disney's current run of Marvel superheroics on DVD with X-Men: The Animated Series – Volume Four, which features a number of episodes with Magneto at the core. With a grouping of episode-stretching story arcs, Rodney is disappointed with the predictable lack of bonus material, but is content that this is "a great collection for fans of the original show to enjoy for years to come".
For me now, it's heigh-ho, heigh-ho, to review Snow White I go – and you can catch a sneak peek at one of the featurettes in the set, on one of my favorite artists Gustaf Tenggren, by clicking the More link at the end of this post. Stay tooned! — Ben.
Snow White And The Seven Dwarfs is available on Blu-ray from Tuesday October 6 2009.
Support Animated Views and pre-order now: