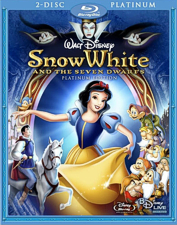 Thanks to those who emailed us with your concern over the past day or so, as the site took an unexpected dip from our screens. I'm not sure what the problem was, but we're all back up and running now both here at Animated Views, over at Animated News and in the AN&V Forums.
Unfortunately, my Bolt review still hasn't made it up even though it's in the last stages of being prepared, so again look for that either later tonight or over the weekend for sure. One review that is ready to go is Rodney's look at A Pup Named Scooby Doo: Seasons 2-4, popping up in our DVD Reviews section any time now!
But for right this second we have some exciting news: an early official word from Disney on the Blu-ray release of Snow White And The Seven Dwarfs which, in an industry first, will come to 2-disc BD on October 6 2009 – a full seven weeks (see what they did there?) before hitting standard definition 2-disc DVD on November 24, in an attempt to lure more people over to the new format – and it seems to be working: the proof will be in a massive title like this coming right before the holiday giving period.
Again coming as a BD/DVD combo pack, Snow White will follow the recent Pinocchio to the format with a pristine digital restoration of its original 1.33:1 (um, shouldn't that be 1.37:1?) image and 7.1 DTS-HD Master Audio surround mix. The October 6 Snow White And The Seven Dwarfs combo will be priced at $39.99, with the November 2-disc DVD priced $29.99 and containing a new 5.1 Enhanced Home Theater Mix.
So…look for those two new reviews to jump up over the next few hours, and we'll see you on the other side of the weekend. Stay tooned! — Ben.