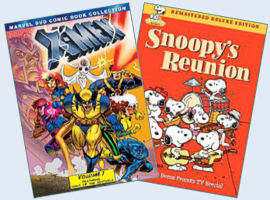 Hello toonfans, and a happy "May Day" Holiday to those in the UK. If you've been trying to (unsuccessfully) access our review of Gulliver's Travels, please note that it's now active with all the image comparisons back in place. Seems we had some online tinkering going on which was apparently preventing the publication of those screenshots, which compare the (much better!) standard definition 60th Anniversary edition of the film to the new, supposedly hi-def version on Blu-ray, complete with blowing the falsities of its "widescreen" advertising out of the water. Anyway, that's now working, and compliments my take on Warners' recent Superman collection: you know it's amazing to be reminded of just how good the Fleischer brothers' studio was back in the day.
Also as promised, Randall dropped in with his comments on Snoopy's Reunion: Deluxe Edition, calling this a "unique" special, which goes back to Snoopy's origins, though the rewriting of Peanuts lore means it may "seem out of touch with the others, but still neat in a fan-ish way". The "mediocre" tone continues with the disc itself, and the anticipated voice featurette is described as "a lost opportunity".
Much more excitable is Rodney, who dons his yellow spandex to review X-Men: The Animated Series – Volume 1, the first sixteen episodes of the 1990s Marvel adaptation in a two-disc set. This is a terrifically enthusiastic review for the series, with Rodney hailing the program as a "landmark series that was part of the current wave of serious superhero cartoons with season-arching storylines" and packing in much info on the comic book origins and the topics the episodes tackle. Extras are non-existent, but then again they weren't expected, and while Buena Vista's track record in completing their cartoon properties on DVD is questioned, it should be noted that a review for Volume 2 will debut on these very pages shortly.
To finish up today, we have a cool little report from Randall, who last weekend managed to squeeze in a trip to Canada's Calgary Comic And Entertainment Expo, a two day fan convention which boasted enough genre names to have him jump in the car and make the journey. In the "More" link at the end of this post, you can read Rand's take on the event and catch a handful of photos, my favorite being the rather heavy Stormtrooper, who looks like he needs to lay off those midichlorian bars!
In honor of today's date, May the Fourth be with you! Stay tooned! — Ben.
---
Report From The Calgary Comic And Entertainment Expo 2009
By Randall Cyrenne
Having immensely enjoyed going to the San Diego Comic-Con last year, but knowing it might be a few years before I could go back, I was looking for a small way to recapture the excitement. I had heard about the Calgary Comic And Entertainment Expo a few years ago, but was usually too busy to really consider attending. Over the past year, though, my youngest has moved on from baby to toddler, and I have managed to cut back my work hours in order to keep my weekends free. So, when I decided to check out the website for the Calgary show a few months ago, it was with the idea that I might actually go…if the guests were any good.
It so happened that they had just announced that Batman animation legend Bruce Timm was going to be there. Okay, I was in.
I had seen Timm at the San Diego Comic-Con in 2008, but never had a chance to be nearer than a dozen rows back at a panel. What I really wanted was to be able to get a piece of original artwork to add to my "Batman wall." On this wall, above my desk at home, I have an original painting by Bat-artist Shelly Moldoff, a signed copy of classic Batman/Joker goodness by Jerry Robinson, autographed photos of Catwoman Julie Newmar and Batgirl Yvonne Craig, and a production cel from Timm's Batman: The Animated Series. And a Bruce Timm original drawing would certainly be a welcome addition. I was sold on making the trip. I would be in Calgary for the weekend of April 25 and 26, 2009.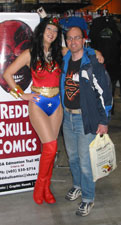 My wife is my dream girl, but this lady's alright
The Calgary Comic And Entertainment Expo is the largest comic book show in western Canada, where I happen to live. Calgary is about a six-hour drive from my hometown, Saskatoon, making it a decent weekend trip. I asked an old pal if he'd like to come along (and split expenses), and he enthusiastically agreed to book that weekend off so that he could go. As the date grew nearer, I got excited as I saw what other guests were coming. It was impressive. Mark Evanier, Sergio Aragones, Darwyn Cooke, Mike & Laura Allred, Michael Golden, and many more. My excitement tripled when, just days before the event, it was announced that Margot Kidder, Lois Lane to Christopher Reeve's Superman, would also be there. Yes!
However, I did get one piece of bad news at nearly the last minute. My old chum, who had originally told me that he had booked the weekend off work, announced that he had changed his mind and would be working that weekend after all, though not until Sunday night. He seemed to think that missing the last day of the show would be fine, as he now planned to come back Sunday morning. This was a problem for me since we were planning to be driving in his car, and I had already cancelled my car insurance (I ride my bike to work when winter ends). I was therefore hostage to his decision to come back early. Though bummed, I decided that one day at the show would likely be enough.
Our trip got off to a weird start, as Saskatoon was inundated by a freak winter snowstorm, despite the fact that the temperature was above freezing. Fortunately, as we left Saskatoon, we found ourselves passing through the edge of the storm, and we had mostly sunshine for the whole trip. We therefore arrived safely in Calgary, despite my friend's penchant for driving way too close to cars in front of us. (And I'm not the only person to say this, buddy.) We checked into a hotel near the airport, and got settled in for the night.
Everybody's favorite domehead. And R2D2. [Sorry Rand! – Ben]
The Show
The Expo was held on the grounds of the world famous Calgary Stampede. We parked beside The Roundup Center, where the show was being held. (Yes, they really named it The Roundup Center. For a city of a million people, it still has the heart of a prairie town.) It took us over a half-hour to get inside. While in line, we passed by a number of security people, some of whom were dressed as Star Wars stormtroopers. We also passed by a number of empty halls that weren't being used. Note to organizers: you may wish to utilize some of that extra space next year. That one hall we were in got crowded.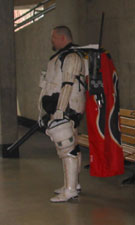 Too bad the Calgary Flames lost that night
Once we entered Hall C, I was pleased to see last-minute guest addition Edward James Olmos, who was seated next to his Battlestar Galactica co-star Kandyse McClure. Eddie seemed extremely gregarious and friendly; I'm sure that Kandyse was also nice, but what I noticed the most was how tiny she was. I'm not a big guy, but I felt like I towered over her when she walked past me later in the day.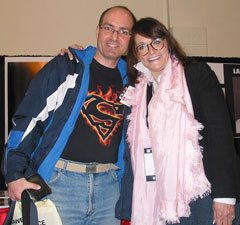 Me and Lois Lane, AKA Margot Kidder
My first really big thrill, though, was coming across Margot Kidder, who was just getting set up at her booth. This would be my second "Lois" meeting in a year, as I had the pleasure of meeting the original Lois, Noel Neill, last year in San Diego. As I approached Ms. Kidder, she jumped up and greeted me by introducing herself — as if I didn't know exactly who she was! (Well, actually, she has changed a little!) Superman: The Movie was a milestone in my life. I saw it at Christmastime in 1978 when I was eight years old, and my whole family was there. It was one of the few times my dad came out to the theater with us, since he didn't care for kids' movies and he was often busy. But he came for Superman. I still find Christopher Reeve's portrayal astounding to this day. I honestly think that movie, along with Star Wars a few months earlier (I think I saw it in its 1978 re-release) altered the course of my life. And here was Chris's Lois, the lady whose modern cynicism had been wiped away by the most decent guy you could ever meet. Needless to say, it was great to meet Ms. Kidder and to get a signed glossy of her with Chris.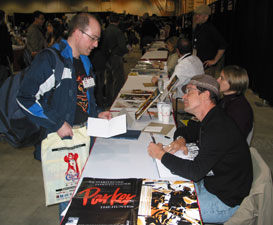 Darwyn Cooke was a cool guy
Bruce Timm wasn't going to be there until the afternoon, so I continued onward with the guests. It was cool enough to see Sean "Samwise" Astin and Larry "The Soup Nazi" Thomas (signing ladles!), but I settled on lining up for Darwyn Cooke. I am a great admirer of his comics work, particularly The New Frontier, which mixed real-world history, comic book history, and the formation of the Justice League, and did it in an involving story. I hoped he would not mind signing a few things, and when I saw him cheerfully sign about 30 comics for the fellow in front of me, I knew he wouldn't blink at signing my few items. I had brought my massive New Frontier "Absolute" edition, a hardcover of his Batman/Catwoman work, and the Blu-ray cover for the animated adaptation of The New Frontier. (I told him that I was hoping Bruce Timm could sign the Blu-ray cover too, so Darwyn joked that he'd make sure he grabbed the best spot first.) I was also very impressed that Darwyn took the time to doodle in both of the books, making each an instant collectible. Thanks, Darwyn! That was very cool of you. (He's a fellow Canadian, you know!)
I also enjoyed seeing various other artists that I admire, such as (aside from those previously mentioned) Ruben Procopio, Mike Kunkel (whose art style on his all-readers Shazam comic is quite cool), and Joe Jusko. We then browsed the various dealers. I certainly didn't spend nearly as much as I had last year in San Diego, but I did pick up a couple of treasures. I found the out-of-print DVD-ROM of Captain America comics (all issues from the 1960s to April 2007) for just 30 bucks, as well as the nifty hardcover book from TwoMorrows celebrating the Mego superhero action figures.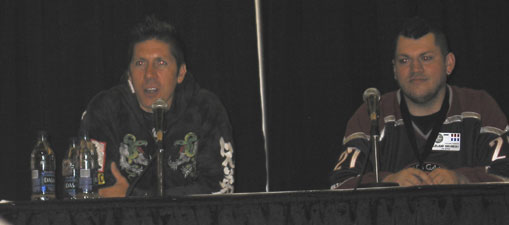 Ray Park discusses being in two blockbuster movies
Then it was time too check out some panels. (We never had lunch that day, thanks to having had a massive breakfast at a Perkins restaurant.) We first went to hear Ray Park talk about his experiences making Star Wars: Episode I – The Phantom Menace and X-Men. It was neat hearing him talk for a change, and he turned out to be quite verbose. I have to say, however, that he seems much less intimidating once you hear that British accent. He also spoke about the upcoming G.I. Joe movie, though he couldn't say too much about his role of Snake Eyes — other than that Snake Eyes would be kept silent, partially at Park's insistence that he remain true to the character. It was a decent talk, though fell far short of inspiring the noise coming from the Harry Potter panel next door, where Matthew Lewis ("Neville Longbottom") was speaking.
Mark Evanier goes to a lot of these things, and often is joined by legendary Mad cartoonist Sergio Aragones
From there we went to see Mark Evanier and Sergio Aragones speak about their long-time collaboration on the comic book Groo The Wanderer. This is one of the funniest funny books ever made, so it was a treat hearing them discuss their creation. They did make mention of a CGI adaptation they are working on, though it may not be out for a while. Aragones is doing all the designing himself, as he wants to make sure everything looks part of the same world. (He mentioned that Madagascar had some nice designs, but the cartoony characters looked wrong being placed against photorealistic backgrounds.)
Incidentally, I also brought some comics to help Evanier with his project involving re-creating the comic book collection of comics writer Len Wein, whose collection of comics he worked on was destroyed in a fire recently. Evanier had been contacted by someone who said he would be collecting comics for Wein in Calgary, but no one had approached Evanier about this all day Saturday, and I seemed to be the only person to approach him about dropping off comics. I guess I'll mail them instead. (Evanier said he didn't want to deal with taking comics through Customs, though I can't say that I've ever had a problem with it.)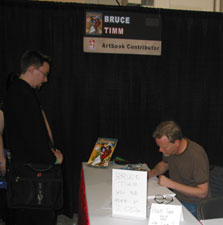 The Bruce
Then it was time to check on Bruce Timm. He had arrived by 2pm, and so I joined the line waiting to meet him. I was excited to find out that he seemed to be doing inked drawings for everyone who wanted one, though some fans were disgruntled that the line was taking so long. To address this, during a short break, Timm had someone write down commission orders, and when he came back he first met with fans simply wanting something signed. I was actually thrilled that I got on the list for commissions (#17 of the 20 he was planning to do), and looked forward to getting my requested drawing of Batgirl. When I met Timm, I had him sign the Modern Masters book devoted to him, as well as the New Frontier Blu-ray cover. I even handed him a card, inscribed with a dopey fan letter I had written him. The card was special, though, since it had as its cover a painting I had once done using his Batman: The Animated Series designs. Hopefully he didn't think this was too dopey. Fanboys, eh?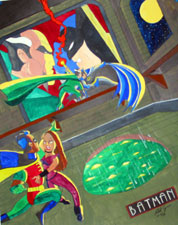 My humble little Batman: TAS painting
My enthusiasm was dampened when he told me that he might not get my drawing done by the end of the day. That would certainly not be good, since I wasn't to be returning on Sunday. I walked away and went over the dealer's tables again for a while as I contemplated the possibility that my friend's Sunday work was going to mean that my Timm drawing would not happen. Incidentally, as I was borderline sulking, my friend was enjoying the Sean Astin panel and a comedy sketch with a Stormtrooper doing obscene but apparently hilarious Kermit The Frog impressions.
I checked with Bruce Timm again later, and he said he was doing the drawings in order, and he couldn't do mine earlier than the order dictated — even though I asked nicely. (I didn't remind him of the nice little painting I had given him, just in case he wasn't impressed.) This was disappointing, but I understood his reasoning. Later on, my friend and I both attended panels about writing for animation (with Evanier again, as well as Gavin Blair), and one about breaking into animation, hosted by two Disney artists. Their advice for getting into Disney, as far as I could tell, was to practice drawing, and then be in the right place at the right time. Actually, this was a very entertaining chat, only slightly spoiled by a couple of people asking dumb questions, like the lady who didn't seem to know the difference between Pixar and Disney.
And then it was time to see Bruce again. Sure enough, he had only gotten a couple of commissions done, and didn't much feel like whipping up one for me before the show shut down for the day. Again, I understood how he felt, though I couldn't help but think of the doodles that Darwyn had done in my books — without me asking, and free of charge. Oh, well. So the biggest reason for my wanting to come to the show had been denied to me. At least I got to meet Margot Kidder.
Overall, it was a nice little show. The rooms for the panels were too small, and the exhibit hall could have been bigger too, but the caliber of the guests was outstanding. Maybe I'll go again next year — especially if Bruce Timm is going to be there. If so, nothing's going to stop me from getting that drawing.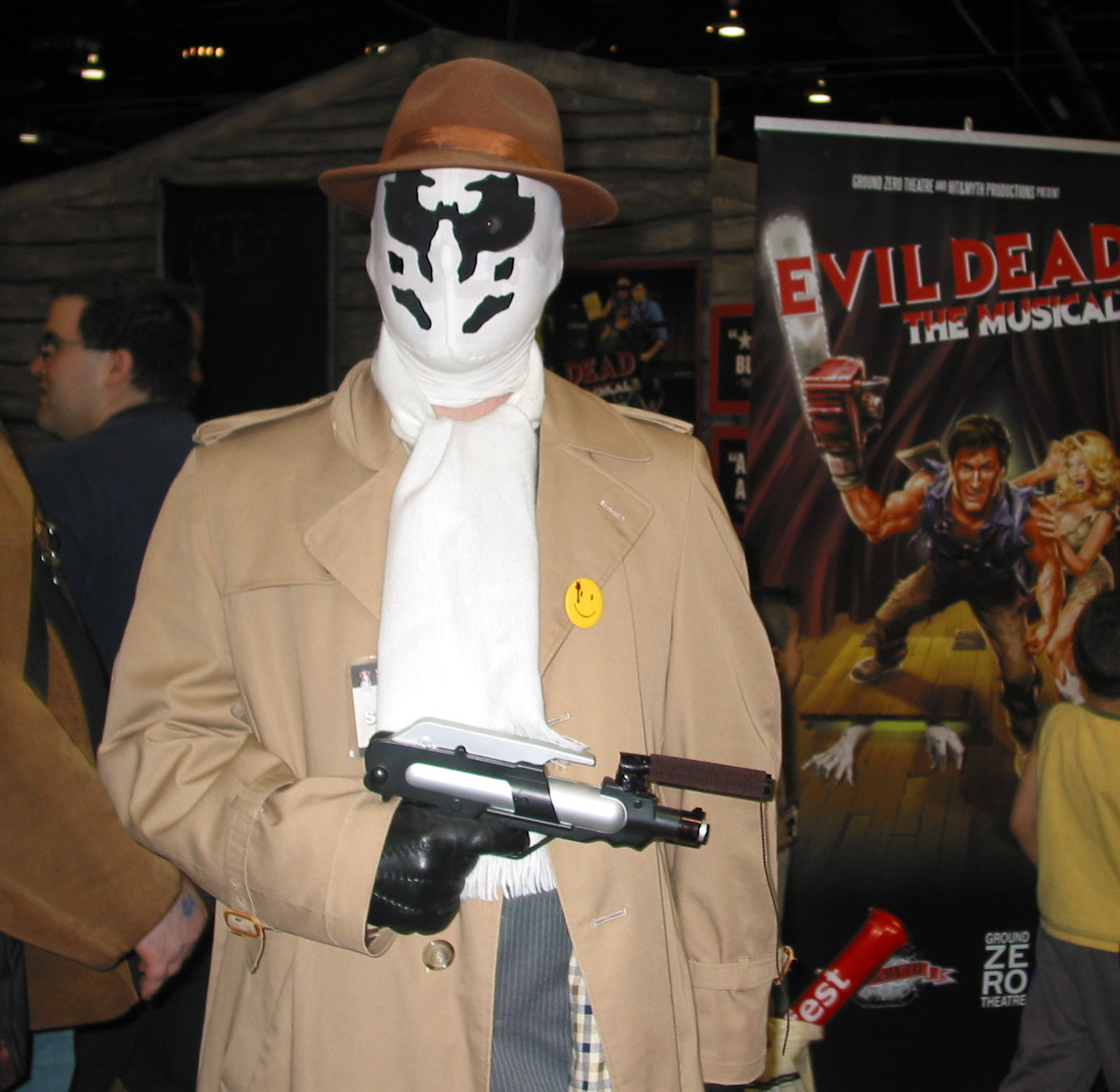 Farewell to this Watchman…until next year?
---
• Read about Rand's Comic-Con 2008 adventures with the rest of the Animated News & Views gang right here!