Warner Bros/Children's Television Workshop (August 2 1985), Warner Home Video (March 24 2009), single disc, 88 mins plus supplements, 1.85:1 anamorphic widescreen, Dolby Digital 5.1 Surround, Rated G, Retail: $19.98
Storyboard:
After Miss Finch of the Feathered Friend adoption agency believes the big yellow bird would be better off with his own kind, Big Bird finds himself far from the cosy surroundings of Sesame Street and heads home on a journey of self discovery.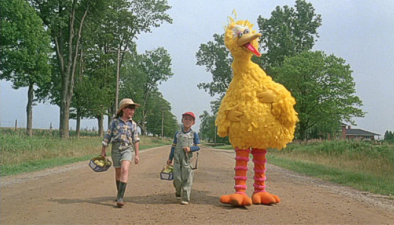 The Sweatbox Review:
Remember that scene in Jim Henson's original The Muppet Movie where Kermit The Frog and Fozzie Bear, driving across country in Fozzie's customised Studebaker car, briefly come across Sesame Street's Big Bird heading in the other direction? At the time it was just another cameo in a film filled with star appearances – and one that gave the audiences who knew Henson was behind the Sesame Street Muppets an extra wink. But retroactively, I've always liked to think that Big Bird was already in his own movie and it was Kermit and Fozzie that were doing the gate crashing! That movie is Follow That Bird, but unfortunately, the favor isn't returned: although Kermit does pop up in his Sesame Street reporter guise, it might have been great fun to recreate the same Muppet Movie scene and had them drive through the Bird's film.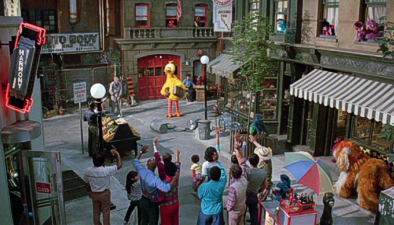 By 1985, the Muppets themselves had reached the peak of their success and even their creators were moving on slowly but surely. Creator Jim Henson had leveraged the success of his small screen stars to forge ahead with a directing career, using the safety net of his Muppets to step behind the camera on The Great Muppet Caper in 1981 and progressing in style and substance to The Dark Crystal a year later. Henson's right had man (quite literally, since they often performed two halves of the same character) Frank Oz was next to be promoted, directing the third of the original Muppet films The Muppets Take Manhattan in 1984. The film had been a moderate success for TriStar but it was clear the Muppets' jump from the small to the big screen was over for now, eventually returning in Jim's son Brian Henson's excellent Muppet Christmas Carol almost a decade later.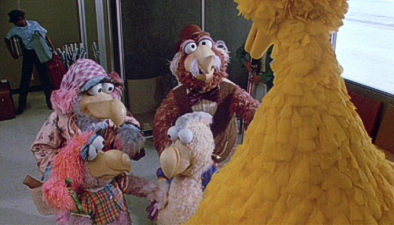 There was still enough mileage in these puppet films to warrant another outing, but with Henson actively involved in advancing puppetry and animatronics in effects-heavy movies as Labyrinth and Dream Child, and Oz pursuing a directing career that would take him to a certain Little Shop Of Horrors and an on-off successful partnership with Steve Martin, it was clear any new movie wouldn't feature the usual gang. Step forward the "secondary" Muppet characters, the featured puppets who remained a big part of generations of children's television educations: the stars of Sesame Street. Premiering in 1969, and now celebrating its 40th Anniversary, Sesame Street was an immediate and groundbreaking success, breaking the boundaries of children's entertainment on television and arguably being the first such program to teach as much as it entertained.
Much of this success was down to Henson's Muppets – actually a set of characters created before the later phenomenon of The Muppet Show – who interacted with the audience both on screen and through the screen, using innovative editing and video graphics to get kids at home jumping up and engaging with the likes of Bert, Ernie, Oscar The Grouch, the Cookie Monster and, of course, Big Bird. Sesame Street was a place to go where everything was "a-okay" as the famous song used to sing, and where children soon became on-screen friends with both the live-action and Muppet characters. Over the years, new faces would arrive and old ones would leave, relationship arcs would play out over many seasons (Bert and Ernie's warm bachelor pad was always a friendly place to visit), and characters would break out, most notably the Cookie Monster with his novelty album Sesame Street Fever which spawned Bert's hit single Rubber Duckie, all written by long-time Henson songwriter Joe Raposo, who had written songs for The Muppet Show, the movies and Sesame Street's iconic theme.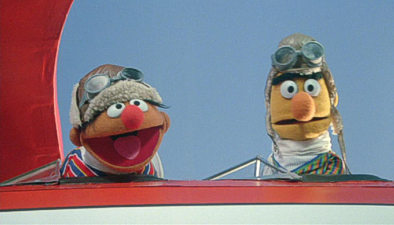 Sadly, although Kermit does pop up here, Henson and Raposo's slightly warped wit doesn't feature much in Follow That Bird, despite some otherwise typically tuneful songs. Sesame Street was always aimed at younger children than the family and even sometimes risqué adult humor of The Muppet Show, but Kermit's occasional reports from Planet Koosbane, for instance, or the various distorted fairytale pastiches always spun the show off into wilder, more Muppet-like territory. This isn't actually a complaint, but Follow That Bird is simply more content to play to its younger demographic without screenwriters Tony Geiss and Judy Freudberg (who apart from their continued long-running association with Sesame Street also penned Steven Spielberg's animated features An American Tail and The Land Before Time) feeling the need to throw in too much material that might keep the grown-ups paying attention too.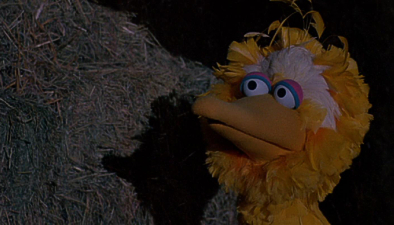 But there's a timeless quality at play here and older fans who were children at the time may well get a friendly chill of recognition when the human characters, including Bob, Maria, Gordon and the like, also pop up onscreen. There is fun to be had with a number of star cameos too, from the likes of Chevy Chase, John Candy, Sandra Bernhard, Joe Flaherty and Dave Thomas. Eagle eyes may also supposedly spot a rumored and uncredited George Lucas too, as an extra in a crowd scene towards the end; Muppet performer Oz was, of course, also Yoda in Lucas' Star Wars films, and at one point Big Bird jets in to an airport on flight 1138. But that the biggest joke (and the one that has stuck with me all these years) is Chase's mispronouncing of the title's street name says about as much as the age crossover appeal as is needed. Even so, Follow That Bird has always been looked upon by die-hard Muppet fans as the "lost Muppet movie", and it remains the only major theatrical release from the series. The Sesame Street Muppets only ever joined their more celebrated counterparts twice: at the end of The Muppet Movie's huge gathering of puppets, and in the touching We've Got Us finale in the last episode of The Muppet Show, so this is also their chance to shine in a narrative story.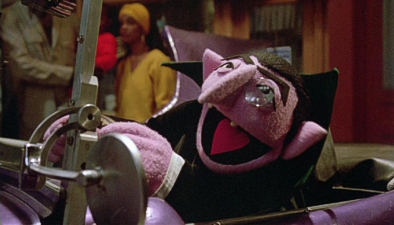 As such, it's quite a jolly old outing. I've never, to be honest, been the biggest fan of Big Bird himself, a rather simple character with lots of heart but not much going on to even engage me as a child. I was always more enchanted with the many other characters: Oscar The Grouch, Cookie Monster, Grover and, especially, The Count, a brilliantly obsessed number cruncher who gets much of the funniest stuff here. Put center stage, director Ken Kwapis understands that Big Bird needs a lot of support, and so the film is filled with various bits of business, leading to the kind of episodic nature that road movies inevitably drop into, but also keeping the journey moving.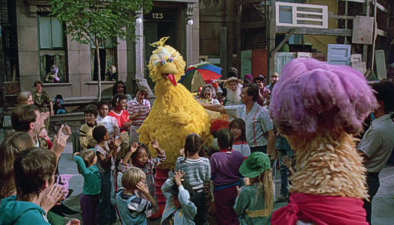 But the Henson touches are still there: one scene in which Bird has been captured by unscrupulous carnival operators who have painted him blue has our feathered friend shed a tear, and it'll get you every time. It's also nice to revisit the really-for-real Henson and Oz pair up as Bert and Ernie, not to mention that warm and fuzzy feeling original generation Muppet fans get when they hear Henson performing as Kermit. Even though Follow That Bird does feel a little Muppets-lite at times, it's an authentic, original vintage Muppets feeling, full of genuine heart, that's been all too missing of late.
Is This Thing Loaded?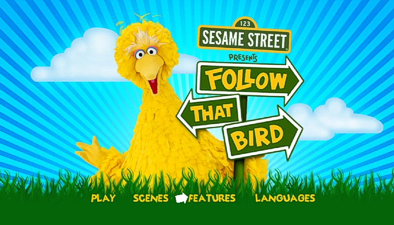 Not only is Sesame Street celebrating its 40th birthday this year, but by sheer coincidence, Follow That Bird finds itself with a 25th Anniversary to commemorate! So we lucky Muppet fans can finally add this "lost" Muppet movie to our DVD collections via Warner Home Video's new Deluxe Edition, which serves up the movie in its original aspect ratio for the first time, and bundles in a couple of extras to boot.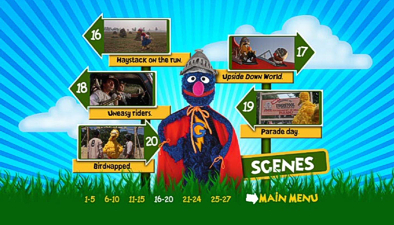 Although the sleeve sticker promises loads of new content, it really boils down to one new Interview With Carroll Spinney, who performs both Big Bird and Oscar and has done since day one. Spinney – always to me a performer who never quite gelled with the rest of the Muppet crew – reminisces about working with Henson, landing the role, finding the voice and making the movie, though ultimately he seems to have been someone in the right place at the right time. Nevertheless, well done to Warners for even considering backing something like this: it would have been very easy to include a trailer and be done with it, so Spinney's ten minutes of memories are all the more welcome. He also comes off as a very warm guy, and I was pleased to finally learn a little more about this otherwise hidden member of the Muppet team.
The rest of the extras won't tempt collectors too much: a Jump To A Song selection runs through the film's seven musical numbers, with three of them also optional with singalong lyrics onscreen (showing off the open matte version of those scenes), but a DVD-ROM section offers up some downloadable coloring sheets and links to the Sesame Street website, which should be good for a few hours activity for younger fans of the series or this movie (I couldn't resist printing out Bert and Ernie). Finally a theatrical trailer reminds us that this was indeed a bona fide Muppet movie that played on big screens as opposed to the later made for video Sesame Street fare, and as if to recognise that Chevy Chase's take on the title is the funniest joke in the film, it's repeated here. And it's still funny.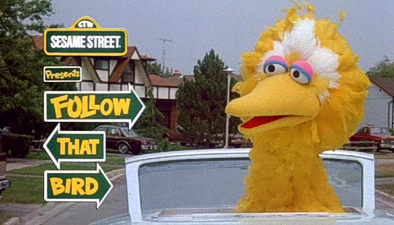 Other previews for similarly-aimed Warners titles also include Scooby-Doo And The Samurai Sword, which plays at the top of the disc only, and optional peeks at Scooby-Doo Where Are You?, Clone Wars, Smurfs, Snoopy's Reunion, A Pup Named Scooby-Doo, Tom & Jerry Tales and The Wiggles.
Case Study:
Giving Follow That Bird the extra special treatment is a very bright and colorful sleeve, keepcase and slipcover combination, though it does unfortunately jettison the original Drew Struzan poster artwork on the initial DVD release. The sleeve is naturally very yellow, showcasing our star on the front and on the disc art, though it has to be said that the generic Sesame Street theme has stretched to having a newer character – Elmo – in the artwork, which may disappoint some when he doesn't actually appear in the film apart from as a prototype in a very quick couple of shots in the crowd scene towards the end. A red slipcase feels like it should probably be yellow but actually suits the red banner and spines, while the slipcover quite intricately embosses Bird and the other characters' feathers and hair. There's no insert, but a front sticker rightly announces the disc as "the first Sesame Street movie ever!"
Ink And Paint:
Finally presented as families first saw the film in theaters in 1985, I believe this is Follow That Bird's first showing on any home video format in its 1.85:1 widescreen ratio. The result is an image that feels much more cinematic than the rather small screen feel that the movie carried before, helped by the location shooting (including the rebuilding of the Sesame Street set in Toronto) which assists in lending Big Bird's adventures an epic scope.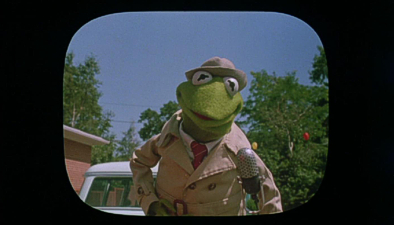 The transfer here is bright and colorful as it should be, but not over saturated, and while the print occasionally shows its vintage, it's reasonably sharp and overall the cleanest Sesame Street's first and best big screen showing has ever looked.
Scratch Tracks:
I can't believe that Follow That Bird would have ever played in theaters with a full 5.1 soundtrack, but that's what we get here. It's not a fully enveloping track, of course, and more likely a stereo surround mix that's been given a little extra kick in the LFE channel, but it's more than serviceable, if a little "muffled" sometimes, but offers an overall very pleasing and unexpected warm audio experience. French subtitles are optional, as are Spanish, Japanese and Portuguese dubs and subs.
Final Cut:
Aimed at younger children than the other Muppet movies, Follow That Bird nevertheless feels very much a part of that tradition, certainly much more so than some of the more recent outings for Kermit and company and still feeling like the Sesame Street of old that children of a particular generation would have grown up with. Sesame Street would branch off into the feature market a couple of more times with lesser success but, while it's always seemed to struggle to be counted in the official Henson movie line up, Sesame Street Presents: Follow That Bird is the only one of these movies to carry his name and involvement, and for that alone it should find itself welcome on any true Muppet fan's shelf.
Animated Classic or Back To The Drawing Board?