When ninjas attack: the subject of Rodney's latest review, which he posted a couple of days ago, is Scooby-Doo And The Samurai Sword, a new direct to video outing for those pesky kids from the Mystery Inc gang. Despite the opportunity to run off some flippant comments on yet another DTV title, Rodney actually treats the disc with great respect, providing a very engrossing review that suggests he genuinely enjoyed Scoob's Japanese outing, calling it "a good mystery and story that should entertain children and adults".
---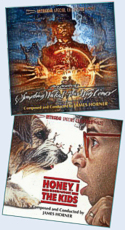 Fans of film music rejoice! The always excellent Film Score Monthly selection at Screen Archives Entertainment just got a boost of James Horner with the release of two of his rarest scores. Horner often gets blasted with claims of self-plagiarism, and while I would admit to agreeing to this on several points, his music for Disney's 1983 Ray Bradbury adaptation Something Wicked This Way Comes is one of his best, a blending of Goldsmith and even Bernstein sensibilities woven into a lyrical and somewhat wistful score that perfectly captures the mood of Bradbury's book and Jack Clayton's otherwise troubled film translation.
Much more successful in box office terms, though less so musically, is a score that might appeal more to readers of this site. Though Honey, I Shrunk The Kids is Horner at his flighty, comedic best, elements of the music here are very much along Batteries Not Included lines, with a couple of cues sounding virtually indistinguishable. Nevertheless, both these CDs, remastered by Horner himself from original master tapes, come well recommended, if only for their rare availability. Mentioning Jerry Goldsmith reminds me: while you're searching about, look for the also recently issued Twilight Zone: The Movie, but be aware that, as per tradition, all of these Intrada Special Collections are limited to just 3000 copies worldwide, so be quick. I've already ordered my copies!
---
Howsabout a couple of new announcements? The ludicrously entertaining all-out actioner Air Force One is set to come to Blu-ray Disc on June 2 for $28.95, with commentary bundled in, while Bewitched: The Eighth And Final Season collects the last 26 episodes on DVD, for $39.95 on July 14. In animation, The Smurfs: Smurfy Tales Volume 2 collects five more episodes on DVD (August 18, $14.97), and Plastic Man: The Complete Collection will be a four-disc set containing 35 cartoons, available for $44.98 on September 1, just in time for my birthday – wink, wink! Lastly, Harlan Ellison: Dreams With Sharp Teeth is a documentary homage to one of science-fiction's great writers, responsible of course for perhaps the finest Star Trek episode, City On The Edge Of Forever. Talking of which, I'm going to beam myself to the movie theater to catch the new reboot!
Before I do that, however, there's just time to point you in the direction of my comments on the new Blu-ray Disc edition of Frank Miller's Sin City. The bottom line is that, even though the extras are the same as previously featured (and again only in standard definition), this release is absolutely packed and if you liked the film as much as I did, then the new Cine-Explore addition that plays with the directors' comments is worthy of an upgrade before one even contemplates the benefits in image and sound. Anyway…you can read more along those lines in the "More" link at the end of this post.
As for now, beam me up, and stay tooned! — Ben.
---
Sin City: Blu-ray Disc (plus Recut, Extended & Unrated Edition)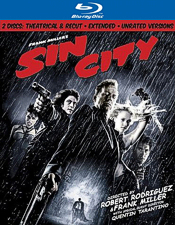 Dimension/Miramax (2005 / 2009), 2 discs, 124 mins and 147 mins, plus supplements, Rated R (Unrated feature inappropriate for children under 17) $36
For anyone who picked up the deluxe DVD edition of Frank Miller's Sin City, this new Blu-ray might not feel too much like a triple dip, coming over more as the significant upgrade that it is. And for fans of this quite exceptional movie translation, that's a very good thing.
Miller's work hasn't always worked well in film – see the ultimately disappointing visual feast 300 and his own recent reworking of The Spirit, which was too far removed from the original source and taken ownership by its new custodian – but Sin City hits the nail on the head, and is quite possibly the most literal and therefore faithful adaptation of a graphic novel (or novels if we're being technical) yet brought to the screen. It's a dark and dangerous place, this world which Miller created in print and that director Robert Rodriquez pulled from the pages to paste on screen. So much so that Rodriquez asked Miller on board to co-direct, setting the tone of the film to match the strip panels, and honestly delivering one of the most original screen experiences in years.
As you can guess, I'm a fan of Sin City, the movie. The weaving of the multiple storylines, the pulp characterisations and the performances from a stellar cast, some of them doing their best work in some time, just builds into a highly visceral, sometimes unpleasant, but always riveting and perfectly constructed movie that attacks the senses but somehow leaves one feeling more exhilarated than when they went in. The film won't be for everyone – this is NOT the fun loving hijinks of the Spy Kids trilogy – though it employs the same technology: a terrific blend of SFX stage photography and extensive CGI animation, all seamlessly welded into a highly contrasted, gritty and almost pulp printed live-action rendering of Miller's original panels.
Those who bought the original theatrical edition on DVD knew a longer, reworked version was on the cards, and Rodriquez delivered a few months later with the "film school in a box" two-disc collection, which featured both the theatrical cut, a newly extended and recut unrated edition, hours of supplements and, in some gorgeously assembled packaging, a complete reprint of The Hard Goodbye, the first of Miller's Sin City graphic novels and one that plays a big part in the adaptation here. Realising that fans who really, really loved the film would have pounced for that set, this new Blu-ray Disc edition rightfully replicates all but the packaging, essentially serving up the original discs' content – plus some new treats that make a re-purchase compelling even though you'll likely keep the deluxe DVD too.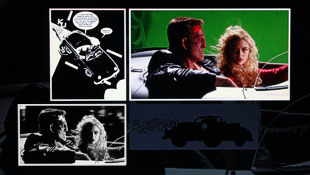 From before, on Disc One, the Feature Commentary with Rodriquez and Miller is now supplemented by Disney's Cine-Explore feature, in which the original commentary runs, with new behind the scenes material and comparisons to Miller's frames popping up on screen throughout. As if the original excellent track wasn't enough…it just got better.
Special Guest Director – a stupid publicity stunt that really takes away from the two main directors' achievements – an honest Quentin Tarantino joins Rodriquez for his moment on the more technical second track, which is again as before (and with Bruce Willis dropping in for his moments), and also retained is the audio track featuring the Austin premiere audience which recreates their enthusiastic live reaction. Over on Disc Two, the Recut, Extended & Unrated edition of the movie isn't quite as unique as it sounds, and instead of playing as an alternate cut, splices the four main sections of the theatrical film into individual tellings of those stories almost in full.
As such, The Customer Is Always Right, The Hard Goodbye, The Big Fat Kill and That Yellow B*****d play out with additionally shot titles, extra scenes that didn't make the original version and credits for each one, rather than a truly extended Lord Of The Rings style lengthier version, although new to this disc is the ability to Play All sequentially in Miller's chronological ordering, not an option on the DVD. While this edition is certainly not the first way one should experience Sin City (the multi-layering effect naturally vanishes), it does make for persuasive viewing and a very cool way to see the stories play out in full, with other nuances coming to the fore instead, though none of the added scenes really stand out as anything more edgy than some of the nastiness in the original cut.
The rest of the original discs' extras (sadly mostly only in standard definition) can also be found here: How It Went Down reveals the battle to convince Miller to make the movie, Special Guest Director shows Tarantino's involvement, and The Long Take plays nearly 15 minutes of an uninterrupted moment of his segment as it was shot. A Hard Top With A Decent Engine looks at the cars of the movie and the processes used to bring them to the screen, with more of the same in Booze, Broads & Guns, which explores the manufacturing of certain specific props, and Making The Monsters, a peek at the make-up techniques. Trench Coats & Fishnets is a costume exploration, demonstrating the in-depth levels these featurettes reach in bringing the film's making to the screen, leaving the only non-ported extra from the DVD a look at the characters and how they interact in the various segments.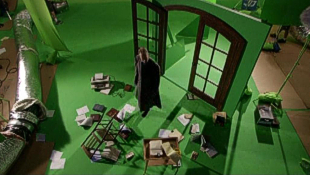 Rodriquez Special Features center more on the director and his aims for the movie: a 15-Minute Flic School packs in a ton of information, most interesting of which is how takes of actors that never met were melded to create naturally seamless performances, The All-Green Screen Version is, as one would expect, the entire movie as it was seen on the shooting stage pre-visual effects, albeit sped up to 12 minutes and only giving a glimpse of the production.
Sin City Live In Concert shows a rambunctious cast and crew party where Willis' band plays Devil Woman, while a Rodriquez staple on his deluxe discs is the return of the 10-Minute Cooking School, actually a real recipe for Sin City Breakfast Tacos: the kind of food the director rustles up in the middle of an all-night editing session. Again, all good stuff, but a shame it's all only in standard definition, and letterboxed to boot.
Finally, what definitive edition wouldn't be without its theatrical teaser and trailer? They're here too, as well as the Blu-ray exclusive Kill 'Em Good Interactive Comic Book, an animated comic translation of the story that features several points where the viewer can control the action and the outcome of the story. Although I failed miserably at every turn, this is an impressive use of the true game play that BD offers over DVD.
That's it in terms of new additions; pretty sparse if you already have that deluxe 2-disc DVD, so the real reasons for upgrading to this release will be the Cine-Explore feature, which really does bring a new aspect to the original commentary, and the frankly stunningly good picture and sound quality. If you didn't think the pitch black video and DTS sound of the original DVD set couldn't be surpassed, be ready to shake your home theater system to the ground. The 1.85:1 aspect ratio will perfectly fill a 16×9 HD display, presenting a very nice film-like image with a spot of intentional grain even though it's hi-def digital video, and the enveloping soundtrack is simply more separated out than the previous edition, the bass again not feeling quite so heavy but no less present, while the D-Box Motion Code will seriously rock your seats if you are so equipped.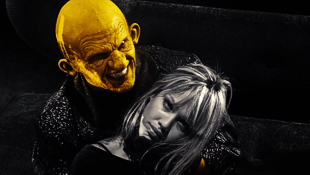 As noted above, the packaging on this new edition plays it simple: it's just a standard slimline BD case that recreates the theatrical artwork on its front and the movie's credentials and extras on its back. Interestingly, the disc has been authored for A, B and C regions, a rarity for Disney's discs, so it's clear that the Studio see this as a catalog reissue and little more.
Those with the old edition: this is pretty much the same edition in better quality; those coming to this collection anew: be prepared to experience a serious thumping of hard-core, very adult storytelling – think of it like a pumped up Dick Tracy – and exhilarating extras. Be well aware that Sin City is a very violent and graphic (no pun intended) movie, and is certainly not for younger eyes. But if pulp crime fiction is something you can plug into, then this modern, ultra-aggressive and sometimes sadistic movie will push all the right buttons for you, and we can only hope the long-rumored sequel eventually makes it into production.
If you own the deluxe DVD edition from a few years ago, then only your curiosity on the decent Interactive Comic and excellent Cine-Explore feature might tempt you, but for those with just the theatrical edition or who haven't sampled Sin City's dangerously seductive and extremely seedy delights, this is as good as Blu-ray gets. If you can forgive the fact that most of the supplements are standard definition ports from the previous release, this is perhaps one of the most outstanding and packed Blu-ray releases I have yet come across.