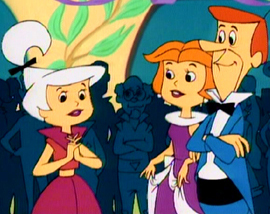 We've had lots of fun reviews for you guys and gals this past week! Ben's been too busy to brag them up, but I wanted to be sure to bring these items to your attention before the week ended.
First up is Up, James' review of Pixar's latest theatrical feature. As usual for Pixar, there's already lots of Oscar buzz on this film, and James is not immune to the good feelings that Up has engendered. Of the film, James starts out by calling it, "a fun, moving, exciting, nostalgic, classic, unique, and funny film!" As funny as it is, however, it is its heart that makes it the film to beat this year. With Coraline out and 9 looking to be impressive, not to mention Miyazaki's Ponyo On The Cliff and Disney's The Princess And The Frog coming yet, it looks like animation fans will be the clear winners this year.
Looking into the past, and in particular the fun of Hanna-Barbera, we've just posted some reviews of recent DVDs. Rodney has offered his take on The Jetsons: Season Two, Volume One, featuring episodes from the 1985 rebirth of the classic Sixties animated sitcom. While the show deals with themes concerning technology and corporations, the overall focus is on the people most important to us. As Rodney says, "At its heart…the show is about a family and the love that they feel for one another." Rod also dug into the vault to post a review of the set presenting the space age family's original series, in The Jetsons: The Complete First Season.
Then, leaving the future to go back further into the TV time machine, I found a whole lot to love in Saturday Morning Cartoons – 1960s: Volume 1. With this being a Warner release, they have the most access to the old Hanna-Barbera shows, so all but two of the programs in this set are from their stable. That suited me just fine overall, as I found this DVD set immensely enjoyable, and a way to "journey back to the birth of Saturday morning cartoon heaven." I'll soon have a review up of the 1970s volume as well. Speaking of classic Hanna-Barbera, Rod also recently posted yet another review, for the latest in Warner's repackaging of the original Scooby-Doo. Scoob's biggest fans may already have the Season 1 & 2 box set, but the singles make for enjoyable diversions as well. In his review for Scooby-Doo, Where Are You?: Volume 2 – Bump In The Night, Rodney suggests why some fans may consider the singles.
More reviews are on the way next week, plus an exciting piece on Up that should impress you. Have a great weekend, and stay tooned! – Rand.