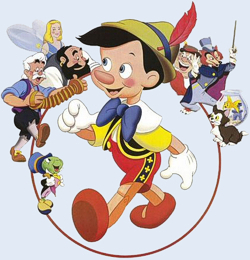 It's an interesting day for classic animation buffs with two of the medium's great classics, both of a very similar vintage, coming to high-definition Blu-ray Disc in very varied examples of the format's great and the frankly awful.
First up is Walt Disney's fantastic second animated feature, 1940's Pinocchio, which I regard as the Citizen Kane of animated pictures: not always well regarded, but the epitome of the medium. Praising the enormous work that went into it's lavish and elaborate making, our own Jeremie Noyer takes us on a voyage just as thrilling as coming face to face with Monstro the whale himself, presenting a unique and thoroughly involving exploration of the film's various visual and musical elements, and how they were perfectly balanced in tune with each other to make Pinocchio the artistic success that it has been hailed as for generations.
---
From the previous year, we've unfortunately a strong word of warning on today's release of Gulliver's Travels, Max Fleischer's 1939 production. The Koch company's semi-hyped Blu-ray release has been the subject of much speculation, but these frame grabs as seen on the excellent DVD Beaver site and flagged up by our forum member Daniel, confirm that this is a disc to stay away from. Surprisingly (or not!), our request for a review copy did not materialize, and with good reason it seems, because any review is going to expose this travesty for what it is: horrible!
What looks to have happened is a slight squeezing on the image and additional cropping to produce a fake widescreen image, thus distorting and insulting the Fleischer Studio's excellent work. Even if you could live with that, the quality of the transfer – all blurry and smudged with copious DVNR artifacts – should be enough to convince that this is sadly little more than a public domain cash in. We're just warming up in the AN&V Forum, but without even having to review the disc itself, we absolutely warn people against purchasing this Gulliver's Travels release.
Save your money for a Blu player and Pinocchio, which we'll be reviewing shortly. Stay tooned! — Ben.