It's that time of year again and the Oscar season is hotting up! With the nominations announced on Wednesday and a topic in full flow at the AN&V Forums, I thought I'd add my toon cents worth; starting at the top with the Best Animated Feature nominees (where else!?), it's really pleasing to see a bona fide Disney movie back in the competition. Sure, we all knew WALL-E and the Panda were all but definites in the race, but that third spot was always a toss up, ostensibly, between Horton Hears A Who! and Waltz With Bashir. Quite seriously, I don't think anyone was looking at Bolt and eying it quite in the same way as a genuine Best Animated Feature contender. Sure, it's been getting good notices and holding its own in theaters (perhaps another reason its a show here is that it's hence more recent than Horton's year-old release) but no-one seems to have been talking Oscar. With Bashir making a welcome show in the Foreign Language category, this opened up the third Animated slot and it's just a testament to John Lasseter's guiding of the Studio that has seen Disney's latest bolt into the position. Would American Dog have turned up in the same place? Who knows, but you can bet Bob Iger is feeling more and more satisfied about that Pixar purchase than ever.
Personally, and despite the rumbles, I didn't think WALL-E was ever going to crack the hold that live-action has on Best Picture. It's going to have to be a truly unique film that breaks out from the animation ghetto (for that's what it is as I have been saying since the inauguration of that category) but great as it was, WALL-E wasn't that movie. As a consolatory prize, a nod for Best Original Screenplay should please writer-director Andrew Stanton, while Thomas Newman also gets recognition for his Score (WALL-E also has a pop at Song too) and the film also features in the technical Sound Mixing and Sound Editing categories (Pixar also gets a nod for their Short Film Presto). The Dark Knight likewise shows heavily in the technicals with seven nods including Visual Effects, Sound, Art Direction, Cinematography (well deserved, should it win), Editing and Make-Up (again deserved, though big hitter The Curious Case Of Benjamin Button will run it a tough race). It's perhaps no surprise to see Heath Ledger up for a posthumous award for his portrayal of The Joker, and a win is perhaps inevitable. In the same acting catagories, it's nice to see Enchanted's Amy Adams proving herself in Doubt, and fun to see "Brangelina" up for Best Actor (in Benjamin Button) and Actress (Changeling), meaning that they could potentially add twin Oscars to their brood if lucky.
I've yet to see Benjamin Button but as a David Fincher fan it's certainly on my radar, though from what I can tell there once again aren't any of the perennial classics on any of the lists here. I guess we now live in such a society where content is to be chewed up and disposed of as quickly as possible: these films will be playing Sunday afternoon matinees on television before too long, and the days of a film growing in popularity thanks to yearly screenings is sadly long gone. I'm a little disappointed, as a few others seem to be, that the groundbreaking Speed Racer hasn't featured anywhere: it again seems that it must be the "critics darlings" or internationally recognised blockbusters that only get a look in come Academy Award time, with some of the most underrated films in history being best kept secrets among fans. Speed Racer can at least take some small consolation of being one of our picks, at least, in our Best Of 2008 review of the highs and lows of the last twelve months.
---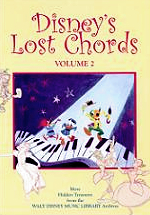 Elsewhere on the site, Jeremie's back with something rather special indeed: a conversation with musical historian Russel Shroeder on Disney's Lost Chords 2, a follow-up book to his self-published 2007 edition that lifted the lid on some of the Studio's most celebrated classics. With such an enormous amount of material to draw from it's no wonder that he's gone back to the well – and all the more exciting for us – to reveal the details behind many of Disney's unheard songs as well as the reasons they were deleted from the final versions. This is a discussion that we've been waiting to publish for quite a while, but I'm sure you'll take as much great delight as I did when you read through Russel's reminiscing about his Disney work and the amazing effort needed to put his new projects together. Enjoy!
---
With the final announcement that Pioneer are to conclude producing new LaserDisc players in Japan, the format is officially dead, sparking off this topic in the AN&V Forums. Some never got a chance to familiarise themselves with the forerunner to DVD, while others continue to find bargains here and there and will no doubt morn the end of an era. You can count myself and Rand in that latter group, and to make a more than convincing argument as to why, the man himself has dropped in with a new article for our occasional LaserDisc Archives series, Why I'm Keeping My LaserDisc Player!, which looks back fondly on the golden age of the format and all those wonderful animated boxsets that we used to drool over, with many of them containing material still unavailable on DVD.
---
And while we're nosing around the forums, I've been holding back this review of Disney's outsourced animated feature The Wild for long enough and now that there's a growing discussion on the AN&V Forums about the film, I couldn't resist anymore. We're still hoping to speak to the film's director Spaz Williams (a drawn out process that's simply down to my incredibly lame lack of picking up a phone, plus a time difference or two) about its making, but in the meantime we do like to mix and match coverage of the latest releases with some that you may have missed and in my view, The Wild is worth a catch, either as a purchase or a solid rental for whom my review doesn't convince. The movie isn't an out and out home run, and I'll admit that even opinions here at Views differ between ourselves, but I think we all agree that it's a fun picture, and for me comes more favorably recommended than that other animated movie it was so wrongly compared with in the press at the time of its original theatrical release. What do you think? Come join our Wild topic here!
Much more on the way, so stay tooned and have a grrrreat weekend! – Ben.