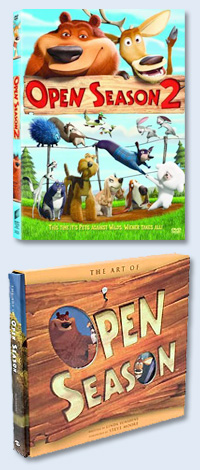 Sony Pictures Home Entertainment is releasing
Open Season 2
on January 27th, and you could win a copy of the DVD from Animated Views!
And if that wasn't cool enough let's throw in a copy of the book The Art of Open Season for the winner as well!
The contest is now closed. Congratulations to our lucky winner:
• Jason Sliva, Richmond TX
About Open Season 2
Boog (Mike Epps) and Elliot (Joel McHale) are back for more crazy adventures!
After falling head over hooves in love with Giselle (Jane Krakowski), Elliot's road to the altar takes a slight detour when Mr. Weenie (Cody Cameron) is kidnapped by a group of pampered pets determined to return him to his owners.
Boog, Elliot, McSquizzy (Billy Connelly), Buddy and the rest of the woodland creatures launch a full-scale rescue mission for their sausage-shaped friend and soon find themselves in enemy camp: the world of the pets.
Led by a toy poodle named Fifi (Crispin Glover), the pets do not plan to let Mr. Weenie go without a fight!