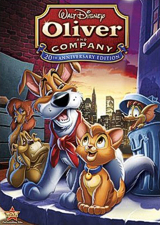 One of Disney's most overlooked animated features returns to DVD today, and I'm going to come right out and say that I still remember being bowled over when I first saw
Oliver & Company
on release in 1988. It's another of the Mouse House features that really doesn't get the recognition it deserves: many of the new talents that would continue to hone their skills during the 1990s classics made valuable contributions to the film and it was truly the first to show a new, contemporary feel to the Studio's films that set up the attitudes for
The Little Mermaid
and
Aladdin
to follow.
The Black Cauldron in 1985 had pretty much killed off epic Disney animation stone dead, the whimsical Great Mouse Detective coming just a year later and proving the artists shouldn't be written off just yet. Oliver & Company, then, gets lost somewhere in the shuffle between Mouse Detective and Mermaid, when it's actually rather pioneering and daring in its own right.
Much of this is down to Oliver's director, whose rough and ready feel to the movie almost brings the smells of a melting-pot New York's streets to life. And, most excitingly today, Jeremie's three-part interview series on the making of the film comes to a close with an exclusive discussion with the man himself, Oliver & Company's director George Scribner! I've already praised the movie enough here (a full review of the new DVD is on the way)…so now it's time for someone really qualified to talk about it! George also fills us in on several other projects he's been involved in, and his continuing work with Walt Disney Imagineering – go read it right now!
Don't forget that you can win your very own copy of Oliver, as well as Disney's current releases of Space Buddies and The Secret Of The Magic Gourd, at our Contest Corner – but hurry: these giveaways are open for one week only!
Stay tooned! — Ben.