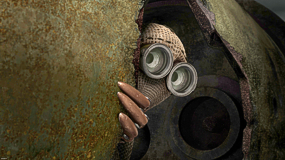 One of the most original animated features in a long while has just landed at a theater near you, and I'm very pleased that director Shane Acker's 9, produced from his original Oscar-nominated short into a feature by Tim Burton, has opened at number two at the box-office, with a $15m take.
This is healthy for Universal's indie label Focus Features and an ongoing commitment to animation (Focus' Coraline proved to be a hit earlier this summer) and for audiences who like an extra dimension in their animation. What with this weekend's announcement that Pan's Labyrinth director Guillermo del Toro is set to team with the Mouse House on a new Disney Double Dares You label, animation seems to be reaching in new directions, and not before time.
Making a big contribution to the unique visual aspects of Acker's film is 9's art director Christophe Vacher, whom we are very fortunate to speak with today. Jeremie's latest interview reveals the terrific amount of detail and work that clearly has gone into every frame of the new feature version, the result of a pretty hectic production that at one point almost closed down. This is all discussed in the article as well as offering an amazing peek at a wealth of concept and final artwork from the movie, all viewable in larger sizes. For those who haven't seen the film yet, beware of a couple of a couple of potential spoilers in the image blowups; for those that have, now you can see more of that visual inspiration.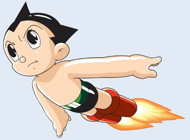 Back in the 1960s, at a time when television animation largely meant a mix of recycled Golden Age cartoons and Hanna-Barbera product, alternative animation of a different kind came to the screen in a series of action shows imported from oversees. A major proponent of this movement was producer Fred Ladd, famed for flying in the likes of Japan's Astro Boy and Gigantor, and who has just written down his memoirs in a new book, Astro Boy And Anime Come To The Americas.
With Astro Boy about to become a new sensation all over again thanks to the upcoming CGI movie, you'd think this would be a good time to catch up on some history, but as Randall's review of Ladd's scribblings suggests, after an initial burst of interest the book loses its way and begins to ramble aimlessly with pages and pages of repetition and redundant filler. It's a shame, as it sounds like the scissors of a stronger editor could have shaped the volume into something definitive; as it stands, Rand warns against spending $35 on "a nice magazine article". Ouch!
Check back soon for new reviews of Disneynature's Earth and more, so stay tooned! — Ben.