Disc announcements including Spaceballs, District 9, Pooh's Valentine, Coraline, TCM's Marx Bros. and Sci-Fi, Ghost In The Shell 2.0, Scooby's All-Star Laff-a-lympics and Batman: Brave And The Bold. Plus Saturday Morning 60s and 70s clips!
We've some new announcements for you today, so let's get the ball rolling! First up is the December 29 release of Spaceballs: The Totally Warped Animated Adventures, the not entirely successful attempt at bringing Mel Brooks' Star Wars spoof to the small screen. But for only $19.98, the MGM/Fox DVD will include an episode guide, a sing-along and featurettes on the show.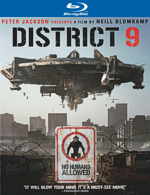 Also on December 29, Sony's surprise smash of the summer (or not a surprise at all, when you consider the film's strengths and the fact that it was presented by a certain Peter Jackson), District 9, will debut on DVD ($28.96), two-disc ($36.95) and Blu-ray ($39.95), with the extras confirmed so far to be director Neill Blomkamp's commentary, a three-part feature-length Alien Agenda documentary, four featurettes, a Digital Copy and an interactive map on the BD edition.
Continuing their repackaging of older releases, Disney's Winnie The Pooh: A Valentine For You will serve up the same contents as the 2004 DVD on January 5 2010, while nearer in time is Universal's frustrating Coraline Gift Set which comes out December 8, not long after everyone just bought the regular edition! Both the standard and BD packs are included, only now with a hardcover book and postcards in deluxe packaging, though are you going to want to pay out $64.98 on the DVD or $69.98 on a BD that you only just bought?
Finally, more classics on the way: TCM's Greatest Classic Collection: The Marx Bros. brings together the hysterical A Day At The Races and A Night In Casablanca plus two others for $27.92 on February 2 2010, and the same line's Sci-Fi Adventures packs in Them! and The Beast From 20,000 Fathoms and two more on the same date, for the same price. Ghost In The Shell 2.0 is director Mamoru Oshii's reversion of his decade-old feature, on BD November 24 for $29.97, with featurettes, commentary and interview. Warners also has a couple of television titles to add to the list: Scooby's All-Star Laff-a-lympics Volume 1 on January 19, and Batman: The Brave And The Bold Volume 3 on February 2, both featuring four episodes for $14.98 a pop.
For those needing a TV fix a little sooner than that, check out the following clips from Warners' Saturday Morning Cartoons 1960s and 1970s Collection Volume 2, both out next week. Some classic Jetsons and Valley Of The Dinosaurs nostalgia awaits you below…
Stay tooned! — Ben.
The Jetsons: Dog Slobber
Saturday Morning Cartoons 1960s Collection Volume 2 will be available on DVD on October 27th.
Pre-order now from Amazon.com!

---
Valley Of The Dinosaurs: Such Luck
Saturday Morning Cartoons 1970s Collection V2 will be available on DVD on October 27th.
Pre-order now from Amazon.com!