Y'know, scrolling down this page last night, I was struck at how similar the photo of Wallace & Gromit was to the one James took (and posted – thanks!) of myself and Goofy! Talk about a man and his dog…I'm just pleased we weren't snapped the other way around! Yuk-yuk!
Today we have the companion piece to Jeremie's very recent discussion with the filmmakers who crafted the 2008 Oscar winner for Best Animated Short: a full review of Peter & the Wolf on DVD. Although the disc arrived pre-holidays, I actually ended up catching up a TV showing, where it entranced the eight-year old girl in the family even though I feared it might be a little too grim for her. But she loved it, got very involved, and I must admit that I did too. It's a very different telling to what we have seen before, but also very faithful to Prokofiev's music, and Magnolia's presentation packs in a heap of decently produced extras that last at least twice as long as the half-hour featurette does itself. In the run up to the Academy Awards, if you wanted to check out what took away the prize last year, this disc does it all and more!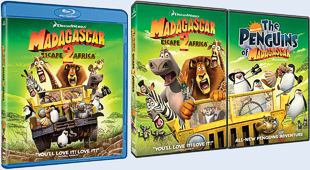 We're also able to bring you a first look at the packaging for DreamWorks' Madagascar: Escape 2 Africa on Blu-ray and the DVD double pack that bundles in two new Penguins Of Madagascar adventures (Popcorn Panic and Gone In A Flash). Learning lessons from not including Secrets Of The Furious Five with their Kung Fu Panda Blu-ray, DWs seems to have done the honorable thing and included the two Penguins cartoons in with the BD release of the film, according to the press release. Though it drops the Video Jukebox (ah, shame, he says sarcastically) and Rom features, the BD will add an Animator's Corner and Trivia Track to its specs. Madagascar: Escape 2 Africa hits disc on Friday February 6, with pricing to be confirmed but expected to be around the $25 mark.
It's been a bit crazy in the past few days as we've managed to post a heap of content that had been stockpiling up, so I'll take the opportunity of a shorter post today just to highlight some of the offerings you may have missed:
• The Best Of 2008: It Came…It Saw…It's Over! – our rundown of the highlights and lowlights on DVD and Blu-ray of the past twelve months!

• Wallace & Gromit: A Matter Of Loaf And Death – a full review of Nick Park's latest adventure for his lovably perilously-prone duo!

• Otto Mesmer And Felix The Cat – A look at this early pioneer of animated silent cinema (with an additional Felix DVD review here)!

• Despereaux: Olivier Adam Discusses A European Tail! – we talk creating a mouse world with The Tale Of Despereaux' art director!

• Why I'm Keeping My LaserDisc Player! – step back into the LaserDisc Archives for some warm reminisces on a fondly remembered format!

• Russel Shroeder has retrieved Disney's Lost Chords! – on the publication of a second volume of discarded songs, we speak to the book's author!

• Peter & The Wolf: A Bird's-Eye View (With A Balloon!) – we speak to the three principle filmmakers behind this Oscar-winning stop-motion film!

• Mary Poppins' Richard M. Sherman: A "Practically Perfect" Songwriter! – Celebrating its 45th Anniversary, we speak to the legendary composer about Walt's 1964 classic!
There's still lots more on the way, so stay tooned! — Ben.