Just in time for the weekend, Jeremie's back with a final interview this week, and it's another good one as he takes on Monsters Vs. Aliens director Conrad Vernon, who helmed the movie with Rob Letterman. DreamWorks' latest animated movie took a little while to get me juiced up about seeing it, having given the look of being highly derivative, but the recent trailers and clips indicate that it should be a slice of pure fun. Refreshingly, this interview, where topics include the genesis of the project, its influences and reaction to similar animated pictures from other studios, fully expresses the kind of lighthearted touch the pair were out to achieve. MvA, as I'm sure you're aware, is in theaters from today!
In our DVD section, those little blue beings return to disc in The Smurfs, Volume 1: True Blue Friends, which is the subject of Rodney's latest review. Collecting the first five episodes from the series' second season, I'd be willing to bet that this is the only way fans will see these new to DVD shows, given the sales figures for the previous box sets. It kind of makes sense, releasing one disc at a time, though it will take ages if the intention is to put out all nine seasons! And still no news on the original feature The Smurfs And The Magic Flute (yeah, I know, Warners doesn't own that one). Now, speaking of WB and them releasing one disc at a time…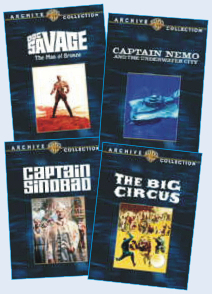 In new announcement news, a very exciting prospect – that I'm sure you're already talking about online – is the opening up of the WB vaults for the new Warner Archives Collection. If you haven't heard, this is a chance for the Studio to put out some of their stockpile of classic movies from their MGM, WB, RKO and other libraries, and for film fans to pick up the odd rarity or obscure title that might otherwise not make it to the format. Most of the announced titles seem to be the kinds of late night fodder that feeds TCM or that didn't perform particularly well on LaserDisc, but there's nothing wrong with them apples and many of the films here will have buffs gagging at the bit to own them.
Though these are not actually described as DVD-R discs by Warners (they're using a proprietary burn/press system), they are manufactured on demand, using new transfers and housed in official packaging to boot. Though I believe there are already some griping about the cost to bonus features ratio – discs come bare bones at $20 – some other, more level headed folks among us do realize what an actual treat this is, and even better is to come with the introduction of short films and classic animation rumored for 2010.
For now though, those interested in the fringes of animation and visual effects films might be interested in the small selection (of 150 debuting titles) assembled on the right, from George Pal's long-awaited Doc Savage: Man Of Bronze and a slice of pure hokum in Captain Nemo And The Underwater City to Irwin Allen's big top spectacle The Big Circus and Byron Haskin's adventure Captain Sindbad. That's just a small sampling of the goodies on offer, with 20 titles per month to be added to the list (and more Pal to come in the all-too rarely seen The Power)! Come join our discussion in the AN&V Forums for more details and keep up with new announcements!
---
Sticking with WB but coming right up to date, I really wanted to point out the DVD ($19.95), two-disc ($28.98) and BD ($35.99) release for Gran Torino, Clint Eastwood's brilliantly poignant farewell from the silver screen. I saw the movie last week and I was blown away at the entire nature of the film, which could have been so predicable, but staves off any such feeling and provides a more that fitting end to the man with no name's screen career. Clint is still intending to direct, but this is a heck of an acting swansong. Go see it in theaters, or at least rent the disc, the two-disc of which will come loaded with featurettes and a digital copy, and the BD packing in an extra featurette.
Still with WB, we drop the audience's target age for the latest in the Studio's direct to video titles, Scooby-Doo And The Samurai Sword, coming to DVD April 7 (and also scheduled for a broadcast premiere on Cartoon Network on April 19). For a Scooby-snack peek at those pesky kids in action, follow the "More…" link at the end of this post.
Have a great weekend, and stay tooned! — Ben.
Scooby-Doo And The Samurai Sword
On DVD: April 7 / On Cartoon Network: April 19
"Scooby-Doo And The Samurai Sword follows Scooby-Doo and the Mystery Inc. crew as they travel the globe on a transcontinental treasure hunt, circling Asia and the Pacific to solve a series of ancient riddles. They race against the vengeful Black Samurai and his spectral Ghost Warriors to claim the ancient Sword of Fate, a blade fabled to possess extraordinary supernatural powers. Along the way, Scooby-Doo and Shaggy are indoctrinated by an unlikely Sword Master who teaches them Boshido, the way of the Samurai. Their emerging skills are quickly tested by an unstoppable army of Robot Ninjas. And in the end, our harried heroes discover that Boshido, emphasizing loyalty, honor and courage, holds the key to the mystery. A DVD bonus feature Scooby-Doo Dojo takes a kid-friendly look at the world of Martial Arts and helps viewers learn more about the ancient Samurai tradition!"