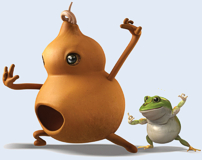 Well, do please excuse me…but after the excitement of the Academy Awards earlier this week I haven't been able to find the time to drop in with my usual comments here! But new reviews
have
been popping up throughout the week: my take on Disney's first international co-production, China's
The Secret Of The Magic Gourd
, went up a few days ago, and very surprised I was too by this warm and delightful tale.
As I say in the review, there are those that would dismiss this out of hand, but it's a genuine Disney movie in more ways that one and you could do a lot worse (Bedtime Stories, anyone?) than at least give this a rent…you may be surprised yourselves!
Rodney's also provided his comments on the latest Alvin And The Chipmunks compilation, The Mystery Of The Easter Chipmunk, a timely disc of four adventures that coincides with Alvin's new found fandom. Rodney himself has good words to say about the show, but remarks that these aren't the best of episodes and that the video quality leaves a little to be desired, ultimately making the disc "an average release. I only wish that Paramount would release a bigger pack of episodes like a best-of package".

After that, we've a heap of Madagascar goodness in the shape of a full Blu-ray review of Madagascar: Escape 2 Africa, which obviously has a lot of fans out there but that I felt to be just as noisy and schizophrenic as when I caught it last year. DreamWorks' animation is probably more refined than last time, but the magic they brought to Kung Fu Panda has been thrown out again in the chase for basic laughs. There's an attempt at some added emotion, but even this falls flat as the film skips between running a Lion King subplot and just throwing gags out left, right and center.
It's a film that's just happy to play an encore for the audience, essentially serving up more of what they liked first time out, and one of those characters was the little old lady who beats up Alex the lion on the New York subway. Now given a name, Nana is back – and so is Jeremie Noyer, who has managed to pin that crazy lady down to speak with Nana's voice artist, the prolific Elisa Gabrielli. Whatever else I think about the end result, it certainly seems the creators had a ball making their second film, and no doubt Nana will return for the third time out, currently in production.
Finishing up this week, we've a peek at the Wonder Woman animated movie that's about to debut on DVD and BD from Warners next Tuesday. We have our copy in, and our DC nut Randall is working on a review, but in the meantime check out some Amazon Goddess goodness in the "More" link below!
And stay tooned! — Ben.