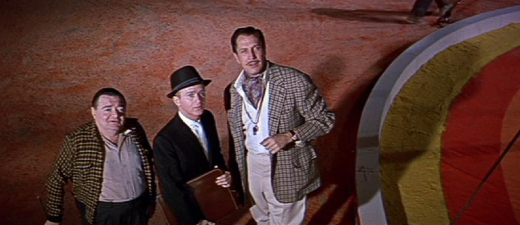 We end the week with a dip into the Warner Archives for a look at six titles from the Collection: the grease and sawdust drama The Big Circus, the Arabian adventure Captain Sindbad, cavalry conflict in A Distant Thunder, the enjoyably escapist Captain Nemo And The Underwater City, adult police comedy Freebie And The Bean and fan favorite Doc Savage: The Man Of Bronze.
Regular readers may remember my being excited about the Warner Archive concept when it was announced earlier this year, but reviews of the actual discs seem to have been thin on the ground. As well as a couple of sample titles that we were sent by the Studio, my comments also take in four films that may appeal to our more usual movie sensibilities, especially the likes of Captains Sindbad and Nemo, and the pulp novel adaptation of the Doc Savage books.
You'll find my full remarks on those films and their disc presentations in those Warner Archive reviews linked to above (these reviews were split from one longer piece, hence some repeated comments in each), though in short I was mostly impressed with WB's unique attempt to get more titles out to collectors.
---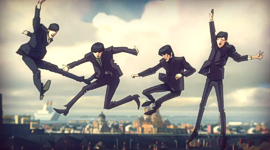 I am less impressed with the news that the untouchable 1968 animated pop classic Yellow Submarine is about to be touched…by Robert Zemeckis and his infernal motion capture of all things. Industry bible Variety has announced that Disney has been hard at work for months "quietly brokering a complicated rights deal that would give Zemeckis access to 16 original Beatles songs" for his movie, while the deal also includes a Broadway show spin-off, a Cirque du Soleil stage production and the inevitable merchandise.
If you can stomach all of this, look for the all-CGI Sergeant Pepper's Lonely Hearts Club Band to return to screens "around the 2012 Summer Olympics, which begins July 27 in London". I don't want to sound like a Blue Meanie, but it's going to take a lot to convince me this is anywhere near being worthwhile, and the topic is already generating much discussion in our AN&V Forum pages. The eventual movie is certainly not going to be anything as awesome as this intro for the upcoming Beatles Rock Band game (pictured right), produced by the folks behind The Gorillaz animation – now I wanna see an animated feature done like that!
---
Lastly today, click on the "More" link below for a quick blast of bonkers nostalgia as Superman and Batman prepare to battle Octoman and Superfrog (no, I'm not making this up) in a clip from the just released Super Friends: The Lost Episodes. We'll have a review of this two-disc set up shortly, but for now it's safe to say they sure don't make 'em like this anymore!
Have a great weekend, and stay tooned! — Ben.