So it's official. LaserDisc is dead.
First introduced to the public in 1978 as "Laser Vision," it has taken three decades to finally see the format come to an official end. Pioneer, the last manufacturer of LaserDisc players, has just announced that it is stopping production of them. Unbeknownst to many of us in the Western world, Pioneer had still been making three newer models of LaserDisc players right into early 2009, chiefly for the Japanese market. Many of today's home video enthusiasts, never mind the general public, have never even heard of LaserDiscs; but to many of us, there is no small amount of sentimentality about them. And, though many collectors got rid of their collections since DVD arrived on the scene, a few of us still cling to a few dozen, or several hundred, LaserDiscs due either to silly nostalgia, or because some titles simply have never landed on DVD. That list of DVD no-shows includes a number of very cool animation releases. With the last LaserDisc player finally coming off the assembly line, this seemed like a grand time to review some of that format's greatest animation releases.
LaserDisc: A Brief History
For the uninformed, a quick history is in order. (A fuller history is provided on our site in the article LaserDisc Archives: A Primer On The LD Format. Links to other LaserDisc Archives articles will be provided where appropriate.) LaserDisc technology was first demonstrated in 1969, and later was introduced to the media in 1972, at a demonstration held at Universal City, California. At the time, the LaserDisc was seen to be the front-running technology for the proposed home video market, due to its low cost relative to videotape. A consortium that included MCA, Philips, IBM, and Pioneer developed the technology for LaserDisc. There were two competing disc technologies at the time, but they were both based on older technologies similar in some respects to vinyl records, as opposed to laser optics. Early home theater buffs, as well as large industrial companies, latched onto LaserDiscs as the most promising new format of the late 1970s.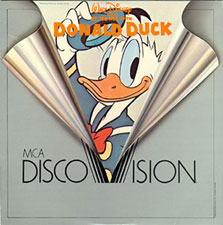 Unfortunately, the format was dogged by poor quality control, lower-than-anticipated marketplace acceptance, and the unfortunate decision by MCA to put the name "DiscoVision" on all of its software. Ironically for LaserDisc, just as its quality vastly improved and its popularity began to increase (and the DiscoVision name was dropped from LaserDisc covers), VHS won the videotape wars and its ability to record made it the better choice for consumers. LaserDisc became a niche product compared to the enormous popularity of VHS, but those niche consumers were treated to the better video and audio that LaserDisc provided. (LaserDiscs in North America offered 400 lines of resolution, almost twice as good as videotape!) LaserDiscs also allowed one to go directly to a chapter in a film, and later on they often contained bonus features. Yes, LaserDisc was the first format to feature audio commentaries, deleted scenes, isolated soundtracks, still galleries, and the like. The most-loved LaserDiscs were from the Criterion Collection, who began their extensive line of special editions with King Kong and Citizen Kane. By 1988, MGM started putting out letterboxed films on LaserDisc, further establishing LaserDisc as the format of choice for true film connoisseurs.
Of course, DVD changed all that. DVD offered even better technical specifications (albeit with digitally compressed video, unlike LaserDisc's uncompressed analog video), interactive menus, a smaller size and more. Of course, it also sometimes offered frustratingly impossible-to-skip FBI warnings and trailers, but nothing's perfect. Within a couple of years of DVD's 1997 launch, LaserDisc production in the United States stopped.
A moment of silence.
Sure, some might say "Good riddance!" LaserDiscs were bulky and expensive, and they had to be flipped over in order to play each side (unless you had a player that could play both sides, but there was still a pause while the player did the switch). They also, particularly the older discs, sometimes suffered from "laser rot," a condition whereby the image deteriorated over time into a mess of colored speckles. But they were the best that we had, for a long while, and most of my discs still look pretty darn good. There are still items that I hold in my collection that I will not part with, titles that have yet to grace DVD. Among these are Muppet Musicians Of Bremen, the 1990 Captain America film (love those rubber ears!), George Pal's vastly under-appreciated Doc Savage: Man Of Bronze, and a widescreen copy of The Shadow.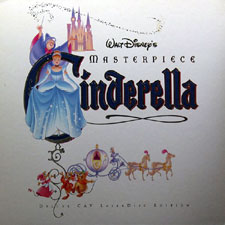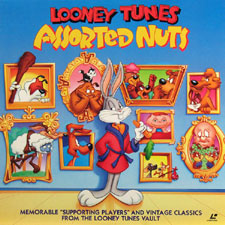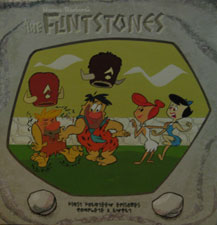 Ah, but it is the animation sets that are nearest and dearest to my heart. A number of these have never been suitably reproduced on DVD, and in any event they look very cool on a shelf. Keep in mind that LaserDiscs were twelve inches wide, just like LP records, so the boxes for multi-disc sets were quite impressive. This was especially true if they needed to accommodate books or other ancillary materials like prints or CDs.
Disney Exclusive Archive Collections
Very few LaserDisc sets could compare with these beauties. Some were called by the classy "Exclusive Archive Collection" name, while some went by the simpler title "Deluxe Edition." Whatever the title, they set the standard. My very first LaserDisc purchase was the combined set for Three Caballeros and Saludos Amigos. It took me days to get through all the video and audio bonus material on this set, chronicling Walt's efforts to assist with the United States' friendship overtures with Latin America in the 1940s. Historically fascinating and artistically groundbreaking, these films were an important part of the studio's development, and yet they have never been treated on DVD like they were on LaserDisc.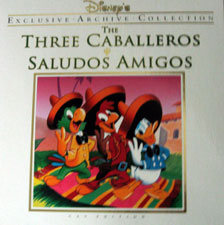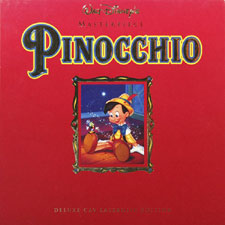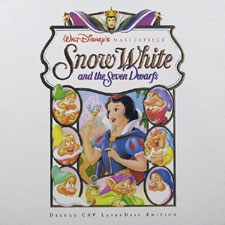 Pinocchio is finally coming to Platinum Edition DVD and Blu-ray in 2009, after being criminally and inexplicably overlooked for far too long. Fortunately, I have had the Pinocchio: Deluxe Edition LaserDisc set to enjoy for quite some time now, which includes copious extras. It even comes with a soundtrack CD! Cinderella and Snow White got hardcover books packaged in their boxes, and these as well as Alice In Wonderland got extensive audio supplements not heard from on DVD. The modern films Lion King, Pocahontas and Hunchback Of Notre Dame also have many bonuses not seen on DVD, and many of the boxes have gorgeous, exclusive covers. Sleeping Beauty and Hunchback are my favorite covers.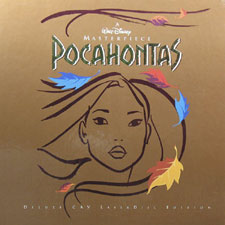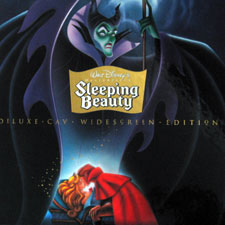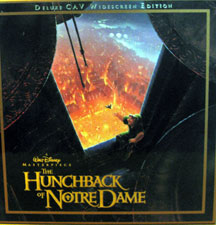 The Nightmare Before Christmas also falls in this category, though at the time it was considered a "Touchstone" release. The LaserDisc box has the complete hardcover "Making Of" book, plus a number of Henry Selick shorts that MTV had not given them permission to use (hence their non-inclusion on the DVD and Blu-ray editions). Pixar's Toy Story got similar treatment, with tons of bonus features, a massive metallic foil box, frameable lenticular artwork, and a softcover Art Of Toy Story book. Even with retail prices between $100 and $125, collectors were happy back then to pay the price for such beautiful editions. (As I was late to the game, I got a lot of mine either on the used market or during closeouts in the waning days of LaserDisc.)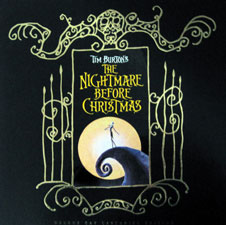 Mickey Mouse also got his own box set, collecting many of his black and white cartoons for the first time, a momentous thing back in 1993 when the box was released. I remember being so excited when I first saw that set being advertised. Though the contents were largely reproduced in the first Mickey Mouse In Black And White Walt Disney Treasures DVD, the LaserDisc set is still worth holding onto for the attractive 12" square 8-page booklet that holds a wealth of liner notes, photos, and artwork. Donald Duck got his own box exclusively in Japan, with a selection of his best and most important shorts (it was the first time that I got to see his debut in The Wise Little Hen, or the classic The Band Concert.)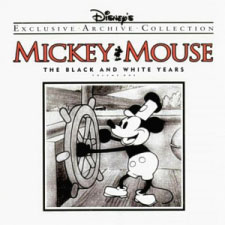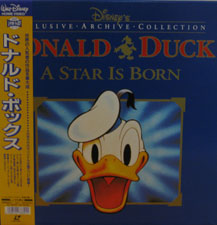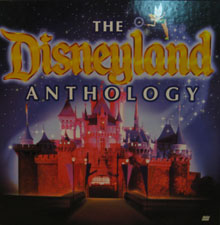 Another Disney set that animation fans had to love was The Disneyland Anthology. This four-disc box contained eight episodes of Disney's Disneyland show, several of which have not yet been seen on DVD. The cartoon highlight is A Day In The life Of Donald Duck, but Adventures In Fantasy and Mars And Beyond are pretty cool too.
Other Disney
Naturally, there were many more LaserDiscs of note that came from Disney. Chief among these is Song Of The South, a title which has never had an official home video release in North America due to concerns over racial sensitivity. I prize this LaserDisc, as not only does it give me the chance to see a classic Disney film of the 1940s, it confirms that it is not nearly so offensive as many have suspected. In fact, the black people in the film come off way better than the white folk. I have the Japanese disc, which has a few subtitles imprinted on the image (during titles and songs), but there is also a Hong Kong LaserDisc which has no subtitles at all and is therefore highly prized by collectors.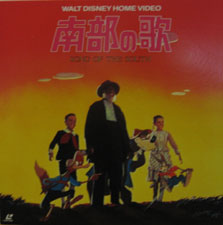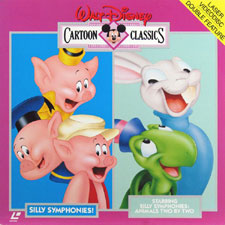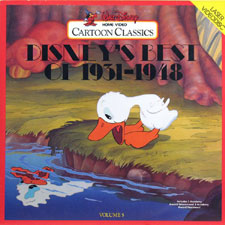 At Home With Donald Duck was another Disneyland episode, from 1956. This was a relatively early DiscoVision title, and as such it is unfortunately suffering from laser rot, but my copy is still playable. There also many collections of shorts, the greatest of which (for me) were those that collected the Silly Symphonies series. For years, this was the only way that I could enjoy those fabulous short films, and so I treasured those LaserDiscs. I still have them, though most have outlived their usefulness in this DVD age. However, it is nice to have the original version of The Three Little Pigs, as the Silly Symphonies DVD set that includes this cartoon has Walt's re-done version (with the "censored" section available as only its own separate clip).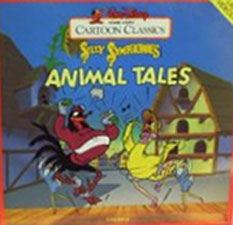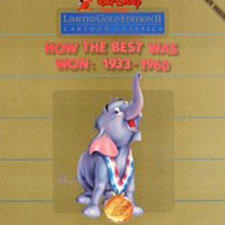 MGM Cartoons
There have been so few MGM cartoons that have made it to DVD, that many people would be surprised just how big an animation studio they were over the years. Cartoon pioneers Hugh Harmon and Rudolph Ising created the first MGM cartoons under the Happy Harmonies banner, and dozens of these were collected into the LaserDisc set MGM Cartoon Classics: Happy Harmonies, along with a few cartoons that they did during their second stint with the studio. Their cartoons were technically proficient, though generally mediocre otherwise. Still, they are beautiful cartoons from the golden age of animation, and as such this box is one of my favorites. Much more entertaining, however, is The Compleat Tex Avery, which collects all of the MGM cartoons done by the master animation director. You would think that this set would have a great chance of coming to DVD, but only his Droopy cartoons have come out so far. Animation fans know that these are some of the greatest cartoons ever made, so unlike many other LaserDiscs, this one can still fetch decent bids on eBay.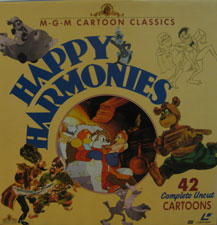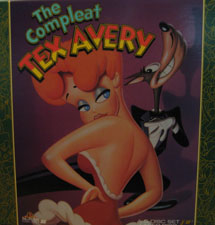 The Art Of Tom & Jerry was a three volume set, the first two of which had every single one of the original Hanna-Barbera shorts unedited— certainly better than what Warner managed to put out on DVD. I'm not the biggest Tom & Jerry fan, but there is no doubting the historic significance of this popular series, and these LaserDisc sets are the best way to view them. The third volume contains all of the Tom & Jerry shorts directed by Chuck Jones. While many see the Jones efforts as lacking, there is no doubting that they contain recognizable Jones traits, and even weak Jones is way better than a lot of what else is out there. It's great to be able to see these shorts, which are not yet on DVD, so I don't have to take the word of others who would tell me that they lack entertainment value. I think Jones brought a lot to the series, even if it was different than the Hanna-Barbera version.

Warner Bros.
I have adored the Looney Tunes DVD sets like anyone else, but they still haven't quite reached the depth of what was available on LaserDisc. The DVD sets have brought us fewer than 400 beautifully restored cartoons, while I have well over that number on LaserDisc. The most notable discs came in five multi-disc volumes of The Golden Age Of Looney Tunes, 24 LaserDiscs in total (the last volume had four discs, compared to five discs in the others). The larger sets had about 70 cartoons each, generally arranged by subject matter. These cartoons were solely from the period 1933-1948, and contain many of the shorts that did not feature the well known Looney Tunes characters. The DVD sets were just starting to scratch the surface of this particular territory, so if you want to see lots of Friz Freleng musicals and Tex Avery travelogues, then the LaserDisc sets are the way to go.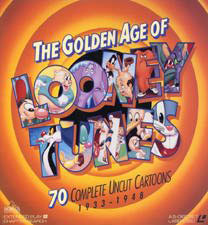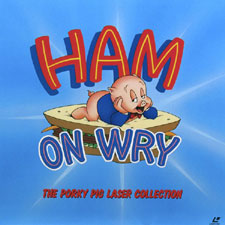 Almost as cool were the many individual discs that were released, which covered later years. In these discs, you could find many of the well-known Chuck Jones 1950s classics, for example, but also a few wonderful surprises that still haven't found their way onto DVD. The LaserDiscs either featured a particular star like Bugs or Porky, or they had cartoons grouped by theme. This makes these LaserDiscs ideal for a theme night, as I can (for example) easily pull a few theater-based classics, fairy tale stories, or horror cartoons out of the same disc— in order, Curtain Calls, Wince Upon A Time, and Looney Tunes After Dark.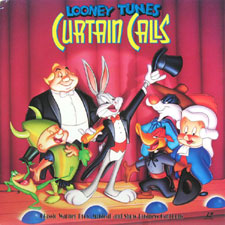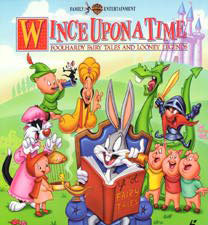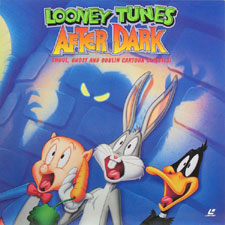 A couple of unique Looney Tunes box sets were also produced in Japan. The first one reproduced the Stars Of Space Jam VHS series, which had some decent cartoons but also some of the later, weak Looney Tunes of the 1960s. The same type of mix is found on the second volume, Bugs & Friends (aside from some good theatricals and lesser-known eyesores, the biggest prize here was the made-for TV sequel Duck Dodgers And The Return Of The 24 1/2th Century). The special packaging alone, with unique art and an Ubi strip, makes the Japanese sets quite attractive.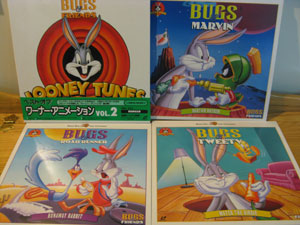 Fleischer
Nowhere else will you find so many classic Betty Boop cartoons as on the two volumes (eight discs) of Betty Boop: The Definitive Collection. Each volume had four discs, and together they comprise all but a few of the Betty Boop cartoons. The main issue with these sets is the excessive Digital Video Noise Reduction used, which destroys some of the animation, though less discerning viewers don't notice it. For me, I'm just glad to have over 100 of the Boop cartoons for my enjoyment, including dozens that have never appeared on VHS or DVD.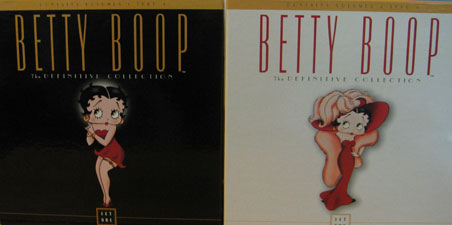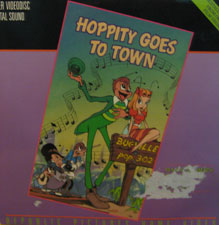 I never did pick up a laserdisc of Fleischer's Gulliver's Travels (they were rare and expensive at the time), but I was ecstatic to purchase a copy of Hoppity Goes To Town on LaserDisc. Okay, it does have the re-release title, instead of the original Mr. Bug Goes To Town, but regardless it's a nearly forgotten masterwork. The LaserDisc image looks surprisingly sharp, too. If Mr. Bug Goes To Town hadn't been released at the same time that Pearl Harbor was getting bombed, it might have had a real shot at stardom. As it is, it's a gem that LaserDisc owners can savor. (There has been a DVD release of this film recently, under the tile Bugville, but its legality is under question.)
Hanna-Barbera
For years, LaserDisc was my primary way of enjoying Hanna-Barbera classic TV shows. In the past several years, many of their shows have seen complete series DVD sets put out, so I have let some of my LaserDiscs go. However, there are a few that I still need to hang on to. Chief among these are some of the "Hanna-Barbera Personal Favorites" discs. Now, these were also available on videotape, but I certainly prefer to own them on LaserDisc. This series had Hanna and Barbera on camera making brief introductions to personally selected cartoons, making it a unique opportunity for collectors to see them talk about their work, even if in a superficial way. The most notable release, to me, was Animal Follies, which features cartoons of several characters that have not yet made it, and maybe never will, onto DVD. This includes their first TV stars, Ruff and Reddy, as well as Yippee, Yappee, and Yahooee; Augie Doggie and Doggie Daddy; and Touché Turtle. Also, a Huckleberry Hound And Friends edition of this video series has more H-B stars. The Scooby Doo "Personal Favorites" even has Scoob and the gang meeting Sonny and Cher, from an episode of The New Scooby Doo Movies that did not show up on the DVD set.

There were also LaserDiscs produced for The Atom Ant And Secret Squirrel Show, with each character starring on his own disc. Like Ruff And Reddy, there is no DVD in sight for this show. I have also hung onto a box set for The Flintstones, which has the first fourteen episodes of the show. I have them on DVD now too, but the LaserDisc set allows you to watch some of them with or without the laughtrack. Even better are the booklet that comes with the set, and numerous bonus features never seen on the DVD sets, including the infamous cigarette commercials featuring Fred and Barney!
Other Titles
Then there are other titles I still treasure for various reasons. Underrated films like Cats Don't Dance and Balto came to DVD in unremarkable and insultingly "full screen" transfers, but on LaserDisc we got the complete widescreen image. Even Richard Williams' mangled masterpiece known on video as The Thief And The Cobbler got special love on LaserDisc with a proper CinemaScope 2.35:1 letterboxed transfer that puts the "full screen" DVD to shame. (A Goofy Movie is another film that got a widescreen LaserDisc and a 4:3 DVD, though I never picked the movie up in either format.) The George Lucas-produced Twice Upon A Time came to LaserDisc in all its wonderful, experimental glory, though its transfer was 4:3 (which may have been its original aspect ratio). TUAT is still waiting for its DVD release.

On a related note, stop-motion animator and special effects pioneer Ray Harryhausen also got a couple of special LaserDisc releases that have not been reproduced on DVD. The documentary Aliens, Monsters And Me, Ray Harryhausen was a special, rare find for me, and of course there was the Criterion edition of Jason and the Argonauts, with Ray's commentary and more.
That's a lot of coolness, I'm sure you'll agree. With all of these treasures in my collection, can you blame me for hanging on to my LaserDisc player? I have greatly enjoyed DVDs and am ecstatic about Blu-ray, but I still don't think my LaserDisc collection has worn out its welcome. Even though the digital revolution came years ago, the analog world still has its unique pleasures.