20th Century Fox Animation/Blue Sky Studios (July 1 2009), Fox Home Entertainment (October 27 2009), 3 disc set, 94 mins plus supplements, 1080p high definition and 1.85:1 anamorphic widescreen, DTS-HD 7.1 Master Audio, Rated PG, Retail: $39.99
Storyboard:
The half-frozen Ice Age critters are back, twisting the chronology of our planet to meet up with some not quite as extinct as they should be dinos!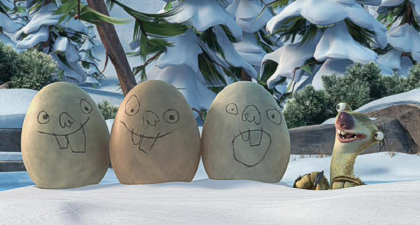 The Sweatbox Review:
I'm perhaps one of the few that felt Ice Age: The Meltdown got a bit of a bad rap. Pixar are obviously at the top of the CG game, but Blue Sky's original ice cold story proved to be a hot hit despite animation that wasn't quite as good as The Lamp's or their rival, DreamWorks. But since Ice Age, Robots and, especially, Horton Hears A Who! I've been particularly impressed with the Studio headed up by Bunny Oscar-winner Chris Wedge, and would now easily place them in the top league of computer animation feature producers. A strong point has always been their characters: who really cared if Ice Age's animation wasn't as smooth as other studios; the story was as complex as it needed to be and allowed the wonderful personalities to shine through.
For me, the same goes for The Meltdown. Okay, the film wasn't much more than a re-tread, adding some predicable sequel-prone elements and doing pretty much what it set out to do and little more. But when one considers the film was put together in not much more than a year, the technicalities of what were achieved are all the more impressive, and if nothing else the film brought back the warm feeling – ironic given the setting – of spending some more time with some friendly characters. I would also venture forward to say that the Ice Age films have never been the most complicated of family fare, and in this day and age when such films seem to feel the need to throw in a danger-baiting over the mark comment just to keep the adults smiling, it's nice to think that the younger kids Ice Age aims for can actually enjoy safe, quality animation and non-crude storytelling.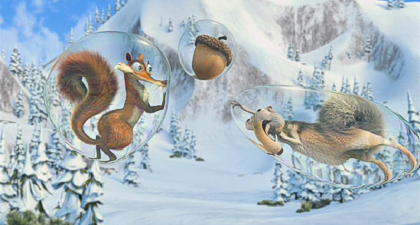 Which brings us to the third and latest in the trilogy (so far), Ice Age: Dawn Of The Dinosaurs, which proved to be another theatrical hit earlier this year, and for good reason! Although it might sound as if it is stretching, by going the predictable sequel routes of trying out new locations, introducing new family members as well as a new female companion for its breakout star, Dinosaurs somehow all manages to keep things together and feel fresh. In an example of how fast the film moves, Scrat's feminine nemesis Scratte is brought in early on – right at the start in fact – without any need for a long set up. I'm a great fan of pantomime, and this opening, in which they fight for each others' affections and a much desired acorn, is big fun. Post this quick slice of classic Scrat, Ice Age 3 sets up its story and runs with it, providing economic storytelling coupled with quality animated slapstick and wit.
The animation has clearly been advanced from what was achievable when the first Ice Age came out six years ago, but admirably the filmmakers do not try and break away from the original's style, subtly tweaking their refinements over the films and making sure the Ice Age films share a same basic approach and retain their own look and movement. It's in the personality animation where the most obvious improvements have been made, especially with Manny and Diego; a chase featuring the saber-tooth tiger early on showing the filmmakers have obviously been watching a healthy dose of nature footage.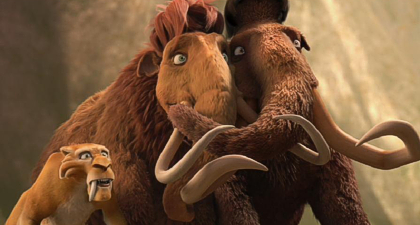 The writing is just as sharp too, and while the Ice Ages aim a little younger than some CG movies, that's not to say the dialogue is dumbed down: despite the time setting, Ice Age 3 is a modern story about relationships, how children and friendships affect us, and deals with some life changing issues. Again, the strong elements in the mix allowing these themes to be explored are the characters, who come up with some consistently laugh out loud funny exchanges: on telling Sid that he'll eventually find someone to settle down with, Manny tells him "You'll meet and nice girl, with low standards, no options…"
There's also a warmth and real heart to these guys, and the tone is much more pleasing and, in fact, much more layered and "believable" than the brash Madagascars. Even composer John Powell, taking over from the original's David Newman, provides some less cookie-cutter cues than he does for his DreamWorks movies, and several times through the movie the music called attention to itself for all the right reasons as opposed to being shoehorned in. I might even say that this is Powell's best animation work in a long while.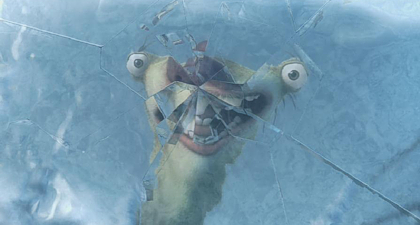 As always, it's Scrat that steals the show and although, much as I like the Ice Age films, I must admit they are not as sophisticated as some others, there's no question that Scrat is one of the CG revolution's great triumphs. He's that rare thing: an authentic example of pure cinema, brilliantly brought to life through the ultimate medium of animation. Even outside of the Ice Age films, Scrat is credibly the purest CG character to emerge from any studio. In fact, in a rare occurrence of reversing perceived wisdom, I couldn't imagine Scrat created in any other way than by computer modelling and animation; certainly that itchy, scratchy, fidgety personality wouldn't work as well hand drawn or quite as dynamically in stop-motion. The introduction of female Scrat – Scratte – puts a new spin on things, and the ultimate will they/won't they twist is given a new spin when we're never too sure if they're really interested in each other or by that pesky, always out of reach acorn, which itself gets "a moment" when the Scrats attention wanders away from their life-long pursuit!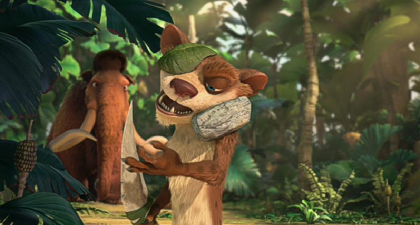 When the title says Dawn Of The Dinosaurs, this isn't quite correct, which will no doubt somewhat please palaeontologists up in arms at the film's supposed swapping of natural events. In actuality, this is more "lost land of the dinos" as our Ice Age companions discover an under-ice kingdom frozen in time, equally as impossible, but nicely set up and paid off. Keeping some natural order in the grand scheme of things, a nice touch is that these "extinct" dinosaurs are depicted as Neanderthals in evolutionary terms, and therefore are unable to talk as the rest of the cast does. Making up for the dinos' lack of speech is new character Buck, an Australian styled adventurer type who, in different circumstances, might have been a perfect fit for Steve Irwin. He's certainly slightly crazed, having been trapped under the ice with the dinosaurs for so long, and Simon Pegg is vastly amusing and virtually unrecognizable in the role.
Ice Age: Dawn Of The Dinosaurs races through its running time (a slightly longer than it needs to be 94 minutes), and it was well past half way when the film slowed down enough for me to take a time check. The story may be slight, but the characters are great, the jokes strong – you haven't seen anything like Scrat doing the tango! – and the quality of filmmaking high. Far from just scraping through, this big family entertainment, though one hopes any future outings don't resort to any desperate measures. Going the dino route just about works here, but trying to reach for another fresh angle along those lines might fossilize the series instantly. But while Ice Age continues to be so light and frothy, I'll keep catching them along with everyone else.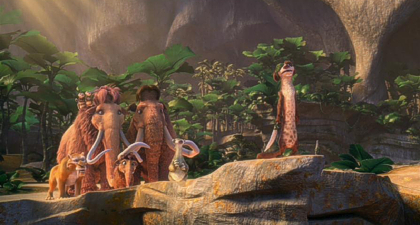 Is This Thing Loaded?
I'm beginning to think that Disney would have loved to patent the "BD+DVD Combo Pack" if possible, given their acceptance in the marketplace, especially with family friendly titles like this. With a hi-def Blu-ray ready for the living room, a DVD copy playable in other players in the home such as the kids' bedrooms, and often a Digital Copy file downloadable to portable devices, other studios have been quick to jump on the bandwagon, offering multi-disc options in packs that, especially in pre-order and initial release, don't cost much more than their regular stand-alones. That's not so say I'm these packs' biggest fan, and I still find the paradox of offering both the best version of a movie on Blu-ray with the most compressed version via a digital file slightly odd and amusing. Surely the place to see such content is on a big screen with the rest of the family? I think I'd also be more supportive of the format if those codes didn't expire within a number of months, thus making the discs redundant coasters.
Anyway, a three-disc combo pack we have, and Fox has done its usual good job of packing everything with as much content as is needed. Third time around, there's probably not the need or, really, the expectation to include a completely in-depth look at production, the first two releases in the series taking well care of those aspects, making the surprise amount of material that has been assembled here all the more welcome.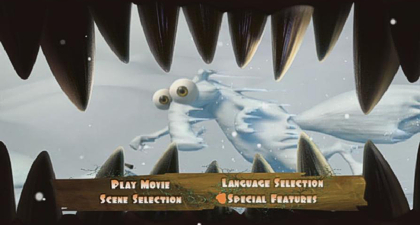 The Blu-ray Disc opens with a series of previews for Fox's upcoming high hopes, including the painful-looking Alvin And The Chipmunks: The Squeakquel, the Harry Potter wannabe rip-off Percy Jackson And The Olympians: The Lightning Thief (director Chris Columbus clearly wishing he hadn't jumped off the Potter steamroller), complete with Hogwarts in the sky and magical gold lettering, and the disappointingly poor Night At The Museum: Battle For The Smithsonian, which if you loved the first one, I recommend you stay away from and remember what a good time you had the first time around.
First stop for most will be the Filmmakers' Commentary track, hosted by director Carlos Saldanha, joined by other members of the Blue Sky family: producers John Donkin and Lori Forte, co-director Mike Thurmeier, art director Michael Knapp, character designer Peter de Seve, and supervising animator Galen Tan Chu. Despite the number of participants, it's Saldanha that keeps it powered proving that, as the third in a series of fairly similar films, there's are just not that much new things to say about the characters, though the new themes explored in the movie are described and it's nice to get more of a discussion about the writing and what that was trying to achieve as opposed to hearing again about how much new ground was broken with lighting or camera moves. Without any kind of on-screen graphics, in the way BDs from Disney and DreamWorks pack the frame with additional concepts or artwork, the track is not helped by a lack of these types of distractions, but there's still some interesting insights among the sometimes more obvious conversational pieces.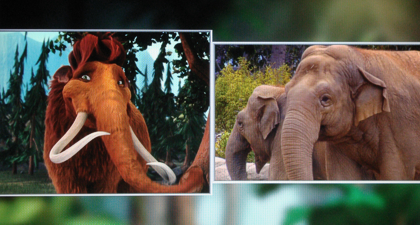 The Ice Age Storybook Maker might be fun for very small kids, but adults may well find themselves getting frustrated with the remote-accessed controls (I seem to have found Fox discs in particular sometimes tricky to navigate around). Kids are also the primary audience for Evolution Expedition, where we visit various LA-based museums and zoos to discover the evolutionary process and how our Ice Age friends are reflected in the animals still with us today. It's actually a nice overview, running 18 minutes, which adults will learn a thing or two during as well! Buck: From Easel To Weasel is a seven minute profile of Ice Age's newest addition, the crazed adventurer brought to life by Simon Pegg, from conception to Pegg recording the vocals and final animation.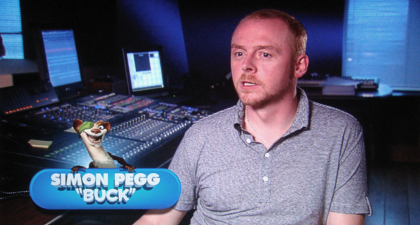 Unearthing The Lost World (8:30m) elaborates further on the "new factor", looking at the choices the filmmakers faced when deciding where to take the characters in a third movie, especially the challenges of keeping a consistency between the previous films and a such a new direction, focusing on designer Peter de Seve's work. Unfinished Deleted Scenes pulls up two moments, and a Play All option. Without any context, we're not sure why Crash and Eddie are after a crystal for Manny in the Mission (as in Impossible) scene, though one assumes it's intended as a gift to Ellie. Headbutters is an action moment which might have been quite exciting, with Buck saving the day again, both scenes understandably cut but worth seeing in their animatic state, running a combined 4:30 minutes.
More a promo for being available on iTunes than being a proper extra, the Walk The Dinosaur Music Video is shorter than it should be, at just 1:30m, but is good for a boogie, the Queen Latifah performed take on the old party favorite featuring some new animation among the movie clips. A slightly odd addition is the inclusion of The Scrat Pack, a collection of shorts and featurettes featuring the pre-historic squirrel, but most of them pulled from previous releases of the first two Ice Age films. So we get Scrat's Missing Adventure: Gone Nutty (4:46) that was a bonus on the first film's DVD and No Time For Nuts (7:07), the bonus for the second, which also turned up on those film's Blu-ray editions too. Though both looking great here in HD, it's a shame we haven't been treated to a third Scrat adventure included here. The Scrat Featurettes are comprised of The Saber-Toothed Squirrel, the drawing tutorial Scrat: From Head To Toe, Scrat: Breaking Story, Scrat: News Report (all standard definition) and the new Scrat Meets Scratte (HD), all running a combined 23 minutes.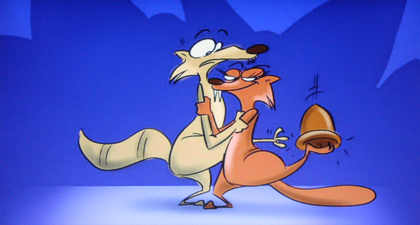 There's more repeated content to be found in a mix of old and new Fox Movie Channel promos. Making A Scene: Ice Age The Meltdown (9:20) is pretty clearly promoting the second movie in the series, and although it's all pretty decent stuff, you will find yourself wondering where the material is relating to this third film. In Character With John Leguizamo brings us up to date, and is basically a promotional interview with the actor and how he gets into the Sid The Sloth groove. In Character With Ray Romano provides more of the same, this time with Manny's voice, and the same goes for In Character With Queen Latifah, the voice of Ellie. All in standard definition, these three clips provide this set's sole dedicated look at any of the vocalists, though they're short at around three minutes a pop.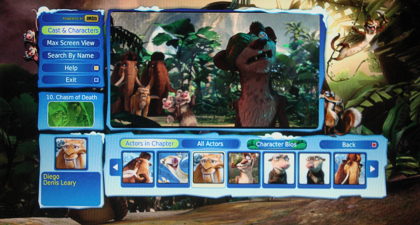 Coming near the end of the offerings, Trailers does not offer any of the previous films' previews in HD, nor any of the Scrat teaser spots for any of the three films, instead serving the sole option of The Pink Panther 2. A reasonably interesting idea is the Live Lookup, which connects to the net to run the feature with access to the Internet Movie Database, offering information on the various cast members, though very little on the crew, and I'd suggest it was easier just to head to the IMDb webpage to navigate around more than is found here (complete, I would imagine, with any errors intact). Also included in the pack is a Standard Definition DVD, with a similar main menu, the Filmmakers' Commentary, the same previews (Alvin's Squeakquel, Percy Jackson, Night At The Museum 2, Aliens In The Attic plus Fox's high-rated series Glee) and a bunch of additional spots under such headings as Family Favorites. The Digital Copy disc includes a standard definition file for use in iTunes and Windows Media devices.
Case Study:
A slipcover holds everything together, the three discs enclosed within a standard BD sized case, with artwork replicating the original theatrical posters. "Even cooler on Blu-ray", so says the slightly different sleeve underneath, and for once the hi-def hype might be true. Inside is the code needed to activate the Digital Copy disc, a useless piece of plastic after October 2011, and an offer for a Scrat iPhone app. All three discs feature alternate poster artwork on their labels.
Ink And Paint:
Offered in both flat and 3D versions in theaters, Fox follows Pixar's lead in not including a sub-standard 3D version – at this point – for the home. Currently, 3D technology at home means a return to the old red and blue glasses, which don't preserve the colors as intended by the filmmakers. New methods are on the way, but that might also prompt a need for new displays and new disc authoring.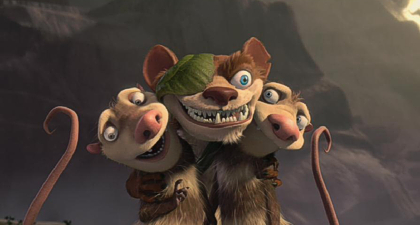 Of course, this means we'll also have to re-buy all these 3D movies again, which no doubt keeps the studios smiling, but in the meantime, I'd much prefer to watch a high-definition edition of a film the way the filmmaker intended than via a system that doesn't actually work. The lack of 3D does not inhibit the enjoyment of the feature in the least and, as such, this is a long-winded way of saying Ice Age 3 looks fantastic, sharp as one would expect direct from the digital files.
Scratch Tracks:
Presented in English with a dino-powered 7.1 DTS track (other languages are available in 5.1 dubs or subs), Ice Age 3 is roaring good fun, with lots of activity going on during the action moments. At other times, however, the mix is mainly front-focused, perhaps due to the focus on the dialogue than the ambition to create a fully enveloping atmosphere for the lost world. Powell's music is sometimes squashed to the back, sometimes right up front, but the dialogue is clean and the slightly cartoony aspect, especially of the Scrat scenes, of the spot effects means the soundtrack is likely to produce just as many laughs as the images.
Final Cut:
Far from the diminishing creative returns the Shrek series has found itself saddled with, Ice Age number three is no Shrek The Third. However, this Blu-ray and DVD combo pack is an odd creature, packing in a healthy amount of material but filling the gaps with previously released featurettes and shorts, which doesn't amount to a great deal of new footage. Perhaps some of this is to round out what was dropped from HD editions of Ice Age and Ice Age: The Meltdown, though both Scrat shorts turned up on those discs and a third one, Surviving Sid, which was included with Blue Sky's Horton Hears A Who!, paradoxically doesn't make it here! The lack of Ice Age 3's trailers is a bit of a shame too, given that the repeated content could have been dropped to include them, but the film itself and its presentation is a spotless as they come. In fact, I found Dawn Of The Dinosaurs, despite the silly title, to be pretty cool!
Animated Classic or Back To The Drawing Board?